C'mon, admit it. It's hard to feel sorry for that jeepney driver lying dead on the pavement with a hole in his head. I had just come across the Inquirer.net story and found myself feeling a bit guilty about how I felt — or didn't feel. Jeepney driver shot in the head by irate pedestrian in Makati, screamed the headline. There was a graphic photo that came with it. But it was this snippet of information that reassured me that the politically-incorrect way I felt about this story could be rationalised…
Another witness, Christian Torres, said the jeepney almost hit the man as it turned left from Chino Roces into Arnaiz.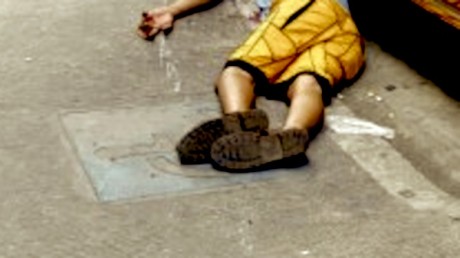 I logged back onto Facebook and into the Get Real Philippines Community post where the article link was shared. Sure enough, there were comments that further validated what I was thinking. I'll defer to one comment that sums up the cocktail of mixed feelings:
First, why was a pedestrian carrying a gun with him?

Second, I too am not gonna lie, jeepney drivers are, as a general rule, assholes on the road. I'd like to give the pedestrian a bouquet of flowers. That's one f-cker down, millions more to go.

Third, seriously though, we really are devolving as savages. I think it's fair to point out too that had the pedestrian not got a gun, all he would have gotten was an arrogant response and the generic "Pasensya na kayo, naghahanap buhay lang" bullshit. So, hooray Philippines. Here's to hoping that this will serve as precedent to all drivers.
When you are a law-abiding motorist that has to share the road with jeepneys, it is likely that you'd also be faced with the same stark lack of the outrage that would normally be exhibited had the stiff on the pavement been that of any other sort of person.
Even the normally-hated traffic enforcement officers of the Metro Manila Development Authority (MMDA) attract a heart-warming deluge of support and empathy when they fall victim to abuse and threats of violence from irate civilians.
Jeepney drivers?
Well, it's complicated. I'd probably respect the honesty of somebody like Ronn who wrote the above comment on Facebook rather than someone who'd wax absolute moral indignation over the murder of a jeepney driver who attracted the ire of one of the victims of the banal lack of consideration he and his community of Kings of the Road routinely apply to their fellow road users.
Everyone can relate to the blanket injustice in the way jeepney drivers discourteously navigate Manila's streets with impunity. They are no better than the thieving politicians Filipino activists love to hate. Both routinely get away with their indiscretions.
But unlike our politicians, jeepney drivers are seen to possess solid claim to that cherished badge of victimhood many Filipinos wear with pride and use this as license to behave the way they do. But as the quality of the lives of Metro Manilans is increasingly crushed under the weight of the wretchedness of its infernal traffic jams it becomes increasingly difficult to see jeepney drivers as the victims they style themselves.
So did that jeepney driver deserve to die?
Not according to the law. I'll say that much and nothing more.
benign0 is the Webmaster of GetRealPhilippines.com.