I was once asked about what films have I seen that have had a definite impact or influence in my life.
Without fail, I answered Stargate.
No, not the series or several series that came after it, but the moderately successful film that set it off. The one that featured James Spader and Kurt Russell (the hero of The Thing). So what did I like about the movie?
Well, one of the central parts of the story is that the Ancient Egyptian deities that primitive people worshiped weren't really divine at all. As it turns out, they were just a bunch of aliens with super-advanced technology that looked, to very primitive humans at least, like magic. Anyway, using their advanced technology and lots of well-applied terror-tactics, the aliens (Goa'uld I think they called themselves) made early humans believe that they were god. Of course, through the action of the heroes, the humans enslaved by the Goa'uld realize that they have a right to be free like the heroes who fought against the same oppressors thousands of years ago and live a life free of fear and slavery.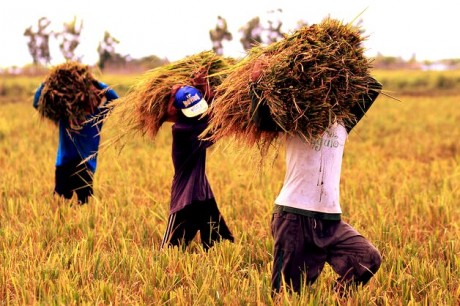 Unfortunately, as I've come to see things over the years, typical Pinoys are no different from the primitive humans found by the heroes of Stargate that are utterly arrested when it comes to creative and critical thinking. However, instead of being beholden to advanced aliens, typical Pinoys are all too often beholden to politicians and celebrities. As commenter Kimberly Doe on our FB page states, there are those who will choose to defend their favorite celebrity as if they were a god or goddess whose benevolence somehow allows them to live. Sadly, this cannot be further from the truth as your basic Pinoy celebrity cares more about his or her own popularity and salary than the plight of just one Filipino citizen.
Over the years, it has occurred to me that Pinoys don't want leaders per se, but masters. The reason why critical-thinking and creativity aren't popular in the Philippines is because we don't want people who will inspire us to be better people, we just want people who will do everything for us including thinking, managing our lives and taking responsibility for our wrongdoings. This is the reason why, try as we might, the systems and ideals of American independence will never jive with Pinoy culture.
Here's something that I think most people miss when it comes to the idea of independence. Independence is essentially tied with one's sense of responsibility. Independence is about being your own master and not being beholden to anyone. To be independent means being able to think for yourself, make your own decision in life, believe in whatever deity makes you comfortable and, most importantly, take responsibility for the mistakes you make. That's right, by becoming "independent" you can no longer blame the government for being so poor, you can no longer blame the church for not being able to finish your studies and you can no longer blame the media for giving birth to more than twenty children.
Please people, we like to say that we are a "free country" but do we really know what it means to be free? Are we ready to take responsibility for our lives and make our own decisions? Will we ever try to understand the weight of each choice we have before we make them?
The answer to that sits with you, reader.
HAPPY INDEPENDENCE DAY!
I HAVE RETURNED TO LAY WASTE TO OUR ENEMIES!