"Our culture has accepted two huge lies. The first is that if you disagree with someone's lifestyle, you must fear or hate them. The second is that to love someone means to you agree with everything they believe or do. Both are nonsense. You don't have to compromise convictions to be compassionate."
~Adam Cappa
I am one of those who are certainly happy with the approval of same-sex marriage in the United States. It's very heartwarming to see that some people don't need to be lonely anymore and can spend their lives with the people they love. It's nice to see that two of my good friends can finally live happily under one roof and have their relationship legitimized.
However, what I can not and will not accept from LGBT people in the United States, the Philippines or anywhere else in the world is the "like me or else" attitude. While I certainly champion both tolerance and acceptance of others, let it be known that I do not approve of people forcing themselves on others.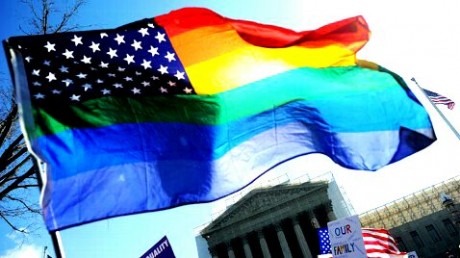 To give you better context that I have been a bachelor for much of my life. I don't know, I guess I really am that creepy. Anyway, there's this girl I want to impress. I know that the idea of her loving me is very unlikely so I was hoping that she could at least like me. Unfortunately, that probably won't happen either because I'm just a little too creepy to be likable. But then, you can probably agree that she has every right not to like me after all. Everyone has a right to their own opinion and their own preferences as it should be. Remember that you can never force someone to love or like you no matter how much you love or like them.
There will be people in your life who will probably never agree with or even understand you and that is a reality that we all need to learn to live with regardless of ethnic identity, sexual orientation, religious beliefs or lack thereof. That's simply the way things are in this world and no amount of whining or violence can change that. To all LGBT members out there who are mad at religious leaders who refuse to wed you, businesses who won't cater to you or people who can't return your love for them, please learn to respect others as well. If they don't like or accept you then the best thing to do is to simply shrug your shoulders and move on in hopes of finding better opportunities elsewhere.
Remember also that rape is also called "forcing yourself on someone" because, by raping another person, you're making them have sex with you by force. While I am not accusing of LGBT people of rape, by forcing your will upon others, you are no different from the people who have been oppressing you all those years ago. By making unwilling people conform to your desires, you are essentially forcing yourself on them, albeit in a metaphoric fashion.
So please, people of the LGBT community, if you want people to accept you then you have to learn to accept others as well. When you meet people who don't accept or agree with you, just walk away and find another way. Is that so hard to understand or do?
I HAVE RETURNED TO LAY WASTE TO OUR ENEMIES!