By now, those following the Finals series of the National Basketball Association (NBA) will have known that the Golden State Warriors (Dubs) defeated the Cleveland Cavaliers 105-97, to win the championship in six games, 4-2. Furthermore, basketball fanatics rooting for the Cavaliers (Cavs) will tell you that their superstar, LeBron James, in the absence of superstars Kevin Love and Kyrie Irving due to injuries, essentially carried the team on his back. The series got to the point where it did because of him, and once again he came very close to winning a title. They will also tell you that although LeBron's record in finals appearances is now 2 wins and 4 losses, he was just as deserving of Finals Most Valuable Player (MVP, which went to Andre Iguodala of the Warriors), despite being from the losing team.
At this point you're probably thinking that LeBron James and Philippine president Benigno Simeon (BS) Aquino do not deserve to be mentioned in the same sentence, much less compared and contrasted to each other, but hear me out. Somehow, especially after this NBA Finals series, I couldn't help but be reminded of BS Aquino.
SUPPORT INDEPENDENT SOCIAL COMMENTARY!
Subscribe to our Substack community GRP Insider to receive by email our in-depth free weekly newsletter. Opt into a paid subscription and you'll get premium insider briefs and insights from us daily.
Subscribe to our Substack newsletter, GRP Insider!
Learn more
In the post-game conference after Game 5, Lebron, despite the Cavs losing that game and facing elimination, expressed confidence that he and his team could still win the series:
"I feel confident because I'm the best player in the world."
"I don't put a ceiling on what I can do."
"I know I'm shouldering a lot of the burden, but it is what it is."
BS Aquino, on the other hand, was presented and "sold" to the voting public in 2009 as the man who doesn't steal, "hindi ako magnanakaw", as a totally honest and "incorruptible" man, and as one who will bring about "change" in Philippine government.
Lebron James reminds me of BS Aquino in this regard:
The statement by Lebron, "I'm the best player in the world", is no small boast. He has shown that one-on-one, he is extremely difficult to defend against, and even if you put two, three, or even the whole five men on the court on him he will find a way to get through the defense and score points. He certainly knows how to make plays, and is no slouch on the defensive end either.
Unfortunately, for whatever reason, this greatness, this skill of Lebron, as I observe, ends up with him having to carry his team, instead of his remaining teammates more visibly picking up the pace and taking cues from his skill. Whether this is a function of his inability to make his teammates better, or whether he needs better teammates, is a big point of "debate".
Contrast Lebron to another legend, Michael Jordan, who is not only known as one of the greatest players ever, but also as a floor leader in his own right. Those who followed Jordan in his prime would recognize that apart from being a prolific player, he had an uncanny ability to make his teammates better. Jordan's team could find a way to win, for the most part, even if he himself were having an off night. Take away Lebron from the Cavs, on the other hand, and you'll usually find yourself scrambling to fill a gaping hole.
In effect, as a friend of mine pointed out, Lebron and Jordan represent, respectively, a tiny elite circle within a group who subsidize, even compensate for, the performance deficit of the majority, and a true class of elites who pull up the rest of the group.
Let's focus on BS Aquino now.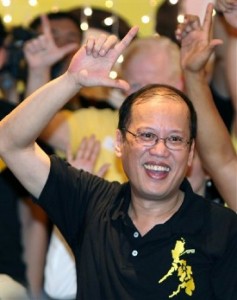 Even if Noynoy's purported "honesty" and "incorruptible nature" eventually turned out to be a joke at this point, the point is, these qualities which he was perceived to have at the start of his term did not carry over to the rest of Philippine government. It is not enough that no case of theft or corruption has been linked to BS Aquino; a true leader inspires others to even just aspire to have the same qualities that he purportedly has. In Noynoy's case, take him away from the presidency, and you'll still be left with the same old corrupt, bottom-feeding, ineffectual entity we call government.
Unfortunately, BS Aquino turned out to be a weak leader who is seemingly more of a problem than a solution to the Filipino people. His purported incorruptibility and honesty have not carried over to the rest of Filipino society, and have become irrelevant and immaterial. As a member of a family that is part of the oligarchy, he is more interested in protecting his family's interests than he is defending national ones. All you have to do is remember how limp-d*cked his handling of the situations with China and the Moro Islamic Liberation Front (MILF) has been.
In the Philippines, where self-interest and a baseless sense of self-importance reign above all else, one will be hard-pressed to find a true class of elites who pull up the rest of society. We not only have here a tiny circle of "elites" who subsidize the lack of output of the majority, we have a majority who think that they are entitled to be subsidized by those who are better off. We also have a tiny circle of "elites" who perpetually keep the majority where they are! That is the situation BS Aquino faced at the start of his term, and frankly, nothing has changed, and nothing will change even after he has stepped down. So much for all that promise of change.
One article I read has pointed out that with each NBA Finals loss, LeBron James' legacy fades. Lebron is undoubtedly the greatest player of his generation. In the end, however, what people will remember most about a player are the numbers. Those numbers, for Lebron, are showing a 2 win 4 loss record in finals appearances, and 2 championships in 12 seasons played in the NBA. While he may have about 5-6 more good years (he's 30 years old now), time is essentially running out for Lebron to add more championship rings to his record. Every time Lebron has come up short, he has to make excuses as to why he did, never mind that for the most part, he has had the chance – on more than one occasion – to make conditions favorable and conducive to winning a championship. Whether or not you're a fan of his, the excuses can get tiring after a while.
BS Aquino, on the other hand, had a lot of opportunities in the first five years of his presidency to actually change things and make a difference, but what did he do instead? He devoted his time to persecuting his political enemies, campaigning even if he already was elected, and canceling projects which could have otherwise been helpful, just because they were done by his predecessor. Oh, he was also busy taking credit for things that he didn't start, and blaming everyone else but himself for the lack of any REAL results in his administration.
I would like to point out now a few really big differences between the two. In this regard, Lebron reminds me of BS Aquino because of the qualities he has that Noynoy does not.
Lebron has become the player he is currently through developing himself. He has come a long way ever since he started in the NBA.
Noynoy, however, became president through invoking sympathy for dead mom and dad, and he has not developed much in the five years he's been president. He and his government make the same mistakes over and over again, and they still haven't been receptive to criticism.
Whether or not you're a fan of Lebron James, you can't help but admit that he is a really great basketball player. He is one of the best to ever play the game; he just doesn't have too many championship rings yet.
If you're still in awe of BS Aquino at this point, there's something wrong with you. BS Aquino has shown time and time again just how incompetent he is and just how unqualified he is for the job that 40 percent of voting Filipinos in 2010 elected him to.
I don't think I need any more reminders. It's time to start forgetting about BS Aquino, his "reforms", and the division he's sown in Filipino society if Filipinos want to stand a chance of even just being a competitive team, much more ending their "championship drought".
А вы, друзья, как ни садитесь, все в музыканты не годитесь. – But you, my friends, however you sit, not all as musicians fit.