The latest outrage making the rounds over social media is the running down of a pedestrian — a pregnant young foreign woman — on a street in the Bonifacio Global City (BGC) business district. The aftermath of the incident was captured in photos that were published by the motoring magazine site Top Gear Philippines. The perpetrator was reportedly driving a black Toyota Fortuner with plate number of AAL-6646, according to a certain Scott Gutsy Tuason. The vehicle is pictured turned on its side at the scene of the accident.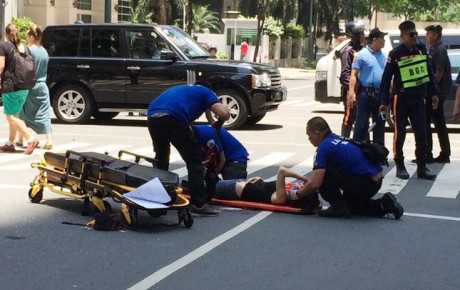 Senseless indeed. Why would a motorist be driving at speeds high enough to cause his vehicle to overturn in such a way? The type of vehicle, a black Toyota Fortuner SUV, offers clues to the character of its driver or owner. We all know the profile.
It makes more sense if city planners altogether refrain from painting zebra stripes to mark pedestrian crossing zones (supposedly) on Philippine streets. They only mislead people into believing that these markings actually mean something to the average Filipino motorist.
Having a zebra stripe mark on a "crossing lane" in the Philippines is actually more dangerous than having no marking at all. Foreigners coming from societies where the law is observed and where zebra-striped pedestrian lane markings actually mean something important to both pedestrian and motorist are specially at risk from these false markings. Unless they are properly briefed on the banal lawlessness that characterises Philippine street life, they are likely to take all the street markings in "modern" urban communities like the BGC too seriously. Filipino locals, on the other hand, know better and regard traffic signs and marking with a grain of salt at best. These signs and markings are but mere decorations. The way street markings are laid out on Philippine streets — even in tony districts like the BGC — does not really follow international traffic signage and signalling standards. They are more for aesthetics than practical utility.
We look around chi-chi places like the BGC and think, wow, what a trendy cosmopolitan place! In reality, these place are all modern only in form. The true substance underneath the shallow gloss of "modern" Metro Manila becomes evident when we witness and, knock on wood, experience the deadly underbelly of the Filipino psyche in incidents such as these.
Filipinos should be outraged not just by appalling accidents like these. They should also stop tolerating what they, for now, consider to be "minor" offenses against common decency — like counterflowing drivers who indulge their massive sense of entitlement to flout the law to the point of threatening and even assaulting those who take a stand call out their boorish behaviour.
[Photo courtesy Top Gear.]
benign0 is the Webmaster of GetRealPhilippines.com.