It is no longer news that Metro Manila, the Philippines' premiere urban centre is a mess, and its residents' biggest bane is its mass transport system. For a metropolis the size of Greater Manila, the existing rail network is extremely sparse and public road transport is utterly chaotic. Over the last couple of years alone, appalling "mishaps" have beset the city's most "modern" commuter rail lines. Most recent is a head-on collision that occurred on the Light Rail Transit line where, forunately, only one person suffered minor injuries.
Years of neglect have turned Manila's train services into decrepit national embarrassments. On the busy Metro Rail Transit Line 3 (MRT-3), the number of trains operating has gone from 20 down to just 8 simultaneously running trains resulting in long queues and dangerously-crowded platforms all over the network. MRT management have dismissed the unbearable queues and delays as "normal" even as it attributed the drastic service cuts to "techincal problems such as speedometer malfunction, air-conditioning and poor lighting system."
Even without these "mishaps", just looking at the public transport newtwork diagrams of other major southeast Asian cities already gives one a visual idea of just how behind on transport infrastructure development the Philippines is.
Bangkok is currently served by three rapid transit systems: the BTS Skytrain, the underground MRT and the elevated Airport Rail Link. Although proposals for the development of rapid transit in Bangkok had been made since 1975, it was only in 1999 that the BTS finally began operation.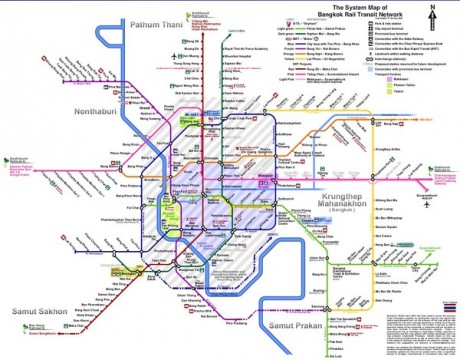 The BTS consists of two lines, Sukhumvit and Silom, with thirty stations along 30.95 kilometres (19.23 mi). The MRT opened for use in July 2004, and currently consists of one line, the Blue Line. It runs for 20 kilometres (12 mi) and has eighteen stations, three of which connect to the BTS system. The Airport Rail Link, more recently opened in August 2010, is operated by the SRT and connects the city centre to Suvarnabhumi Airport to the east. Its eight stations span a distance of 28 kilometres (17 mi).
Rail transport in Malaysia comprises heavy rail (including commuter rail), light rapid transit (LRT), monorail, airport rail link and a funicular railway line. Heavy rail is mostly used for intercity passenger and freight transport as well as some urban public transport, while LRTs are used for intra-city urban public transport and some special uses, such as transporting passengers between airport buildings. There are two commuter rail services linking Kuala Lumpur with the Kuala Lumpur International Airport. The sole monorail line in the country is also used for public transport in Kuala Lumpur, while the only funicular railway line is in Penang.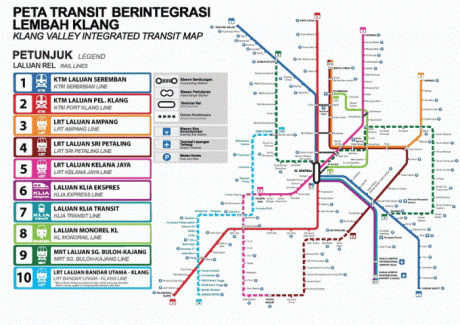 The railway network covers most of the 11 states in Peninsular Malaysia. In East Malaysia, only the state of Sabah has railways. The network is also connected to the Thai railway 1,000 mm (3 ft 3 3⁄8 in) network in the north. If the Burma Railway is rebuilt, services to Myanmar, India, and China could be initiated.
TransJakarta is a bus rapid transit (BRT) system in Jakarta, Indonesia. It was the first BRT system in Southern and Southeast Asia. The TransJakarta system began operations on January 25, 2004. TransJakarta was designed to provide Jakarta citizens with a fast public transportation system to help reduce rush hour traffic. The buses run in dedicated lanes and ticket prices are subsidized by the regional government. As of 2014, the buses carried more than 350,000 passengers per day with more than 500 buses in operation and more than a hundred in maintenace and for reserve. The subsidy per passenger-ticket in 2011 was around Rp 2,900 ($0.29) and for 2012 the subsidy is expected be around Rp 2,100 ($0.21) per passenger-ticket.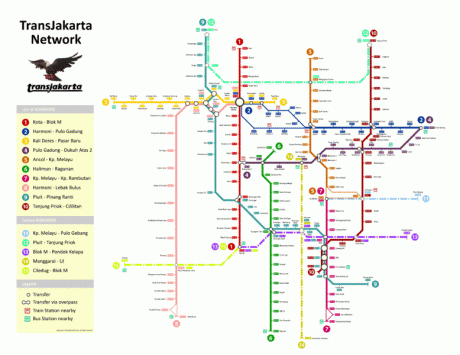 Currently TransJakarta has the world's longest BRT system (208 km in length), with 12 primary routes and 10 cross-corridor routes. Three more corridors are due to commence construction in 2014 or 2015 and will be partially elevated whereas the existing corridors are at ground level. In addition there are 18 'feeder' routes that continue past the end of the exclusive busways into the municipalities surrounding Jakarta and use special buses that allow for boarding at either ground level or the TransJakarta station platforms.
[NB: Parts of this article were lifted from the Wikipedia.org articles "Bangkok", "Rail transport in Malaysia", and "TransJakarta" in a manner compliant to the terms stipulated in the Creative Commons Attribution-ShareAlike 3.0 Unported License that governs usage of content made available in this site.]
benign0 is the Webmaster of GetRealPhilippines.com.