Philippine charity organisation Gawad Kalinga (GK) is currently embroiled in a public relations fallout thanks to what was described as a "sexist" and "misogynistic" speech delivered by its founder Antonio 'Tony' Meloto on the occasion of the 40th anniversary of the University of Hawai'i at Manoa (UHM) Center for Philippine Studies (CPS) last Saturday, the 23rd May.
Apparently outraged by some of what Meloto said in the speech which it perceived to be "self-serving", the CPS posted an image of its official statement on its Facebook page said to be collectively endorsed by the members of the CPS. The main point of the statement where Meloto's gaffes are highlighted in the following excerpt from the CPS statement:
In any event, what distressed many of those in attendance was not what Mr. Meloto ignored, but what he actually said. Characterizing the Philippines as "broken," and poor people in the Philippines as "hopeless" and violent, Mr. Meloto presented GK's work as almost magically transformative, bringing homes, peace, and tranquillity to the urban poor. Accompanied by laudatory voice-overs from prominent politicians in the Philippines, including President Benigno Aquino III, Mr. Meloto's philosophy of "social" entrepreneurship seemed simply a celebration of global free market capitalism and the efforts of white, male, European and U.S. entrepreneurs to bring prosperity to the ill-fated Philippines. He also seized the opportunity to promote the products of his own family company, Human Nature, and to suggest that members of the audience might bring them back from the Philippines and market them in the U.S. Many members of the audience found his ideas about economic development in the Philippines both condescending and self-serving.

But what was most disturbing about his speech was his sexism. His belief that the "greatest asset of the Philippines is our beautiful women," and that the future of the nation can be advanced by using them to attract the "best and the brightest" men from the West, and enticing them to invest in the Philippines, was outrageously sexist and deeply offensive to everybody in the audience, as well as patronizing and disrespectful to Filipino women in particular. Equally offensive, Mr. Meloto went on to share his views on the need for Filipino women and their white husbands to produce what Mr. Meloto (apparently humorously) called "cappuccinos," and appeared to present such a policy of seduction and reproduction as a solution to the problems of economic development in the Philippines. These are views that the CPS, an institution pioneered and for many years run by strong, and intelligent Filipino women, completely and utterly rejects.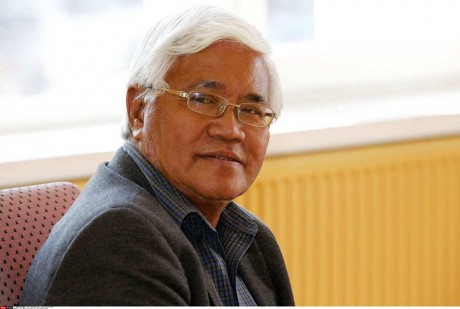 SUPPORT INDEPENDENT SOCIAL COMMENTARY!
Subscribe to our Substack community GRP Insider to receive by email our in-depth free weekly newsletter. Opt into a paid subscription and you'll get premium insider briefs and insights from us daily.
Subscribe to our Substack newsletter, GRP Insider!
Learn more
Leloy Claudio, in a post on Facebook, indicated that he was physically present at the event and confirmed the CPS's observations of Tony Meloto's speech and went as far to describe Meloto as a "misogynist pig". Claudio is founder of The Manila Review, a journal that focuses on publishing essays on Philippine society and culture.
One of the commentors, a certain Joseph Allen Ruanto-Ramirez claims to have long known about the illicit nature of the operations of GK in the United States. "GK- USA was under scrutiny for money laundering and false advertisement. A missing $2m supposedly and thats why GK-USA went into hiding for about 2-3yrs and has rebranded itself as The Filipino School," Ruanto-Ramirez wrote in his comment.
Pinoy Watchdog (PWD) a Filipino-American community newspaper based in Los Angeles, California wrote in an August 2012 report about the questionable nature of how GK-USA 'Chairman' Tony Olaes managed funds donated to GK supposedly for its development activities and community building efforts. The report cited its observations in the 28th August 2012 "100 Outstanding Fil-Ams" Dinner affair, a fundraising event in Universal City, California, organised by Darna Umayam.
PWD related in the report how Olaes was enticed by Umayam with a 1 million peso contribution to GK that was originally meant to be disbursed to ABS-CBN Foundation's Bantay Bata program. (ABS-CBN had previously pulled out from the event and disasscociated itself from Umayam, but that is yet another sordid layer in the thick plot). The PWD then reported…
At the dinner event a large facsimile check of one million pesos was exhibited, which included the PPP–USA name. However, all observers agree that the tender of any money would not be in pesos, but obviously in dollars. More importantly, the pictures from the event itself reveal that only an envelope and a piece of paper were ever publicly exchanged. No actual check was ever shown to the public.
Going back to the Meloto gaffe in Hawaii, so far, no reports of a statement coming from Meloto or from Gawad Kalinga have surfaced. There is only this cryptic tweet fielded by Meloto on the 24th May: "When bad things are said about you,just do more good. It's love for God,country & the poor that gives me the strength to move on."
benign0 is the Webmaster of GetRealPhilippines.com.