Ladies and gentlemen, Pacquiao's up and coming fight with Mayweather is only just a few weeks away from now. Already, I hear people everywhere clamoring for a chance to be heard on how much they support Pacquiao and how much they hate Mayweather. Already, I notice that so many Filipinos are filling Facebook with encouragements for Manny and negativity for Mayweather. Everywhere I go, people seem to be talking about it as if it's a definite sign of the apocalypse or something. In some churches and in the presence of less-informed Christians, prayers are being offered for the eventual victory of our champion and the defeat of a heavily demonized opponent.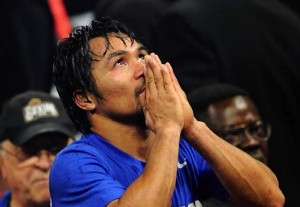 Okay, let's get this straight. I also support Manny Pacquiao and his efforts. Look, he is our representative out there on the global stage and I believe he should be supported by his people. However, while I certainly like his skills as a boxer, his determination, his Average Joe demeanor and his philanthropy, I can't really say I support his decision to become a politician nor do I try to pin all my hopes on him. Before I go on any further and before I get bashed by his supporters, let me get my points across first.
Pacquiao's Victory Probably Won't Change Anything
Look people, the Philippines is in a spot of trouble right now. Down to the south, the MILF are trying to claim a considerable chunk of Mindanao by pushing for the approval of the BBL. To our west, the Chinese have solidified their hold on some our islands and are now driving away our fishermen who make a living catching fish in the affected areas. While it may be summer now, we can only guess what other weather anomalies will arrive along with the rainy season this June and the sudden rains are probably just a taste of what's to come. Maltreated OFW's will continue slaving away in other countries for the promise of giving their families a better life. Squatters will continue to be a nuisance and further degrade the condition of our already heavily-polluted cities. The media will continue to flood our TVs and the minds of our youths with propaganda designed to wear down their intellect. The list just goes on and on.
So what if Pacquiao wins? The problems mentioned above aren't going to go anywhere. We will be stuck with the same politicians, the same media, the same poverty and the same retarded society even if Pacquiao manages to get the best of Mayweather. While I do know that Pacquiao has the best intentions for the Filipino people, I would like to quote the tagline for the first Aliens vs. Predator film: "No matter who wins, we lose."
That's right. Pacquiao's victory isn't going to magically solve our problems. They will be there before, during and after Pacquiao's prized fight. Whether or not Pacquiao wins won't change the fact that our politicians are corrupt and the masses are living in abject poverty and misery.
Pacquiao's Successes Are Not Permanent
The guy is really good, that much I'll say. He's quick, he's skilled and he's determined to win. That counts for a lot in my book. However, let me note to you that Pacquiao is just one man. He might be good at what he does but I strongly doubt he's an expert in horticulture or is a skilled surgeon. Knowing how to punch the lights out of another guy in a ring is probably quite different from facing armed, fanatical terrorists who are hell-bent on filling you with lead using high-quality assault rifles in a jungle.
Also of note is that Pacquaio is just one man. Whatever strength, power and skill he has is at best temporary. Sooner or later, his body will reach its limit and so will his career. Someday, perhaps soon, another boxer will get the better of him and put him down for good. Or, alternatively, he will be wise enough to realize that he isn't getting any younger and decide to retire. In any event, related to the statement above, Manny Pacquiao will call it quits on his career and we, the common Filipinos, will be forced to face our problems as they are. Pacquiao can't simply punch poverty to a pulp, uppercut terrorism or knock out corruption with a knuckle sandwich.
Pacquiao Is Probably Just A Puppet
All things considered, I am betting that someone, somewhere is benefiting from Pacquiao being a politician and I strongly doubt that it's his family. Essentially, Pacquiao is just a puppet being controlled by other political powers. In the end, he and his boxing career are just being used to cash in on his popularity. As popularity seems to be all that really matter in Pinoy politics and not platform or planning, you can see how it's so irresistible for some political parties to use Pacquiao as a way to boost their popularity. So it's not so much that Pacquiao is running the show, he is essentially just a good race horse his cohorts are showing off so they can maintain their grip on power.
At the end of the day, Pacquiao is just being used so that politicians can use dumb commoners like you and me. It's just a sad cycle of abuse and stupidity. While I do not doubt his talents and I will always support him as a fighter, I strongly doubt that Pacquiao actually calls the shots where he rules from. If anything, he is probably just another decor or trophy of the politicians he is working for.
It probably won't be long now and the country will once again get high with the excitement of another of Pacquiao's greatest fights. Unfortunately, like any drug caused by alcohol or narcotics, we will probably wake up next morning with another hangover, a huge bill to pay, vomit to clean up and the same problems we had before we got high.
Just for comparison, I strongly doubt that it has ever occurred to Michael Jordan, Maria Sharapova, Ronda Rousey or even Floyd Mayweather to run for a political position…
I HAVE RETURNED TO LAY WASTE TO OUR ENEMIES!