This happened not long ago as I was on my way home. While I was inside this jeepney, there was a boy of about 15 or 16 who went about begging for alms from the passengers of the long line of jeepneys bound for my destination. He wasn't alone actually as there were also a lot of other children running about the terminal begging alms and trying to get treats from vendors. Finally, the said boy came to my jeepney and begged for alms through the window I was sitting at. As he was getting to annoying to ignore, I was going to reach into my pocket for spare change when a woman sitting beside me stopped me.
"Hey kid," she shouted at the boy. "Why don't you get a job and get a life? Why don't you make use of that strong body of yours to find a job?"
In reply, the boy scowled and cursed at the woman and went on his way to continue begging among the jeepneys for alms. The woman looked at me and told me that giving alms to people of that sort only invites them to be lazy and stupid. While it may buy them a meal for the day, it will not be doing them favors for the rest of their lives nor will it be doing a favor for the society that they live in.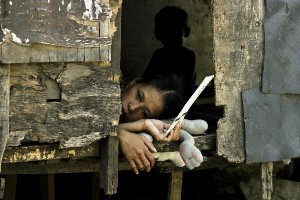 When I finally got home to think of the day I had, I found myself thinking of the boy and what the woman had told me. Many Filipinos tend to make use of the alleged "Pinoy Pride" in speeches but after having time to think, do Filipinos really understand what "pride" should mean for them. After finally turning in for the night, I realized that Pinoys have only superficial pride and not the pride required to better themselves and their country.
Allow me to explain, in any other country, to have "pride" at its most basic, is to have a sense of self-respect. That means you respect yourself and want others to respect yourself. To this end, you will do what it takes to make yourself respectable to others and, at the same time, give others due respect so that they may return it to you in kind.
For instance, in the United States, when you're past 18 and are still living at your parent's house, people will look down on you. They will see you as a parasite and an embarrassment to your family. Most Americans in this situation are then forced to leave home and with courage, determination, faith and a little luck, carve out a place in their society. Americans take pride in their independence and to see someone struggle on his or her own without the help of parents is a sign of courage to them.
Another example I can cite is that of the Japanese. Japanese are big on the idea of pride and the fact that they are willing to commit suicide because of it speaks volumes about what kind of people they are. Pride is very important to Japanese and their neighbors the Koreans, that is why they are all so dedicated to the development of their society. They pour everything they have in giving people good service simply because they pride themselves with being the best and doing anything of less quality is an insult to their pride.
Now, let's go back to Filipinos. Given, there are still a good number of Filipinos who take the quality of their work seriously and do their best to give others the best. Unfortunately, they are easily outnumbered by the large number of Filipino masses who have a different idea of pride altogether.
Okay, so how does "pride" work for most Filipinos? Well, to most Pinoys, "pride" is simply a sense of entitlement, not a sense of honor. Take note for instance when Manny Pacquiao or Charice Pempengco manage to achieve international acclaim, large numbers of Filipinos will try to take credit for their individual victories and say that they are "proud to be Pinoy" despite the fact that these individuals made their wins through their own perseverance and strength of character. Also note that the kind of "pride" Pinoys have is the false one wherein they demand recognition and recompense even though none of them have proven themselves worthy of them.
Take for instance the misguided ideas of many activists today. They constantly demand the government to make changes for them despite the fact that they have done nothing to improve their lives other than whine on how much their lives suck. They constantly complain about being maltreated by authorities when they have, in fact, committed crimes that warrant the attention and action of authorities. Sure, there are also a lot of corrupt authorities out there but it is all too often the same whiners who put them in their positions in the first place.
What we have from our misplaced sense of pride is a vast uneducated horde of whiners who think they deserve better yet are not willing to work for a better tomorrow. As examplified by this article on Anti-Pinoy, it has come to my attention that most Pinoys think along the lines that they deserve things simply because of who or what they are instead of through their own hard work. This isn't only inherent in the masses who have nothing better to do than beg for alms and beg for dole outs, this is also seen in authority figures who believe that they deserve the respect of people despite proving to be despicable thugs. In Japan for instance, most police officers refer to themselves in the third-person to show their humility. In the Philippines however, most policemen are seen as nothing more than uniformed gangsters who terrorize the people and openly extort money from legitimate establishments.
It is our false pride that continues to prevent us from admitting to our faults such as voting for the wrong people, polluting the environment and getting a stable job to support ourselves. It is our sense of entitlement that fools us into thinking that our country should provide for us (and not the other way around), that nature will sort itself out (probably with more typhoons) and that people should respect us (even if we treat them like dirt). Worst of all, because our pride prevents us from seeing our flaws and mistakes, it prevents us from making any real positive and permanent change in our lives and our country.
If we are going to take pride in anything, let us take pride in what we can achieve as a people. Let us take pride in an effort to make the Philippines a better place for the next generation. Let us take pride in learning to earn our own keep instead of relying on others to provide for us. Let us take pride when we can finally pick up where we left off decades ago and become a nation worthy of renown once again.
[Photo courtesy Cam111.com.]
I HAVE RETURNED TO LAY WASTE TO OUR ENEMIES!