As of late, since the troubles down south seems to have taken a sudden spike recently because of a "misencounter" (if such a word even exists) between the PNP-SAF and the MILF, I have seen people clamoring for either peace or justice. There are those who insist that the only solution for the problem at hand would be to negotiate with the bandits and terrorists of the south and form an agreement with them despite the fact that many of their predecessors have time and time again proven to be uncooperative and unwilling to uphold their part of the bargain. Then there are those who shout for justice for the 44 dead soldiers of the Philippines and that our only course of action now would be to declare all-out-war upon the rebels and end the troubles of the south once and for all even though the Philippines doesn't exactly possess the kind of resources necessary for maintaining a long military campaign that will lead to victory. Sadly, even now, Filipinos seem to be at a loss on how to unite as a people for the greater good. We squabble among ourselves over petty issues even though we should be trying to work together to find a reasonable answer that we can all live with to solve the problem.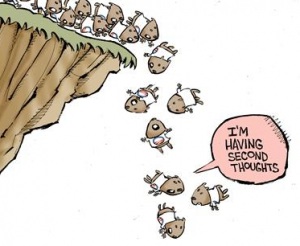 Unfortunately, the problem seems to go just a little bit deeper than that. I know I stated in a previous article the many misconceptions we have about values and how that contributes to the deterioration of our country's morals and its overall condition. See, the problem is, I notice a lot of dumb (and often paid) Filipinos throw words around they don't rightfully understand or cannot really apply to their situation. This becomes a problem because so many people are asking for something that they don't exactly understand completely or have no idea about the responsibility or consequences that come with what they are asking for. It's like asking for a pet even though you have no idea how and what to feed the pet and how to look after its needs.
To elaborate further on what I'm talking about, let's look at some of the things that many Pinoys are ranting about…
Peace
Peace is best defined as a combination of safety and harmony. It's about everyone getting along with everyone else and people are able to sleep well at night knowing that they are all safe. Peace is good and is important in keeping a country together and is necessary for progress.
Unfortunately, most Filipinos just understand the superficial definition of peace. Peace is often perceived by the masses as simply "nonviolence" rather than the balance it's actually supposed to mean. Just because no one is openly fighting doesn't mean that everything is okay. A lot of people think that the Philippines is at peace even though a lot of violence takes place in Mindanao. Worse yet, a lot of these same people tend to ignore the fact that a lot of their countrymen are getting slaughtered because they seem "far and away".
Fear has little place in a truly peaceful society. Remember that safety is all about freedom from both danger and fear. That's why a ceasefire made from the barrel of a gun cannot be called "peace" in the least because all it does is cow the people into submission. No acceptance or tolerance is involved if the only thing keeping people in line are guns.
There's been rumors that the government is still willing to sign a peace treaty with some of the rebel factions of Mindanao. While peace is a good thing, is it really peace we're talking about here or is the government just trying to appease the criminals down south? Is peace really the ultimate goal of the current administration so that people may finally catch a break after many long years of conflict? Or is this just another ploy for both the government and the rebels to further their own goals?
Justice
Justice, like peace, is also about balance. It is about creating a sense of harmony in a given community as everyone gets what they rightfully deserve. People who work hard deserve to be paid in full while people who try to steal other people's well-earned rewards need to be punished. Unfortunately, in the Philippines, even justice is often misinterpreted and, more often than not, justice is simply seen as revenge.
Well yes, justice does indeed involve some measure of getting even but that is why there are judges and juries who decide whether one is truly guilty of a said crime and what kind of punishment awaits them. The problem with a lot of people is that they are all too eager to take the law into their own hands and openly judge people without proper proof first. An aggrieved person is in no place to judge or condemn another as they would be making highly emotional decisions that are neither likely to be logical or just.
While I do not condone the acts of Muslim rebels in the south, I find it simply silly to associate these scum with the common Muslim citizenry. Of course, we know that Muslim extremists hide among their more moderate fellows but then, that doesn't mean they're all the same. It's funny how some non-Muslim Filipinos mock and threaten more peaceable Muslims when they would probably quake in fear in the face of the real rebels.
Another point about justice I'd like to show people is that a lot of destitute and uneducated citizens tend to demand justice even though they don't correctly understand what it entails. This ties in with the misguided idea that poor people are always the "underdogs" in any argument and therefore always the "good" guys. Many of these indolent rascals demand compensation from the government and society in general despite the fact that some effort has already been made to improve their lives. These people hold out an open hand to a community that has already given them all it could with overstretched resources. It's like taking away food from your already old and starving parents when you're young and strong.
Independence
Here is yet another important concept that many Filipinos fail to understand. The rebels say it, the protesters say it, the nationalists say it and the fans of Beyonce Knowles sing it. Independence isn't just freedom, it's about being able to stand on your own. Independence is, in fact, quite similar to the idea of how Americans who reach the age of 18 leave their parents so that they can strike out on their own.
When the Philippines gained "independence" all those years ago, did they really know what it meant to be "independent"? Or were they played for fools all along?
To this day, protesters go on and on about "independence!". Independence from whom, exactly? Like the North Koreans and their juche (self-reliance), it seems the idea of independence in the Philippines is something we have always failed so terribly at. While we claim to be "independent", we cannot deny the fact that, to this day, we are still dependent on foreign powers to do stuff for us. We are still dependent on foreign companies to turn our raw materials into useful instruments and we're still dependent on foreign investors to improve our economy.
When we say we want to be "independent", it means that we are willing to break our ties with any foreign powers and make our way through the world. It doesn't mean that we will stop trading with foreign companies, it just means that we will no longer be dependent on them and that, from there, we will handle our own economy.
So really, can we truly call ourselves "independent"?
I HAVE RETURNED TO LAY WASTE TO OUR ENEMIES!