A friend and I were recently looking through our Facebook timelines and having a laugh. The flood of ALS ice water bucket videos (which, frankly, I find a bit tiring), merited only a few pained chuckles. But what really got us guffawing was a photo shared by a distant acquaintance of ours. In the photo, this acquaintance of ours was posing with three other friends of hers each of them sporting a Louis Vuitton (LV) handbag.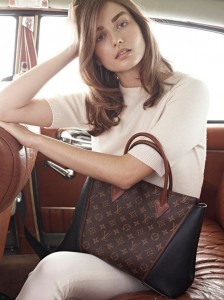 I say 'sporting' because it seemed to us that the whole point of the photo revolved around those tannish handbags. The ladies were clearly exhibiting them front and center as they struck model-like poses (you know, body pointing to their left faces cocked towards the camera with right front legs slightly bent) with the LVs slung on their right fore arms. So what does one say to a photo like that? Yeah, we get it, you've got nice LV bags.
So do a million others.
I just wonder though, which comes first: the "nice" or the "LV"? I mean, are the bags considered nice because they are LVs? Or are they LVs because they are nice?
Maybe it's just me, but I would likely have preferred sporting an unbranded bag and have someone notice it even as it sat cloaked in shadows and say in a matter of fact voice, "Hey, that's a nice bag."
I dunno. To be fair to LV, those bags really look nice in the promo photos. You know, the ones with the product slung around the arm of a tall thin leggy model staring back at you, speaking to you with her gaze telling you "you can be me if you buy an LV". Clearly, these ads work. The ad agencies that come up with these images don't get paid the big bucks for nothing.
Well, hopefully those bags in the photo are the real things. It would be a double tragedy for those ladies if they weren't.
[Photo courtesy SpottedFashion.com.]
Frustrated artist doing geek for a living.