I am a repeat offender. I went to last year's abolish the pork barrel protest  and as you may guess by now, things have gotten worse in the last 12 months.  My one year old thoughts are found here.  I am not a journalist by any stretch of the imagination. I just develop ideas and try to have fun with it. Being at the last two Luneta Pork/ DAP Heroes Day protests is still more tactile than my regular GRP work.
I admit today's protest did not have the bite that last year's had.  I am still glad I went though. I am honored to give you some sights and thoughts from August 25, 2014.
Last year Roxas Boulevard was blocked off from quite a bit away and it was a bit of a trek just to get to the outer perimeter. This year the cab dropped right across from the main entrance.  At about ten it was still a bit sparse again compared to last year but it made the lineups to sign the petitions very reasonable early on.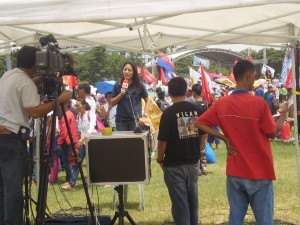 Bishop Ted Bacani was there and he did not mince words. He mocked the idea of the infamous " kayo ang boss ko" declaration. He mocked this so called clamor for a term extension and this was validiated by the crowd. He mocked Mar Roxas by name and his statements that have been echoed by Noynoy apologists. He even used the phrase "tuloy ang ligaya" referring to what will happen if you keep on voting the same old names over and over again.
I appreciate this paradigm. It is almost like the solar system. You have the significant players almost like in orbit of the Sun who in this case is the Son. As President Cory's Only Son (PCOS). Which is another issue that the Aquino government has swept under their rug of "not our fault". Jupiter , Earth , Saturn all have their orbits. But those orbits are dictated by what is in the center of everything. The Sun.
The analogy and the logic were lost on one member of the Twitterverse .
Guys, PNoy doesn't give pork, nor did he steal pork. It's the congressmen who 'stole pork'. PNoy did nothing wrong. RT to spread awareness

— Enzo Pisig (@elemenzo) August 25, 2014
Many people I talked to did not even know about today's protest and some who were aware were not as motivated to attend as they were this time last year. What it lacked in numbers , the 2014 Scrap Pork Initiative protest made up for it in attitude. It was truly a Noytard free zone. The 2013 version was inviting enough in the eyes of Noynoy apologist Jim Paredes that he gave his full endorsement.  My hardcore yellow relatives were also there saying echoing the Leah Navarro script that they were against the pork barrel but for the president. Which makes as much sense as being anti pornography and pro Ron Jeremy.   I am pleased that today's incarnation had more "balls". No fence sitting. There was no mistaking who people there thought was responsible. It was truly a Noytard free zone and I hope you all experience that feeling at least once in your life. Today was a glimpse of what things can be. Cue John Lennon's Imagine.
When I was on site I was spared from thoughts such as this gem from Leah Navarro. My interpretation is that her advocacy is quality. What is quality about a guy who is president because his mom died?
"@iwriteasiwrite: @leahnavarro @cocoy Quantity vs Quality I know which wins. :P" Sempremente! — Leah Navarro (@leahnavarro) August 25, 2014
In the end the flag is what it is all about. It is not about some moronic yellow ribbon. This protest is all about the indulgence of a pampered , uncompromising man child who rode in his high horse in 2009 and never got off. he talks about looking at opponents track record when he himself brought nothing to the table in 2009 besides a dead mother. Which is really a pathetic thing to be bringing to the table when you have all the problems the Philippines has.
When I am out on the street I occasionally stumble across my idea of Kodak moments. One example of this is when I frequently pinoy pedestrians pretend they are illiterate of illustrations like this.
Just when I thought I had enough pictures to tell some sort of story to people who were not there I chanced upon something.
Just as you leave Luneta headed towards the Mall of Asia you will see this sign. Common sense in most places dictates you don't take a leak anywhere you feel like it in public but common sense is just an ignored concept in the Philippines. Also it is so fitting it is in the mother tongue even though many signs are in English. The thing is at that point I did not realize I was in the CCTV scope of the American Embassy. As I bypassed the tree a security guard told me that he knew I was taking pictures. I showed him the same sign discouraging any kind of urinating and he let me carry on.
Who would have thought the simple act of documenting pinoy dysfunction possibly could have lead to an international incident? Strangely it goes back to the main point what today's protest was all about. Bishop Bacani did not believe the people were the bosses of Noynoy. I will take it one step further and say Noynoy just loves to piss on his bosses and then charge them irrigation fees after.
Putting a very sharp needle into the balloon known as Pinoy Pride since 2012.