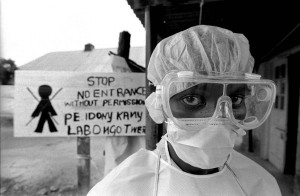 The death toll is mounting in West Africa as the Ebola virus, which causes an often fatal haemorrhagic fever in its victims, ravages West Africa. The disease is spread amongst humans through blood and other bodily fluids. The world is starting to batten down as fears of the disease spreading beyond the region grows. Governments in affluent countries in North America, Western Europe and Northeast Asia as well as Australia have marshalled modern resources to prepare to face the threat. Quarantine measures in airports have been tightened and systems to rapidly respond to and contain an outbreak have been fired up there.
"The level of contamination on the ground is extremely worrying and we need to scale up our action before many more lives are lost," said EU Humanitarian Aid Commissioner Kristalina Georgieva.

In Hong Kong, a densely populated city previously scarred by disease outbreaks such as the 2003 SARS epidemic, health officials confirmed they would quarantine as a precautionary measure any visitors from Guinea, Sierra Leone and Liberia who showed fever symptoms.

One woman arriving in the southern Chinese city from Africa, who showed symptoms including fever and vomiting, has tested negative for Ebola.

Australia said Thursday it was well prepared in the unlikely event that the Ebola virus reached its shores. Australia has already warned against travel to Guinea, Liberia and Sierra Leone.

On Tuesday a meeting of the Communicable Diseases Network of Australia was convened, including key infectious diseases doctors and state and federal health authorities, to discuss ways to respond if Ebola was detected.
The Philippines has a sizeable chunk of its workforce deployed all over Africa and there may be significant risk that Ebola carriers may already be in-flight to Manila and many other Philippine airports. There is no known vaccine or specific treatment regime for Ebola, and patients suffering from its symptoms require immediate intensive hospital care.
Disease control is a particularly problematic challenge in Metro Manila, the world's most densely-populated megalopolis which is home to a vast squatter community within which many residents lack modern sanitation facilities. One of the major gateways into this teeming city, the Ninoy Aquino International Airport (NAIA), is rated among the world's worst and likely will lack adequate quarantine facilities to properly monitor and screen incoming overseas travellers. In mid-July this year, a ruptured sewage line reportedly engulfed large areas of the NAIA complex in offensive effluent stench.
Manila's creaking public transport system could also serve as high-speed arteries for the deadly disease. Sweaty commuters are often packed like sardines in buses, jeepneys and trains. Spitting and urinating in public is also a common practice among Filipinos and could possibly contribute to complicating efforts to contain the disease once it hits the Philippines' shores.
The Philippines is woefully ill-equipped to deal with extreme health disasters. Even under normal circumstances, Filipinos already suffer virtually non-existent public health care capability. The country ranks 155th among 190 countries rated for public access to hospital care with only 1 hospital bed per 1,000 people. It is interesting to note that according to the rating agency that issued those numbers, the "failed states average" is 0.951 per 1,000 people.
With the coming typhoon and monsoon season, the Philippines' ability to rapidly respond to threats against health and safety is increasingly attracting the spotlight. Chronic traffic congestion, vast swaths of flood-prone areas, and decrepit roads will make emergency response by land-based facilities extremely difficult. It is imperative that Filipinos start directing some of their attention to this looming threat. Even without the spectre of an Ebola outbreak, the Philippines is already vulnerable to outbreaks of other diseases.
benign0 is the Webmaster of GetRealPhilippines.com.