This is my response to an article written by Paul Henson and published in ABS-CBN containing a blurred out screen capture of a Facebook post where I was verifying an oddly titled article with a friend.  The online and public conversation I had with my friend apparently had been taken out of context and made part of a story titled "When trolls tamper with headlines" where it seems that I have been branded as troll.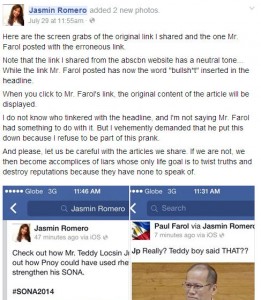 Blurred out as my name is, it is still recognizable as my Facebook post especially considering that Ms. Jasmine Romero first posted the unblurred screen captures of my conversation publicly  WITHOUT MY PERMISSION and after making non-specific THREATS against me.  Apparently, she got piqued for erroneously believing she was being attributed to in my Facebook post — DESPITE MY ALREADY HAVING CLEARLY STATED THAT NO ATTRIBUTION WAS MADE TO HER IN MY FACEBOOK POST.
Thing is, for some reason, I think Attorney Mel Sta. Maria's column has some relevance here:
If there is abuse, he or she can be held accountable for the injury to the one embarrassed. This is what we call in law the ABUSE OF RIGHT DOCTRINE. This precept is embodied in Article 19 of the Civil Code providing that "every person must, in the exercise of his rights and in the performance of his duties, act with justice, give everyone his due, and observe honesty and good faith".

Also Article 26 relevantly provides that "every person shall respect the dignity, personality, privacy and peace of mind of his neighbors and other persons" by not, among others, "intriguing to cause another to be alienated from his friends" or  "disturbing the private life or family relations of another."  
BELOW IS THE BACK STORY:
So, right after the King Noynoy Aquino III's fifth State of the Nation Address, it seemed my own small corner of the internet people were almost completely aghast with all the credit grabbing and outright lies that he spewed from the podium. All the status updates during and right after Pnoy's SONA were of utter disbelief and in some instances near absolute disgust interspersed with here and there with mentions of Kris Aquino's crying fit and the frog in Pnoy's throat near the end of his speech.
In the morning after, right after drinking my first cup of coffee, the first article that I find floating on my Facebook news feed is one titled "Pnoy's Latest Sona His Best Ever: Locsin" and I was dumbfounded to say the least.
How on earth could THE Teddy Boy Locsin say that about a speech so shot with factual errors and perversions of logic is Pnoy's BEST?
So, the first thing I did was to share the link and tag a good friend of mine JP Fenix, asking him "JP, really? Teddy boy said that??"  Thing is, JP is close to Teddy and if anyone in my friends list on FB can vet an article about Teddy, it would be him.  I wanted to have his opinion about Teddy's piece, did he really think that Pnoy's speech was his best or was he being superlatively sarcastic?
He called out something I had missed in my nearly reflexive sharing of the article, saying: "The headline bandit is really at it this time!"
It was only then that I realized that the title of the article had become "Pnoy's latest SONA is his best BULLSHIT STORY ever: Locsin" and I noted his observation by saying, "Ayan na naman sila… grabe na ito." (English translation: "Here they go again… This is really awful."
In about two minutes, ABS-CBN radio anchor and reporter Jasmine Romero butts in my conversation with JP with a comment, "Paul– THIS IS NOT THE LINK I SHARED. There wasnt any bulls**t word in the original link. DO NOT USE MY NAME TO SPREAD LIES!!!!"
And I was thinking, what lies? I was actually asking my friend about an oddly titled news story which for one reason or another had become funny in a bizarre way.
In the latter part of the post, I answered Ms. Romero assuring her that, "THERE IS NO IMPUTATION, SUGGESTION, OR ANY CLAIM OTHERWISE THAT YOU MADE THE THE HEADLINE/TITLE FOR THE ARTICLE. If you read my post, I AM CLARIFYING WITH JP IF THE TITLE OF THE SAID ARTICLE IS TRUE."
Thing is, I was thinking that my response should have ended the issue with Ms. Romero, but I was mistaken and she posted screen captures of my Facebook post saying:
"Here are the screen grabs of the original link I shared and the one Mr. Farol posted with the erroneous link.

Note that the link I shared from the abscbn website has a neutral tone… While the link Mr. Farol posted has now the word "bullsh*t" inserted in the headline.

"When you click to Mr. Farol's link, the original content of the article will be displayed.

"I do not know who tinkered with the headline, and I'm not saying Mr. Farol had something to do with it. But I vehemently demanded that he put this down because I refuse to be part of this prank.

"And please, let us be careful with the articles we share.If we are not, we then become accomplices of liars whose only life goal is to twist truths and destroy reputations because they have none to speak of."
Thing is I thought Miss Romero's SECOND career fiasco involving a FALSE REPORT about a FLESH EATING BACTERIA EPIDEMIC in PANGASINAN would have taught her a lesson by now, as if her FIRST career fiasco when she was in Channel 4 wasn't enough.
Let's review that bit of TV history when a FALSE and MISLEADING STORY almost ended up with A PROVINCE suing ABS-CBN. Here's a post from BenignO on the irresponsible journalism that goes on in ABS-CBN.
To get a clearer idea of what Ms. Jasmine Romero did, here's a brief caption from the Philippine Daily Inquirer's article "ABS-CBN anchor on flesh-eating disease report: No intention to sow fear":
Reporter Jasmin Romero, clad in protective gear and facemask, interviewed two patients from Santa Barbara and Villasis and described them as having "decaying" (naaagnas) skin due to a "mysterious disease" (misteryosong sakit).

It turned out that the two have leprosy and severe case of psoriasis, health officials corrected Tuesday. Also, a flesh-eating disease is not mysterious, but a rare illness called necrotizing fasciitis, a serious bacterial infection that spreads rapidly and destroys the body's soft tissue, provincial health official Anna De Guzman said.
This led Ms. Romero's network to issue a public apology:
In a statement, ABS-CBN said it "apologizes for the unintended fear and panic caused by its report on the cases of skin diseases in two towns in Pangasinan."

It said that "in accordance with internal standard procedures, ABS-CBN's Office of the Network Ombudsman is currently investigating the circumstances that led to the airing of the report."

"ABS-CBN News will take the appropriate actions based on the findings of the Network Ombudsman," it said.
THERE'S YOUR REPUTATION RIGHT THERE, MS. ROMERO.