I find it amusing, and yet not surprising at all, that the cases of the Filipino peacekeepers assigned to the United Nations and of the Gilas Pilipinas Basketball team going to play in the FIBA tournament in Spain are being held up in social media as indicators of Filipino "courage", and consequently, Filipino pride.
The Filipino peacekeepers in the UN were engaged in a firefight with hostile militants in the Golan Heights. As certain analysts pointed out, the Filipino soldiers could have simply laid down their arms and surrendered, then they probably would have been beheaded by their captors. But the soldiers did not surrender, and they fought the hostiles until help arrived which enabled them to escape. And now, that they didn't surrender and defended their position is being held up as an example of "Filipino courage as a whole".
The Gilas Pilipinas Basketball team certainly appears to be outmatched in height and skill by their opponents in the FIBA tournament in Spain. Both the fans and the team members themselves like to argue, however, that they more than make up for it with laban (fighting spirit), and puso (heart). The result of their first game against Croatia, however, was an overtime loss. And once again, Filipinos love to play up the underdog card, the "courage in the face of overwhelming odds" thing, and the "if only the referees didn't miss a few calls" excuse.
I guess some things don't change. Hindi makamove-on sa pagkatalo. But I digress.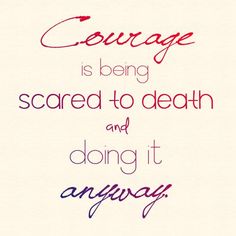 We certainly don't want to take away from the efforts of both the peacekeepers and the Gilas team, but I would have to consider showing courage as part of the job, and to be expected. Leave it to the Filipinos to make a mountain out of a molehill with their kababayans who simply do things properly, and those who simply do the right thing even in the face of very unfavorable – terrifying even – circumstances.
In fact, that is an often used quote about courage: "Courage isn't just a matter of not being frightened. It's being afraid and doing what you have to do anyway."
The real point I want to make, however, is this: if Filipinos are so proud of their so-called "courage", then where's the display and demonstration of it back home, where it matters the most?
The cases of the peacekeepers and the Gilas team appear to be extraordinary to Filipinos especially since both of them happened on foreign soil. But location does not really matter; Filipinos have a need to be courageous in their own backyard as well. They are currently facing a government that has not delivered on its promises to its people and is much too absorbed with perpetuating its power and position. They are up against a government which does not care about the deteriorating basic needs and services that they have failed to provide. They are up against the old system of patronage and pakitang-tao politics that have characterized the Philippines landscape for decades. They are up against their own inability to adapt to change and to take criticism and critical analysis. Worst of all, they are facing their own cultural dysfunction, apathy, indifference, and their lack of follow-through in fixing the overall sorry state of their society.
It has long been said that more than cowardice, conformity is the enemy of courage. Filipinos have long been afraid to speak up because of their fear of ostracism. They have long been unable to handle criticism to their benefit due to their hypersensitive character. They have long been conditioned to conform because of their deference to tradition and "the old-guard" even in the face of overwhelming evidence that the old ways don't necessarily work anymore.
Filipinos must find in themselves the courage to speak up against what does not work in their society. They must find in themselves the courage to stop treating their public servants as kings and queens who cannot be admonished and are infallible. They need to find the courage to stop being lazy both physically and intellectually. They need to find the courage to promote the right type of thinking and the right type of discussion and debate in their society.
All of these will be a big step forward for Filipinos simply because they cannot find it in themselves to do the unpopular but right thing.
Is it as easy as I make it sound? I thought Filipinos were proud of being courageous. Isn't it high time that they do show that collective strength of character that they boast of?
А вы, друзья, как ни садитесь, все в музыканты не годитесь. – But you, my friends, however you sit, not all as musicians fit.