(Updated. 091314)
A friend supposedly saw an English speaking Filipino cultural activist licking his chops and gloating over his supposed victory over the enemies of the cultural elite which he claims to represent.
The so-called social media "thought leader" announced his victory saying that his/her protest against the Torre De Manila has reached the senate where it is now being probed by Senator Pia Cayetano — the other Cayetano whose actually has testosterone.
And really, I'm wondering if the whole thing will douse the enthusiasm of foreign companies who are thinking of investing in the redevelopment of Manila.
Thing is, ordinarily, privately backed building construction projects and other development projects approved by the city government and national government agencies are generally expected to proceed without a hitch.  Even more, if at all there are any legally actionable complaints against the construction project, the news we should expect to see about it would be that cases were filed in the appropriate court and it could be expected that follow up news would be about developments in the deliberation of the case, one of the big ones would be an order stopping construction.
Nevermind the fact that in the Philippines, undertaking ANY private business enterprise involves GREASING THE HANDS of bureaucrats at every level — from the Mayor down to the barangay captain plus bureaucrats at almost every level of a national agency.  Depending on how big the project is or how connected your rivals are with the powers that be, you'll also have to deal with protests from "interest groups" or "socio-civic groups" that are sometimes really just pawns. If your rival is very seriously moneyed and very seriously connected, you get invited to a hearing by senators and congressmen that is supposedly in aid of legislation.
Seeing in the news Senator Pia Cayetano calling for a lawsuit against against DMCI for constructing Torre De Manila reminds me of Senator Serge Osmena threatening to take people to court over the awarding of the P17.7 Billion Mactan Cebu International Airport upgrading project to Megawide Construction Corporation.
Having seen so many forms of government corruption before, I can tell you that one easily spotted pattern that says some manner of corruption is at play is when personalities are used to subvert or over-ride established processes. On the lower level, this usually happens when the clerk processing official documents prioritizes one set of documents for approval because he was told it's from one of the mayor's friends. On a higher level, this is usually when you see situations like President Benigno Aquino III lobbing threats against the Supreme Court over its decision on DAP or as mentioned, Senators Osmena and Cayetano threatening private corporations with lawsuits over some issue that should be submitted to the appropriate forum for settlement.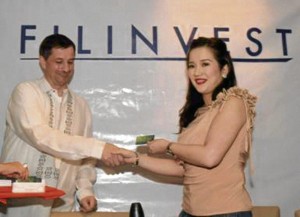 One form of corruption is when power and influence are brought to bear upon established and regular processes. In other words, it's the "may kapit" (has connections) or "malakas" (has power) kind of corruption, one that can lead to having hassle free processing of public documents or multi-billion peso contracts awarded to a favored development firm.
Another term for it, a favorite one these days, is REGULATORY CAPTURE.
In the case of the Mactan Cebu International Airport, the issue involved an infraction supposedly committed by Megawide in the bidding process and as such, its rival for the project (Filinvest Changi) should be a case deliberated in court.
Thing is, a number of websites mention Filinvest as a partner of Amari Coastal Bay Resources which figured prominently in the "Grandmother of all scams" in the mid-1990's called the "PEA-AMARI LAND SCAM".
One article written by a certain Robert Rivera SJ ICSI titled "PEA-Amari as Electoral Controversy".
The political adversaries of the Ramos administration maintain that no less than the president himself is culpable. The crime: selling out the government's interests by favoring Amari Coastal Bay Resources and Filinvest Development–topping off a growing list of other corporate beneficiaries–over higher bidders in various lucrative real estate development schemes.
The same claim is repeated in several Wikipedia entries and Wiki sites.
Someone by the name of Christine Gaylican claiming to be working for Filinvest contacted me through a private message on Facebook asking me to take out the mention of Filinvest. She denies that Filinvest had anything to do with the PEA AMARI land scam.
Ms. Gaylican posted this in the comment section below.
We would like to point out in the strongest terms possible that neither Filinvest Land, Inc. ("FLI"), nor any of its affiliates or subsidiaries, was ever involved in the PEA-Amari deal nor was it even remotely linked to this deal in any way.

Likewise, FLI and the entire Filinvest Group have carefully and meticulously built up their reputations over the last 60 years and would never allow their names to be associated with any scams.
In an article by the PCIJ on the PEA-AMARI land scam, one passage bears emphasizing…
The PEA board was also swayed by a perception of Malacañang support for Amari. At the Senate, board member Arturo Trinidad revealed that PEA management presented to the board a memo which said that the agreement had been submitted to and approved by the President.

"That is a major consideration insofar as the members of the board are concerned," he said. Trinidad added: "I was also concerned with (sic) my stay in the board of directors and that my questioning the position of the general manager could lead the general manager to propose that my appointment be terminated."
In the case of Torre De Manila, the nature of the supposed violation is that the building supposedly mars the line of site of the Rizal monument and this is eerily similar to the protest against a reclamation project on Manila Bay because it would block the sunset which was grounded on an ambiguous declaration of Manila Bay as a national heritage site.
The problem with premising some kind of violation of law on cultural or historical conservation on such as "line of sight" and "blocking the view to the sunset" is that both are ambiguous or hard to delineate.
Take for instance the "line of sight" of the Rizal monument, is there actually a law that describes this? How about Manila Bay's sunset, where is the line of sight for that defined?
 I'd imagine that if you were to define a line of sight you'd have to express it in terms of points on a three dimensional plane, given a particular vantage point or point at which you are supposed to view the monument.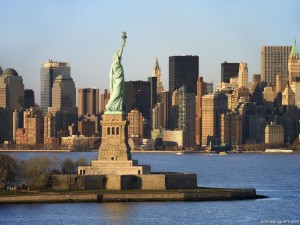 Then again, other cities in other countries have no qualms over such things. Take for instance, New York's Statue of Liberty and its famous skyline.
I can't say for sure, but I think lady Liberty looks even more awesome with such huge and magnificent skyscrapers in the background. In my mind, it looks like as if the statue is welcoming people to THE FIRST WORLD.
My sister, who moved to New York in the 1980's says that she didn't feel as if she had actually arrived in the US until she got a chance to see the Statue of Liberty surrounded by skyscrapers in the distance. It was thrilling, she said.
I wonder if people get the same kind of thrill when they get to see the Rizal monument…
I imagine that Rizal's eyes actually have a recriminating stare rather than an approving look. After all, one persistent image of Rizal park is that it has an assortment of vagrants, peddlers, and even robbers as its main habitue.  Around it is a park that gets "maintained" off and on, with gardens that need serious attention.  In front of it, is the Quirino Grandstand which had become famous during the Second Aquino administration as the vicinity where Hongkong Tourists were killed in a botched hostage crisis. Also around and near the Rizal monument are the rows of dilapidated buildings on TM Kalaw where on most days you'll see long lines of people applying for jobs as seafarers. On the other side of Rizal park, which is Padre Burgos Avenue, you'll usually see gridlock traffic composed mainly of jeeps, buses, and trucks coming from the pier area moving towards the Manila City Hall.
So, when Cayetano or that social media "thought leader" harps about keeping Rizal's monument 'sacred and unmarred', I find it laughable. It could be mistaken as the kind of sarcasm I would imagine hearing from Anton LaVey when he says the devil is the church's best friend.
If at all there is one thing that should be investigated in aid of legislation, it should be whether the National Historical Commission and the National Commission for Culture and the Arts actually has too much power considering its ability to stop development projects already approved by national and local governments?
It seems that if both the National Historical Commission and National Commission for Culture and Arts can stall projects representing billions of pesos worth of investments on reasons as flimsy as 'line of sight', then its power to do so is unlimited wherever some historical or cultural artifact can be found.
God forbid that an infrastructure project should be stalled because some historical figure did something or other in that spot.
Moreover, it is ANTI DEVELOPMENT to insist on bringing things back to some "glorious past", especially when the "glory" of that past is misrepresented and misunderstood.
If Manila ever had a golden era, as my father would say, it would have been in the years before World War II bombed the heck out of the city. He was born in 1927  in Quiapo, Manila and grew up at a time when people could still catch fish that was safe to eat from the Pasig River.
What is not being admitted to by any of the so-called defenders and preservers of the country's cultural/historical "treasures", it would be monumentally impractical to insist on either bringing back Manila to that so called "golden era" or keep things the way they are.
Both proposals are inane and preposterous, probably as inane and preposterous as the claims that were made about reclamation projects in Manila Bay — the main one being that reclamation would block the view of the Manila Bay sunset, a claim disproved in the 10 seconds it takes to log on to http://suncalc.net/
Other claims made against reclamation were also similarly rebutted with ease and you can read it all here.
Even some of the staunchest conservationists point out — and this include's columnist and architect Paolo Alcazaren — is that the City of Manila and Metro Manila for that matter, has thwarted any attempt to be developed along any of the 11 master development plans made for it. (Click here to listen to a talk delivered at Ateneo on Metro Manila's Urban Blight.)
One point that Alcazaren made in his talk is that it only private developers who actually executed city master planning mainly because, as it is with grand master plans made by any government unit, it lacked "funding support" for one reason or another. This point was emphasized, this time with a heaping of heady bravado, by Ayala Land Inc. President Thomas Mirasol, who in a visit to Singapore declared that "WE ARE GOVERNMENT"
Well, Mirasol didn't say that exactly, but a quote published in Singapore Property News spells it out.
"The fact that there is nobody in the Philippines who regulates urban planning has been great for Ayala Land, because we are probably the only company there that has the scale financially to take on large plots of land

"We have resources far beyond any developer in the Philippines. By developing big tracts of land, we become the government; we control and manage everything. We are the mayors and the governors of the communities that we develop and we do not relinquish this responsibility to the government. "But because we develop all the roads, water and sewer systems, and provide infrastructure for power, we manage security, we do garbage collection, we paint every pedestrian crossing and change every light bulb in the streets – the effect of that is how property prices have moved."
If that isn't admitting to being the main protagonists of  regulatory capture, I don't know what is.