Keen observers of the Filipino Condition had long ago collectively agreed to put a word to the concept: palamunin. The word encapsulates many aspects of Philippine culture encompassing its renowned mendicancy, lack of foresight, heritage of smallness, victim mentality, false hope, and anti-intellectual values. Indeed, the most disturbing aspect of Philippine society is the way even its most influential people lead in the upholding, propagation and embedding of palamuninism in this profoundly-impoverished society.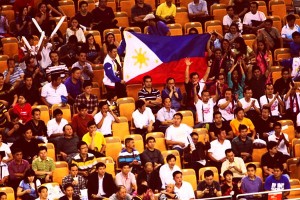 The destructiveness of the standard populist script spouted by the Philippines' top politicians, executives and bureaucrats can no longer be readily discerned. Filipinos can no longer see it for what it is — a cognitive poison. It is because generations of Filipinos have been beaten into resignation to the glory of mediocrity and embracing the "grace" of consistently losing. Indeed, nowadays, Filipino "achievements" trumpeted by the Establishment are really just loser sandwiches tossed to palamunins starved for the perverse forms of "inspiration" they've been induced into working up an appetite for. The more they feast on these loser sandwiches, the deeper the addiction gets, the bigger palamunins they become.
Take the latest pronouncement by Philippine Ambassador to the United States Jose L. Cuisia, Jr.
SUPPORT INDEPENDENT SOCIAL COMMENTARY!
Subscribe to our Substack community GRP Insider to receive by email our in-depth free weekly newsletter. Opt into a paid subscription and you'll get premium insider briefs and insights from us daily.
Subscribe to our Substack newsletter, GRP Insider!
Learn more
"The Philippine economy grew by 6.4 percent during the second quarter of 2014 also because of the millions of dollars that our kababayans, especially those in the US, have been sending home," Ambassador Jose L. Cuisia, Jr. said after the National Economic and Development Authority (NEDA) announced the good news.
As if Filipino overseas expats are not exasperated enough about being seen as the pambansang alkansya — literally, the national piggy bank. Thanks to Cuisia, the island natives will continue to oblige the "generosity" of their overseas kin. Their heroes.
Heroism. That's something Filipinos can relate with. UN peacekeepers holding their position against Islamist jihadists in a Golan Heights encampment? All ears. An outclassed national basketball team slugging it out in Europe? All cheers. The Filipino "hero" narrative is alive. It is a staple fodder of media output and political campaign — because it works.
It is interesting to note that the latest tales of heroism Filipinos are exchanging high-fives over are set half a world away. To be fair, when you've got media heavyweights reporting the minutiae of the plight of the Filipino contingent of peacekeepers in a deadly stand-off with Islamic militants and big corporate sponsors fuelling media mileage for Team Gilas, you get the all-too-familiar hot-selling shrinkwrapped McHeroism in their most recent incarnations.
The trouble with the Pinoy-style Hero narrative is that it had all but commoditised the wrong type of achievement. The sorts of "heroic" acts that opinion-shapers are packaging for mass consumption are not the sorts that build foundations upon which sustainable long-term progress can take root. Heroism, as Filipinos see it, involves a dashing costumed crusader swooping into the midst of a disaster and saving the day. Saludo!
Pity then the guys quietly beavering away in the background on stuff — new systems, new products, new services, etc. — that prevent disaster. There you go. The trouble with hero worship is that the firefighters get all the glory. The engineers, on the other hand, get their budget cuts.
No surprise then that the Philippines remains an impoverished nation. A system where a minority of exceptionals subsidise the low-output of a vast majority of palamunins. We call that elite minority of exceptional Filipinos "heroes". And, as if it were not enough that Filipinos do not see the bad in that situation, the quality of these nationally-styled "heroes" is also deteriorating.
Winning used to be an absolute. One wins when one gets the gold and trods upon the enemy's bloodied carcass on the way to the bank.
You'd think fans of the popular TV show Game of Thrones would be first to relate to that.
To be fair, that standard of what it means to win was a necessity back when winning did not involve much mathematics and navel-gazing. Thank goodness for civilisation. In more civilised settings, rules that determined who won or lost had to be invented. Even then, winners are declared by unbiased third parties — such as referees and umpires and, better still, writers of history books. Filipinos, in contrast, have acquired the habit of declaring themselves the winners.
For Filipinos, because they have for much of their history lost a lot more than they won, it became imperative that victory be re-defined. Thus we re-defined heroism, we re-defined independence, and we re-defined progress to fit the new concept of Da Pinoy Winner. Most recent is the rhetoric that has emerged following the beating Team Gilas suffered in the 2014 FIBA Basketball World Cup in Spain. Team Gilas, Filipinos say, lost "with heart" — with puso in the vernacular.
That's nice, of course. The notion of "good" even gracious losers works well when you win some and lose some. Trouble with Filipinos is we win some and lose most. So the sting of loss has since come to be alleviated by a steady now-culturally-ingrained morphine dripfeed — self-declared victory. With heart.
benign0 is the Webmaster of GetRealPhilippines.com.