What was once a grand plan to construct what could have been considered Manila's first true "Grand Central Station" near SM North EDSA Mall has stalled and has literally broken up into little pieces that will leave commuters, as usual, grasping the short end of the stick. The station would have linked tracks being built under the LRT1 North Extension, MRT Line-3, and MRT Line-7 Projects into an integrated rail junction housed within a single building.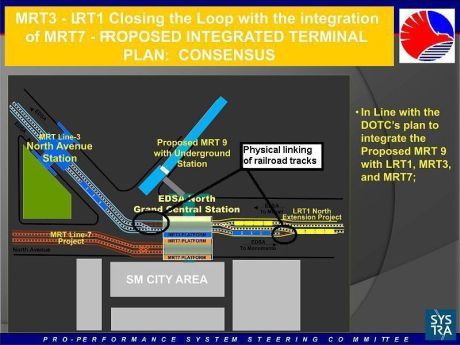 [See full-sized images here.]
Called the Metro Manila Integrated Rail Terminal or Common Station, the proposal encompasses the proposed terminus of LRT Line 1. It is the planned interchange station that will connect LRT-1, MRT-3 and the terminus of the proposed MRT-7, which will run from North Avenue, Quezon City, to Araneta-Colinas, San Jose del Monte in Bulacan via Commonwealth Avenue and Quirino Highway.
SUPPORT INDEPENDENT SOCIAL COMMENTARY!
Subscribe to our Substack community GRP Insider to receive by email our in-depth free weekly newsletter. Opt into a paid subscription and you'll get premium insider briefs and insights from us daily.
Subscribe to our Substack newsletter, GRP Insider!
Learn more
The project, which was conceived way back in 2007 and approved in 2009 and could have been completed in 2010 but languishes today as key players in the project, SM Prime Holdings, the Ayala Corporation and the Philippines' Department of Transportation and Communications (DOTC) remain at legal loggerheads. The DOTC, for its part, favours the option to build the integrated terminal near Ayala Corp's Trinoma instead of in front of SM North EDSA as originally planned…
Last week, SM Prime sued the DOTC and the LRTA for alleged breach of contract on the location of the common train station. SM Prime argued it has a NEDA-ICC approval back in 2009 to build the common train station at SM North EDSA mall.

However, DOTC said that approval expired and government will generate savings of P1 billion if the station is built near [the Ayala Corporation's mall,] Trinoma.
A SkyscraperCity.com user who goes by the handle jval developed an illustration of the change in plans and first posted it on Page 185 of the "Mass Rapid Transit" thread of that forum on the 10th June 2014. The image has since been widely shared over social media.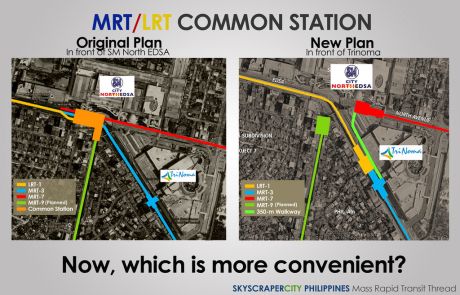 [See full-sized image here.]
Much of the insight and commentary that has since come flooding in was handily summed up today by Inquirer columnist Conrado R. Banal III, thus;
It was rather common sense for the technical people hired by LRTA to locate the station at the SM mall, because there they could connect all three lines—LRT-1 and MRT-3, plus MRT-7—rather seamlessly.

The location at Trinoma would exclude the MRT-7 station, for example, and the commuters thus would have to walk a long way (more than 600 meters) in what was supposed to be a "common" station during rush hours when the station would be bursting with humanity.
Integrated interchanges such as the one originally proposed under the original SM Prime proposal where passengers can change train lines conveniently are essential in Manila's tropical climate, an environment made worse by the city's perenial pollution and dustinesss. Metro Manila is also indisputedly a pedestrian-unfriendly metropolis where pedestrians compete with road vehicles for space to move.
benign0 is the Webmaster of GetRealPhilippines.com.