I don't pretend to know much about the nitty-gritty of military life. In fact, the closest I ever came to experiencing it involved being an officer in the Citizen's Army Training (CAT) program in high school, and being a normal cadet in the Reserved Officers Training Corps (ROTC) program in college.
If anyone cares to notice in my past two articles on the military and cadet Aldrin Cudia's case with the Philippine Military Academy (PMA), I haven't really said much on whether or not I think the ruling per se by the Honor Committee itself is bullshit. That's just me; whatever I may think personally about their ruling, the point is their ruling has been made, and must be respected. If there is a question with any ruling, then several established processes are there to be followed to have it reconsidered in a structured manner.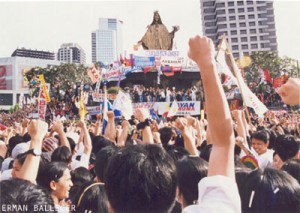 I approached this issue, however, from a big picture institutional perspective. This kind of perspective relies less on the nitty-gritty and technicalities of military society, and more on the simple question of whether institutions and rules are being followed and strengthened or not.
Ultimately, this is the biggest problem of Filipino civilian society: rules and institutions are blatantly disregarded, much less being consistently followed in it.
All over social media, there is talk about how the military is allegedly corrupt – a conclusion seemingly reached based solely on Mr. Cudia's case – and that the chattering classes are doing their part of "bringing awareness to it" in hopes of reforming the military "to rid it of corruption"
Social media as a source for social change and reform does not and will never have a reliable track record, especially while what dominates the discussion of issues are the wrong arguments and the views of the poorly-educated. The focus is on grandstanding, and on the droll, petty and unimportant matters.
There's one very tiny detail that the social media brats seem to be overlooking: Aldrin Cudia willingly subjected himself to such rules for four (4) years. As such, it was his personal responsibility to make sure that he abide by them without fail at all times.
The "indignant" civilians on social media should not have presumed na magmalinis and to point a finger at the military that it is the sole corrupt and dishonorable institution when their own society is replete with examples of gasbags who lie, cheat, steal, and tolerate among themselves those who do so. Some of them even become government leaders.
It takes one to know one.
As I've been asserting ad infinitum, if there is indeed any corruption within the military ranks – and there probably is – then it is impossible and ultimately pointless to attribute such corruption to the military as an institution alone. The military ultimately draws its "raw material" and mandate from the civilian sovereign society that it has sworn to protect. As such, the military and civilian societies not only go hand in hand, they are inseparable.
As "raw material" for military service, Filipino civilians are inherently flawed by design due to their damaged and dysfunctional culture. Some of them overcome these flaws; others don't. So guess what: the best way to overcome that flaw is to dismantle that "raw material" and build it back up so that the flaws and rough edges are chipped off. Which the military as an institution has a history of doing. Very well, I might add.
Those indignant civilians on social media act just like the morons in Edsa Dos who were supposedly from the "educated" classes and who utterly disregarded the institution of the popular, democratic vote which the masa used to put Joseph "Erap" Estrada into office. These morons took to the streets in an extralegal manner when they found that the procedures as prescribed by their democratic institutions didn't yield the result that they wanted. And now, the morons are being replicated on social media where they proclaim to know with certainty that the PMA was remiss in following its own rules.
That's a point that will fly over the Filipino "educated" heads: just because they don't like the result of the popular democratic vote, how can they say that the system didn't work? In the same way, how can they definitely say that the entire PMA system is corrupt, just because Cudia was dismissed?
To Filipino civilian society, violation of an honor code is small, insignificant, forgivable, rampant, and commonplace. To the military, however, it spells the difference between life and death for soldiers.
Mr. Cudia did not graduate this year, and he's going to be made out as a martyr on social media if he hasn't been already. To the nagmamarunong and nagmamalinis Filipino social media brats, he will stand as an example of a reason the PMA and the Armed Forces of the Philippines (AFP) should be abolished. To those who can relate to the military as an institution, or know better and can appreciate what honor is, Mr. Cudia will simply be yet another statistic added to the cadets and soldiers who have failed to uphold the tradition of honor that the AFP and PMA uphold and demand.
Mr. Cudia allowed his sister to play-out the victim card for him on social media. He had seemingly tried to gain popular support for his case in an extra-institutional manner. Tough luck and too bad na lang, for Cudia and his fantards (a term coined by a friend with relatives in the military) that the military does not decide cases based on popular and public opinion.
You don't need to be a soldier in uniform to truly grasp the essence of what it means to be honorable. One would simply have to accept the consequences of his/her actions, take steps to correct the wrong in them, resolve not to repeat his/her mistake, and move on.
Filipinos will do well to emulate, and even exceed the example of the military on what it means to live with honor – to live with propriety, and a strict code that does not permit wrongdoing. Instead, Filipinos use words like "honor", "code", and "loyalty" as a punch line. On occasion, Filipino civilians who go into the military simply fail to quash and reform the inherently corrupt and dishonorable nature of being Filipino once they step inside, and more so when they exit the strict regimented environment of the academy.
As such, Filipino civil society will simply continue to sound like a bunch of emo, hypocritical, pa-victim, whiny, hypersensitive cry-babies, just because they don't get the results they wanted when they clearly don't play by the rules. And especially when they avoid any sense of personal accountability.
Filipinos – please, don't go around pretending that you know about honor, code, loyalty, military laws, procedure, protocol, and other military technicalities.
[Photo courtesy: thefilipinoservant.wordpress.com]
А вы, друзья, как ни садитесь, все в музыканты не годитесь. – But you, my friends, however you sit, not all as musicians fit.