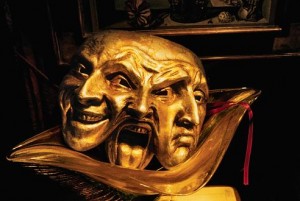 Standards of honor in Filipino civilian society are quite simply, bulok.
The only opinion I have had – and will ever have – of Mr. Aldrin Cudia's case with the Philippine Military Academy (PMA) is this: the only thing known for sure is that the Honor Committee found him guilty of violating the Honor Code. Beyond that, all other "facts" being thrown around on social media are yet to be verified. Yes, even those that self-proclaimed social media network Rappler has published.
I think Filipino civilian society, in the way it has pilloried the Philippine Military Academy (PMA) and the Armed Forces of the Philippines (AFP) on social media for the way they handled Aldrin Cudia's case, has overlooked a few key differences between civilian and military life:
1) That the military, by nature, is not necessarily a democratic institution, especially not in the way Filipino civilians define their "democracy";
2) That entrance into the service is entirely optional, and most of all;
3) That the standards of what is fair and acceptable in Filipino civilian society do not necessarily apply to the military.
You decide to enter the military, you willingly subject yourself to its rules and regulations. There should be no dispute about that. As such, let the institutions concerned handle this case on their own terms.
The problem with Filipino civilian society is that its members meddle in everything, especially matters which they are not well-versed in. (Problema kasi sa mga sibilyang Pilipino, gustong pakialaman lahat eh, pati mga bagay na di nila alam.)
The military, ideally, accepts the best, brightest, and toughest among those who apply, and aims to make them even better, brighter, and tougher as they live its way of life. Filipino civilian society, on the other hand, accepts whatever it can get, and makes it impoverished, "victimized", dishonorable, corrupt, and mediocre.
The principle at work here is deceptively and elegantly simple:
Before you go around claiming to espouse "reform" for institutions that you perceive as dishonorable and/or corrupt, make sure your own is credibly honorable and/or not corrupt.
Let's be fair, and put it this way, then:
The challenge for Filipino civilian society is to outgrow its dishonorable, corrupt, and law-disregarding nature by disciplining its members and getting them to work consistently within institutions and rules which they themselves wanted to be subject to.
The challenge for the Filipino military institution, on the other hand, is to show just how self-correcting and intellectually honest it is, and how it can consistently live up to the principles and standards of excellence that it so espouses.
See the difference?
Yes, it is easy to go around saying "rules are rules, and must be followed." It IS that simple, and Filipino civilians must make it that simple. Unfortunately, Filipinos tend to complicate things by introducing all sorts of excuses as to why they don't, or can't. They see themselves as above laws and institutions.
The military does not demand excuses; it demands results. Filipino civilian society would do well to remember, and even emulate that.
Just because Filipino civilian society doesn't like or agree with how the PMA handled Mr. Cudia's case, does not necessarily mean that the PMA did wrong. It especially sounds hypocritical coming from a society that hardly practices honor, and instead encourages lying, cheating, and stealing among its ranks.
Hypocrisy, blatant and utter disregard for laws and institutions, and obliviousness to one's own faults simply have no place in a modern, progressive society.
[Photo courtesy: mole.my]
А вы, друзья, как ни садитесь, все в музыканты не годитесь. – But you, my friends, however you sit, not all as musicians fit.