This post builds on something I said in a post on my personal online journal, "PPP Is Really Pinoy Poverty Porn" and recent news saying that the National Telecommunications Commission will soon be requiring ISPs to implement carrier grade monitoring programs in compliance with RA 9775 or the Philippine Anti-child pornography law.
Formally defined, porn or pornography refers to any explicit portrayal of sexual subject matter for the purpose of sexual arousal or for the purpose of satisfying prurient interest.
Looking at the etymology of porn is derived from the word pornē, "prostitute" and the word pornea, "prostitution", which in turn is sometimes literally translated to "putting up front for sale".
Pornography therefore can refer to the explicit portrayal of the acts of people who have put themselves or others upfront for sale.
And really, have you ever thought about what things in this country hasn't been put upfront for sale?
Just consider how Aguinaldo, instead of holding their ground and fighting to the last man, chose to flee the country in exchange for amnesty and indemnity:
In mid-December, 1897, Aguinaldo and his government ministers agreed to dissolve the rebel government and go into exile in Hong Kong. In return, they received legal amnesty and an indemnity of 800,000 Mexican dollars (the standard currency of the Spanish Empire). An additional $900,000 would indemnify the revolutionaries who stayed in the Philippines; in return for surrendering their weapons, they were granted amnesty and the Spanish government promised reforms.
Then consider how the US "gave"  us our independence:
There were two preconditions to Philippine independence, Parity and the Military Bases Agreement, that severely curtailed Philippine sovereignty in two of its most vital aspects: control of natural resources and control of national security. These preconditions, as Ambassador Romualdez notes in his book, were imposed by the United States at a time when the Philippines was powerless to resist them. At the end of the war, during which it had lost over a million people fighting as an ally of the United States, the Philippines was devastated, its treasury empty, its people impoverished. It was at that juncture that the Philippines was told to accept Parity and the Military Bases Agreement or suffer the consequences. "No Parity, no money," as President Roxas succinctly put it.
I'm just citing two junctures in our history where perhaps some sense of honor might have led to a different decisions being made. Can you imagine if Aguinaldo had stood his ground and battled with the Spanish down to the last man, supposing that could have back then considered it more honorable to die a free man than to live in exile leaving his countrymen under the yoke of Spain?  Can you imagine then Senate President Manuel Roxas telling the US to go shove their pre-conditions for independence up their asses?
If some sense of honor over-rode their decisions back then, would we be where we are today?
And where are we?
We have over 2.2 million Overseas Filipino Workers according to NSO.  It is estimated that we have between 500,000 to 1,000,000 sex workers according to various NGOs and research studies.  Perhaps it won't be too far off topic to mention that how our indigenous people are being used to set up "small scale" mining operations that are in reality owned by mainland Chinese or Taiwanese.
Never mind, the many stories we see now and again appearing on our timelines in Facebook and Twitter about some foreigner managing to conduct illegal operations here with the connivance of Filipinos.  The most mind boggling of which was the continued credit card and debit card scams being perpetrated by European syndicates with the help of Filipinos.
I don't have that much time on my hands right now for an exhaustive article on how Filipinos sell out to foreigners and going into perhaps will lead away from the point that has to be made: The Philippines is one of the biggest 'porn' capitals in the world in the sense that with the right kind and right amount of inducement as well as right circumstances, the average Pinoys can be made to agree to do anything — legal and illegal, holy or unholy, capitalist, communist, authoritarian…
Anything as in anything… including getting them to stomp a puppy to death.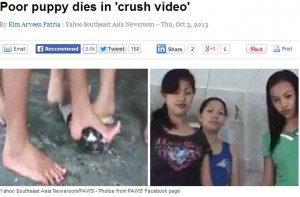 Thing is, if you asked any of the Pinoys caught conniving with foreigners to perform an illegal act, you'd hear them say that they had been compelled to do so because of poverty.  The words, "Kasi mahirap lang kami…" is always the excuse.
And it doesn't help the Pinoy's case much that there is actually a huge demand for the kind of porn that the Philippines is known for… Poverty Porn.
I don't know exactly how people can get off on seeing the misery that poor people suffer, but we're supplying it.
For instance, imagine how the story of people eating rotting food or pagpag made international headlines and first gaps of TV broadcasts world wide.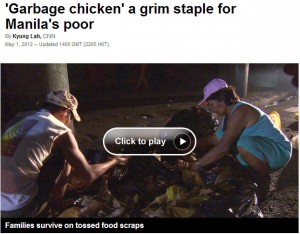 Where before during the Cory Aquino Administration, the first Aquino Administration, the world was aghast with stories about people living in Manila's dumpsite called Smokey Mountain, in recent years even during the second Aquino administration (the Noynoy Aquino administration) we find that people are not only living in garbage but eating it as well.
Then EVEN more recently, last year, the Philippines seemed to be the subject of yet another kind of porn… DISASTER PORN.
I don't know if many will actually notice just how easily flattered most people were when CNN's Anderson Cooper rode in and began comparing Philippine disaster response to the Japanese disaster response in an obvious bid to over-emphasize the grimness of the super typhoon Haiyan's aftermath.
 Thing is, why didn't Cooper compare the Philippine Haiyan disaster to Haiti?
This may provide a clue:
It's a bitterly sarcastic but, unfortunately, entirely true statement, made via Twitter this week by Vanderbilt University historian Peter James Hudson. CNN doubled its prime-time viewership in January when a 7.0 earthquake devastated much of the nation's capital, Port-au-Prince. With CNN lagging behind its more partisan competitors, disaster porn is now the news channel's bread and butter.

But it has managed to entirely miss the big-picture story: The cholera outbreak itself is a symptom of failed foreign policies and organizations that have left the Haitian people as poor as ever and disconnected from the mechanisms of their own development.

Anderson Cooper pledged to stay on the story of Haiti's reconstruction. But he's only been seen in Haiti once since the quake, on its six-month anniversary. Cooper stopped by the collapsed National Palace to accept a medallion for his reporting from the Haitian government in a surreal ceremony celebrating the country's progress.

At that time, more than 1.3 million people made homeless by the earthquake were living in crowded, makeshift camps. Today, they still live that way amid the rubble of Port-au-Prince, extremely vulnerable to waterborne diseases like cholera. Refugees International recently called UN-led humanitarian efforts "paralyzed" and found "appalling" conditions in the camps, despite the billions of dollars pledged for earthquake relief.
Apparently, while men and women were fawning over Cooper's good looks and CNN credentials, no one really noticed just how much CNN was milking their coverage for ratings and subscriber revenues.
Oh, yeah, but that's all right, right? After all, that coverage probably induced so many people around the world to donate money for the relief effort here.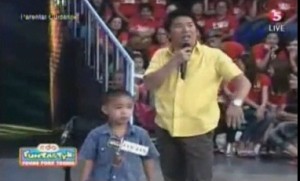 But why does it have the feel of that episode of Wowowee where Willie Revillame had a kid gyrate like a male stripper in exchange for prizes and money?
I wish I could make a reference to that Burt Reynolds movie where the running gag in a chase seen was that he was asked at various points if he wanted a prostitute.  But I forget the title of that movie.