Hours following an announcement by its prime minister Recep Tayyip Erdogan, Turkey has blocked its citizens' access to Twitter last night. At his campaign rally in Bursa on the 20th of March, Erdoğan announced "We now have a court order. We'll eradicate Twitter. I don't care what the international community says. Everyone will witness the power of the Turkish Republic…"
Turkish news site HurriyetDailyNews.com reports;
Just before midnight, access to Twitter was already blocked in Turkey. The Communication Technologies Institution (BTK), which was given extraordinary powers with the recently passed Internet law, lists three court rulings and one prosecutor decision on its website as the reason of the outage.

Eventually, all Internet service providers (ISP) in Turkey have abided by the rulings, as Turkish social media users have started to figure out ways to circumvent the blocking, like DNS-tweaking and VPN services.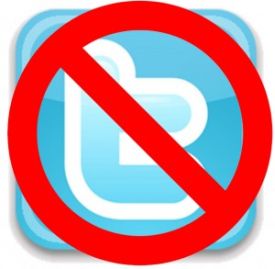 Reuters reports that Twitter Inc are looking into the matter and have published a message "advising users in Turkey that it was possible to send Tweets using mobile phone text messaging." @Policy, the account used by Twitter's global public policy team, issued the following tweet to guide its Turkish users today:
Turkish users: you can send Tweets using SMS. Avea and Vodafone text START to 2444. Turkcell text START to 2555.
Turkey has recently been rocked by political unrest. Leaked recordings from phone wiretaps allegedly of conversations between Erdogan and his closest aides were recently leaked all over the Internet and exposed possible evidence of the Turkish government's covert influence over the country's media and courts…
All this has confirmed that, after a dozen years in power, the system Mr. Erdogan established is a textbook case of illiberal democracy — a system whereby the ruler comes to power through elections but is not bound by the rule of law and shows little respect for civil liberties. It is much more similar to Vladimir V. Putin's Russia than the liberal democracies of Western Europe that Turkey hopes to emulate.

And yet all this does not seem to be a problem for many Turkish voters. Surprises are always possible, but polls suggest that Mr. Erdogan is still popular and his Justice and Development Party, known as the A.K.P., will not suffer dramatic losses in the local elections on March 30. Although this is a municipal vote, Mr. Erdogan has defined it as a test for his own popularity.
Turkey will be conducting municipal elections on the 30th of March. The intense heat emanating from the rivalry between the opposition CHP party and the ruling AK Party has started to spawn conspiracy theories of electoral fraud. Turkey's past elections have been relatively regarded as fair, overseen by "top judges" of the Supreme Electoral Board.
However…
[…] a controversial law pushed through by the AK Party last month has seen the judiciary come under greater government control, raising alarm in among other places, the European Union, which Turkey has been seeking to join for decades.

Last week 18 European MPs sent a letter to EU High Representative for Foreign Affairs Catherine Ashton urging her to request an invitation from Turkey for election observers.

"(There's) an atmosphere of mistrust, conspiracy, deep polarization and sometimes aggression," Dutch liberal MP Marietje Schaake, who authored the letter, told Reuters.

"Instead of these elections representing a moment of calm, they could just add fuel to the fire."
The situation in Turkey echoes much of the way the government of President Benigno Simeon "BS" Aquino III manages (perhaps, even, aspires to control) social media activism in the Philippines. In his 2011 piece, The impromptu war, Manila Standard columnist Jojo Robles offered us a glimpse of the Malacanang social media war room as it mounted an unsurprisingly sad and futile defense against the expected barrage of inquiries being fielded by administration critics over social media channels like Facebook and Twitter during the much-hyped appearance of President Aquino on the YouTube video series World View…
The top Internet propaganda strategist of Malacanang was in a foul-mouthed, hair-pulling rage. For an entire day last week, he and his army of paid Facebook page "administrators" and commenters were working as hard as they could, deleting critical posts and attempting to bury them under an avalanche of pro-government declarations and small talk.

And yet, for all their efforts, the critical questions and the occasional heckling would not be stopped. How was this possible, especially on this day, when the President was supposed to be answering sanitized questions softly thrown by a Google executive who had no idea at all of what was going on in the Philippines?
Ironic, considering that this is the same bunch of people who allegedly hijacked the original Noynoy Aquino Facebook fan page (BSA3) set up by Califorinia-based Ben Totanes and Betty Abrantes in 2009…
They were then enlisted by Vicente Romano III head of Aquino's New Media Bureau (and whose claim to fame also comes from being one of the pioneers of on-line petition campaigns in Philippine politics after mounting such an effort against then President Joseph Estrada in 2000) into the campaign.

[…] Reported GMA News TV:

[…] after the election, Romano allegedly recommended that the fan page be shut down. Instead, Totanes and Abrantes offered to turn over administration of the page to the then newly-formed Presidential Communications Group on the condition that comments critical of the administration would not be removed.

"Sinabi ko sa kanila na pwede pa rin nila gamitin ito, ngunit dapat pamalagiin itong 'Feedback Forum' ng sambayanang Pilipino, at huwag tatanggalin ang mga comments "pro or anti" ng mga tao," he said.

(I told them that they can still use the fan page, as long as it's maintained as a venue for feedback from the Filipino people. No comments must be removed, be they negative or positive.)

Coloma allegedly disagreed with Totanes' conditions, and decided to set up a new official fan page, PresidentNoy at Facebook.com/PresidentNoy, in August this year.

And then…

On November 9, Totanes received an email directly from Facebook administrators saying that the BSA3 fan page "has been removed for violating (Facebook's) Terms of Use."

An official statement from Malacanang issued by Presidential Communications Group head Sec. Herminio Coloma declined to comment on whether Malacanang had a hand in the sudden closure of the original BSA3 page.
Armed with this bit of hindsight, it becomes a bit easier to make sense of the way Malacanang officials responded to the recent emergence of the now hit YouTube video Aquino-Cojuangcos: Facts They Don't Want You To Know…
From Budget Secretary Florencio Abad:

"meant to distract attention from controversies like the departure bid of former President Arroyo"

"terrible"

"black propaganda"

From Aquino political adviser Roland Llamas:

"the work of forces who are now being threatened with numerous cases"
To be fair, when one suffers from an absolute lack of imagination, one tends to become absolutely predictable.
benign0 is the Webmaster of GetRealPhilippines.com.