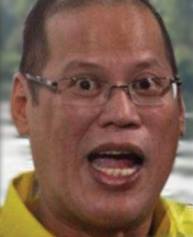 Despite how president Benigno Simeon "BS" Aquino keeps telling the public about how he is going to ignore his critics, or how "he prays for their enlightenment", how he wishes to suppress dissenting views, or even just basically wishes for them to vanish, it looks like he is actually giving them more reason to exist.
Whenever he opens his mouth in public, he simply gives his critics the very ammunition with which they will shoot him.
His speech to high school students about not voting for "ampaw" candidates looked to be the one that started the recent ball-rolling. In fact, it sparked a Twitter greeting from ex-congressman Teddy Casiño, "good morning citizens of the Ampaw Republic", and the crew here at GetRealPhilippines got to be all over him and easily pointed out the irony of his "ampaw" statement.
Yet once again, at the 16th Philippine Quality Award Conferment Ceremonies at the Palace, it seems that he has outdone himself:
"Let us reinforce the culture of quality and competence that has taken root in the Philippines. If we continue working together—whichever sector we may be in—we can ingrain a culture that shuns mediocrity, and consistently pursues excellence," Aquino said during the 16th Philippine Quality Award Conferment Ceremonies at the Palace.

Prior to Aquino's rare apology, which was done in front of students during a forum, his administration had been under fire for its handling of Yolanda relief and rehabilitation efforts, among other things. An ally, Senator Sergio Osmeña III, even described Aquino as a "hardheaded" and an "awful manager" who may lose his endorsement value in 2016 if he does not fix the country's pressing problems.

But Aquino said that with new scientific discoveries in almost every field, there are a "few excuses" left for substandard work.

"This brings to mind the saying, 'Hindi pwede ang pwede na.' Or, in English: Merely good enough is not enough," he said.
Mr. President, there's just one problem, if you haven't noticed yet:
People do what they see.
And what can be seen in you is merely complacence, mediocrity, lack of substance, and an inability to learn from past mistakes – the very things you tell people to look out for whenever you run your mouth. The days of management and leadership by "do as I say, and not as I do!" are quite simply, gone, outmoded, and outdated – especially for public officials.
That simple statement, "People do what they see", is in fact, one of the irrefutable laws of leadership espoused by American leadership guru John Maxwell – The Law of the Picture. You simply cannot say one thing, and yet show through your actions a completely different thing, especially opposed to what your words are. Such inconsistency between what you say and what you do will simply make one look like a hypocrite.
Speaking of management/leadership and relating it to BS Aquino, recall that in recent news, one of his staunchest allies, Senator Sergio Osmeña III, had recently gone on record to voice out his opinion on just how an awful manager he thought BS Aquino is and was. To BS Aquino's critics, of course this is nothing new; it has been known to them even ever since he started campaigning for the 2010 elections.
Tell us again, BS Aquino, of just how good a leader/manager you are, when after four years into your term, you still manage to keep blaming your predecessor Gloria Arroyo for things you should already have control over. Tell us again, of how you and people in your cabinet keep making promises – such as the FOI bill and the restoration of electricity in typhoon-hit areas – and yet have either partially or fully failed to fulfill them. Tell us again, Mr. President, of how you claimed to have solutions for the problems in Filipino society, and then backtracked on them while claiming that you weren't a superman? By the way, your "solutions" were usually half-baked, simply copied from your predecessor, or quite simply, don't work.
BS Aquino was a very "promising" president at that time. Now he is simply a "trying" one.
As BS Aquino's term now draws to a close, Filipinos now once again have to rely on the benefit of hindsight and perhaps regret – to tell them just how awful they are at choosing their government officials. It's ridiculous, and not at all surprising, that the ironic words of one who embodies the very hollowness that he is now telling people to avoid are only now beginning to resonate.
But of course, irony is lost on a people who don't really know irony that well.
BS Aquino, as a friend says, looks to be overestimating his own wit. And as fellow GRP writer Gogs has pointed out, a con man like BS Aquino can fool only those who are even more mediocre and dumber than he is.
Indeed, Filipinos deserve their politicians.
А вы, друзья, как ни садитесь, все в музыканты не годитесь. – But you, my friends, however you sit, not all as musicians fit.