It all started with former Congressman Teddy Casiño's morning greeting on Twitter…
Good morning citizens of the Ampaw Republic!
That pretty much made our morning.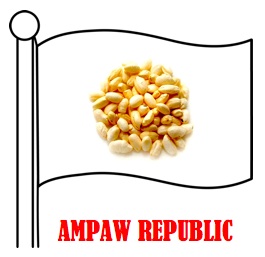 Within minutes, hordes of Pinoy Pridists descended upon the hapless activist, denouncing his likening of the Philippines to the no-substance low-nutrition Filipino dessert ampaw. Ampaw is made of puffed-up grain (usually rice or corn) stuck together and rolled into a ball. Philippine President Benigno Simeon "BS" Aquino III in a speech he delivered to the Hope Christian High School in Manila the other day, used it as a metaphor to describe candidates of little substance that might be running in the 2016 presidential election.
The amusing irony in that speech, many observers agreed, was that BS Aquino's ampaw really describes himself. BS Aquino, after all, ascended to power in 2010 on the back of an electorate willing to overlook his being the least qualified among candidates bidding for the post.
Ironic, then, that the rich history surrounding BS Aquino paints a picture of the very Ampaw Republic Casiño greeted on a fine morning on the 15th March 2014. The Filipino vote, after all, represents the character of the nation. And the outcome of that vote, the Philippine President and Vice President, and the Senators and House Representatives in Congress among others, represent the character of the nation. This is the most basic principle of a democracy — that the majority vote represents the will of the people of an entire nation.
Apparently, not too many Filipinos get that. Hardly any Filipino today would disagree that the Philippines is currently governed by a mob composed either of crooks or imbeciles. Filipinos wouldn't hesitate to agree that they are represented by gangs of inutiles and thieves in their legislature. The results speak for these simple truths. The Philippines is currently the laggard of East Asia. And there is no sign that this distinction will change any time soon. Yet the very same folk who are in agreement on this would balk at the notion of the Ampaw Republic, saying that the Philippines is really a "great country" made up of a great people unfortunate enough to be governed by morons.
So easy it is, it seems, to forget who voted these morons into office. On one hand, we celebrate the vote as a powerful channel of the Filipino people's will. But when it comes to pinning accountability for the quality of the leaders this vote yields, suddenly everyone is tiptoeing around the obvious target.
To give a bit of credit to President BS Aquino he is a master of coining these political catchphrases. Too bad for him, his latest masterpiece, the ampaw seriously backfired as, clearly, his is the quintessential Ampaw Presidency. And, in a democracy, a people who suffer an Ampaw Presidency make up an Ampaw Republic. The logic is elegantly simple.
benign0 is the Webmaster of GetRealPhilippines.com.