Of all people. Senator Miriam Santiago was the last person in the world I would've expected to request that Philippine President Benigno Simeon "BS" Aquino III be "given leeway in making his decisions."
"I will be very careful in criticizing a president because I have close, first hand observation of how difficult it is to make a decision when you are faced with certain set of facts which are not capable of control. They are all beyond your control," Santiago said.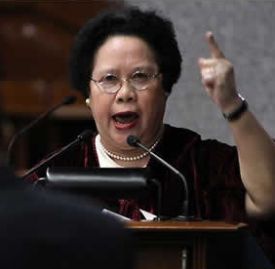 This is the same lady who launched fiery speeches back in 2012 against what she saw as the inept and borderline criminal conduct of the prosecution panel in the impeachment trial of former Supereme Court Chief Justice Renato Corona. The prosecution panel then was led by Iloilo Rep. Niel Tupas Jr and Oriental Mindoro Rep. Reynaldo Umali, both of whom are known lackeys of President BS Aquino.
Umali, if we are to recall, was party to a conspiracy to present illegally-obtained evidence against Corona during his impeachment trial in 2012. Five dollar accounts along with the five peso accounts allegedly maintained by Corona in the Philippine Savings Bank (PSBank) were within the scope of a controversial subpoena issued by the Senate impeachment court. The subpoena was controversial because, under Philippine law, dollar accounts are confidential and can be accessed only via a court order.
But the subpoena of the PSBank accounts traced its roots to an "anonymous source" described by Umali as a "small lady" who handed to him an envelope allegedly containing Corona's bank documents. The revelation made by former lead prosecutor Niel Tupas Jr the previous day (the 7th Feb) highlighted yet another instance of the prosecution team pre-empting any authorisation from the Senate impeachment court to mount such actions.
During questioning, PSBank president Pascua Garcia III revealed details of Corona's five peso accounts with PSBank but declined to present (and presumably refrained from bringing with him) documents associated with five dollar accounts allegedly kept by Corona with the bank. Garcia's consistent position on that matter was widely-lauded by the public at the time.
Considering the appalling nature of these hideous affronts to court procedure and the integrity of the Senate Impeachment Court that Santiago was a prominent member of, it is surprising that Santiago would now defend the man who is likely to have handpicked characters like Tupas and Umali.
Santiago also said that what "characterizes" President BS Aquino is "his independence of mind." Perhaps. Indeed, not too long ago, almost as soon as he assumed office in July of 2010 following his "landslide" election, BS Aquino, made a bold assertion directed to the public: "Kayo ang boss ko" ("You all are my boss"). Drawing upon the tired notion that it is "the people" who provide him the democratic mandate to rule, Noynoy would like us to believe that it is the Filipino people who is his real "boss".
That pompous campaign pronouncement has since become a standing joke. It is widely-believed that BS Aquino's real boss is not "the Filipino people" as he claims but no other than Uncle Peping. From the onset, BS Aquino may, as such, have rendered himself virtually unfit to be President having severely handicapped his ability to govern the Republic objectively. It is likely that Hacienda Luisita alone is a big enough elephantine agenda that had taken up what meagre cognitive bandwidth BS Aquino's mind is capable of mustering for his presidential tasks.
In my previous article, Is saving Hacienda Luisita from Agrarian Reform Noynoy Aquino's real SINGULAR mission as President?, I added the tongue-in-cheek caption "Will Noynoy get a spanking from his uncle if he fails to save the family jewels?" underneath a photo of presidential uncle Jose "Peping" Sumulong Cojuangco, Jr.
Too bad. Santiago is currently being hailed by social media "experts" as "the country's undisputed social media-powered political superstar." Premature posturing as usual and a title that we should perhaps be taking with a grain of salt. After all, since when has the supposedly non-ampaw social media community made a dent on the voting sensibilities of our Ampaw Republic?
benign0 is the Webmaster of GetRealPhilippines.com.