I read with interest benign0's recent piece Is the sex trade all Filipinos have to offer to visiting US troops?. It was quite an eye-opener for me. I realize now why this country is screwed. We not only have an inept government, we also have idiots leading the "activist" movements that are supposed to be keeping the government honest. This lady Proleta Gomez… WTF?! She's basically saying that Filipinas coming in droves to love GI long time are all covered by the age-old cop out: They made me do it.
Ironic nga talaga, specially coming from a "progressive" activist like Gomez. That sort of excuse for the proliferation of "sin" is the same sort of excuse used by the Taliban to explain male sin: the Woman made me do it — which is why Islamic women are made to cover themselves from head to toe, so that Islamic men are "protected" from temptation. Makes sense, right? Not. That sort of logic makes sense only to misguided "activists" like Gomez. Her solution to keeping Filipinas virtuous is to "protect" them from temptation by keeping all these lovable GIs out of Philippine shores.
These activists nowadays have lost the plot. When they are not busy making media whores of themselves on Twitter and Facebook, they are busy making issues about non-issues.
Who's the real enemy ba?
You'd think with the way things are going in the South China Sea nowadays, that question would be a no-brainer. Despite all the help the Americans gave us during the visit of super-typhoon Haiyan last year, it amazes me that they still come across to these Filipino makabayans as the bad guy. Sure, the US don't do anything that is not in line with their own national interests. But then what government doesn't adhere to that policy to begin with?
Why are there Filipino hookers? Is it because of the Americans? Why not get Filipino men to answer that question for a change?
Despite prostitution being illegal in the Philippines, we certainly have quite a reputation overseas — a lot more than people who come from countries where prostitution is legal. And, don't look now, but this is really just one of many of those Pinoy ironies that make you scratch your head and think WTF??
It is starting to seem to me that our confused relationship with our religions is what is causing a lot of this misplaced angst and inability to focus on what is important. I read today the results of a recent Pew Research Center study that showed countries where people believe morality is dependent on a belief in god tend to be poorer as this diagram shows…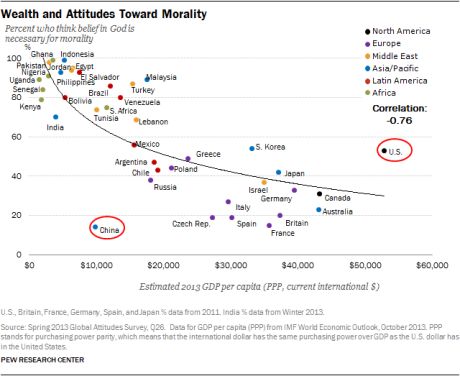 If only we as a people can learn to regard things with clearer minds and start to shed all the cognitive baggage that fouls up our sensibilities. It is easy to see now that we arrived at where we are as a result of all these bad decisions made using sloppy and lazy thinking. Standing out among all these is the decision to kick the Americans out of our bases in 1991.
Frustrated artist doing geek for a living.