True to form, Filipinos are abuzz again with half-assed ideas on how best to cope with the heavier-than-heavy traffic that will snarl Metro Manila as construction on the long-overdue "Skyway Stage 3" project which will link the South Luzon Tollway (SLT) to the North Luzon Expressway (NLE) via an elevated six-lane 15-kilometre elevated highway through the heart of Manila. In addition to this, work on the Ninoy Aquino International Airport (NAIA) Expressway Phase 2 will also begin linking the airport to the Seaside Entertainment City.
As usual, "sacrifice" is expected of Filipinos as the consequences of decades of neglect and lack of foresight loom over Metro Manila like dark clouds before a super-typhoon…
Last week, the MMDA went on a last-minute brainstorming.

It raised the possibility of a four-day school week to help minimize traffic congestion, especially since the Skyway project would affect 23 schools. This was roundly nixed by private schools. Another suggestion was to hold classes on campuses outside of Metro Manila.

On the MMDA website, Tolentino asked private companies to adopt a flexible work schedule—"flexitime"—"for their employees, especially those located along the route of the construction projects."

And yet another bright idea popped up: Resume operation of the Pasig ferry boat.

All of these measures were announced a few days before the expected massive gridlock, indicating that the MMDA was totally unprepared to deal with the problem that, according to a study conducted by the Japan International Cooperation Agency, was causing losses amounting to P2.4 billion a day in potential income.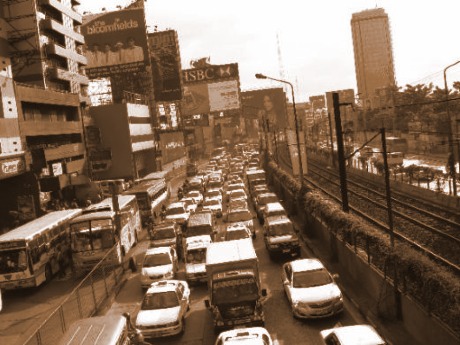 The Philippines is renowned for its fatal approach to breakdown maintenance. The devastation wrought by Typhoon Haiyan (a.k.a. Yolanda) in November last year highlighted the way risks long recognised by Filipinos remaine unaddressed and unmitigated as a matter of habitual routine on account of their society's and government's lack of any real will and capability to anticipate the future over the long-term.
Metro Manila has been a broken megalopolis for decades. It is beset by a vast squatter infestation and its residents are routinely hit by many preventable disasters that are outcomes of its appalling congestion. Its sewage system has long ago stopped working effectively and raw effluent bubbling onto the surface of streets and spilling into the Pasig River and its tributaries is a common sight. The continued use of World War II era public transportation systems to serve the majority of its population has resulted in a chronic corrosiveness in its atmosphere which deposits unsightly soot on most of its buildings and likely causes many health problems. Drug-crazed public bus drivers also ply its main thoroughfares and are a major cause of horrible traffic fatalities. Much of the city's character is a result of unregulated private property development and much of the city's residents' civic and community life revolves around massive airconditioned shopping malls.
Filipino drivers are also recognised as among the most inconsiderate in the world and a distinct driving style has evolved that all but thwarts any attempt to implement order and a more systematic approach to traffic management on the streets of the Philippines' major cities.
As if to provide a timely dry run of the monstrous gridlock that will likely become a daily occurrence in the city once the contruction work ramps up, the mighty Iglesia ni Cristo religious sect mounted huge shows of force late last year and early this year, both of which all but paralysed Metro Manila and likely delivered a negative effect on its already struggling economy.
Opportunities to develop "alternative" means of transport have lapsed long ago. One idea, which is to use the many waterways — both natural and man-made — that weave the metropolis together is a sensible one but will require massive investment to implement. Aside from these, other ideas have been tabled — albeit belatedly — by the Metro Manila Development Authority (MMDA) in a brainstem-storming crunch in the lead-up to this weeks traffic crunch…
MMDA Chairman Francis Tolentino pointed out some possible solutions, such as better use of alternate modes of transport, like the MRT and LRT, the Pasig River ferry system, carpooling and bicycles; changes in schedules like flexible work hours and 24/7 construction of infrastructure projects; new work or business strategies like a 4-day work week; and lifestyle changes such as the removal of number coding scheme's window hours and a car-less day along EDSA.

Tolentino said: "A coordination committee will be created to finalize everything."
A "coordination" committee. To be "formed" just days before the looming traffic disaster bears down on hapless Metro Manilans. Classy.
For now, Filipinos imprisoned in Metro Manila's vast blight will have to do what Filipinos do best: sacrifice. That is, after all, the best recommendation their popularly-elected government can come up with.
benign0 is the Webmaster of GetRealPhilippines.com.