Hmmm… now I'm confused. Do I side with the jeepney driver? Or do I side with the Congressman's son? Tough decision considering both types of people aren't really in my top ten sorts of people to sympathize with. But here's the context behind this personal dilemma of mine…
A cellphone video earlier showed [King George Leandro Antonio] Collantes [son of Batangas 3rd District Rep. Nelson "Sonny" Collantes] confronting [jeepney driver Orlando] Garcia in the middle of San Rafael Street in Barangay Kapitolyo for refusing to let Collantes' Nissan Patrol pass.

At one point, Garcia hit Collantes' cellphone, causing it to fall on the ground. The congressman's son then punched the jeepney driver twice before he was stopped.

Garcia said the punches caused his left eyelid to start bleeding. He also accused the congressman's son of threatening to shoot him.

Garcia said Collantes is threatening to sue him for grave threat and damage to property for the damage to his cellphone.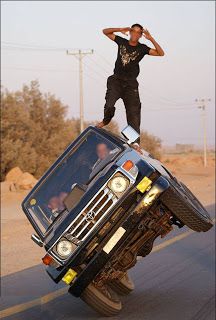 Lol! Well, let's shove the popcorn into the microwave and sit back for the show.
Before we get all worked up about how the "evil" Congressman's son victimized the token poor old jeepney driver who is struggling to make ends meet for his family of (most likely) eight kids, let's all ask ourselves first: How many of us at least once or twice over the last two days fantasized about putting a boot up a jeepney driver's ass?
Having harbored such fantasies in no way of course excuses punching a dashing driver of the King of the Road in the eye. But most of us who have spent the better part of our lives slogging through Manila's infernal traffic can easily understand just the same where the "evil" Congressman's son may have been coming from in this latest incident of road rage.
Then again my personal experience of seething as I dodged jeepneys and maneuvered around them as they load and disgorge passengers in the middle of Manila's busy streets is only equaled by the sight of self-important politicians' offspring in their daddy's obnoxious SUVs muscling their way through traffic queues — often "counterflowing" onto oncoming traffic.
I say the MMDA should just impound both vehicles. Bigger loser would be the jeepney driver. If I were that guy, I would think twice about antagonizing anyone if I couldn't afford even one day of not being able to ply my trade. For guys like Orlando Garcia, one day's revenue probably spells the difference between having a good serving of adobo and settling for a bowl of pagpag.
For the Congressman's son, on the other hand, it's all about the broken cellphone. What a tough life, eh King George? Now you've got nothing to take your kingly selfies with, poor guy.
Now I'm worried. If these two bozos represent the sort of Filipino manhood us hapless chicks have to choose from, we're pretty much effed. On one hand are poor sods who work their fingers to the bone and have nothing but a rustbucket of a vehicle welded together from galvanized sheets to show for all that. On the other are bratty village kids who strut around in big fancy penis size compensators without having delivered a day's work worth a single pan de sal.
What a society. Next time someone calls on me to have a bit of "pride" in being "Pinoy" I might do the only Pinoy option available: punch that person in the face too.
Frustrated artist doing geek for a living.