With all due respect and I apologize for saying this with an offensive tone, but I think it's just stupid to keep on gathering in different parts of the country demanding the abolition of the pork barrel system and coming away with zip.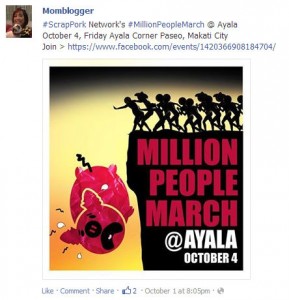 The Million People March is kind of like a joke that I had become fascinated with over the weekend and it goes, "What I really want to know is, do penguins have knees?"
Friends thought it was funny the first time I posted it on Facebook and Twitter.  But after telling it a number of times again on an hour long ride to a weekend Christian retreat, it was probably my friends' forgiving and tolerant nature that kept them from throwing me off the car while it was speeding through SLEX.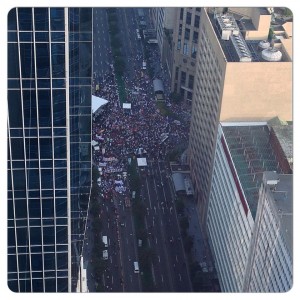 Which makes me think that perhaps the idea behind having multiple Scrap Pork rallies is just a way of making people so bored with the whole thing that they'll just stop protesting all together.
If at all the lower head count that gathered on Ayala last Friday is any indication, then perhaps the strategy is working.  The crowd estimates for the last scrap pork rally are anywhere from 2,500 to 10,000, which is about 75 percent lower than the first rally in Luneta.
A clip of GMA7's Jiggy Manicad viral TV anchor fail probably summarizes an estimation of the impact of the gathering. (Watch the video here.)
One  issue so far that has become mildly interesting are various groups accusing each other of hijacking the rally.
The organizers of the #MillionPeopleMarch have gone at length to emphasize that it was not calling to oust or remove President Benigno S. Aquino from office.
To which, some people on Facebook responded by saying:
"Why do you guys not ask for impeachment or resignation?! And why are you so scared about whether people will think that you're asking for it? C'mon guys, don't waste your time and clog Ayala Avenue! "
Other reactions to the "hijacking" issues are worth noting here:
From Tonyo Cruz:
Who then could really be trying to "hijack" the protests? Who are undermining our fighting will and sabotaging our actions every step of the way?

We should not look any further than the bloggers and netizens who are either extremely loyal to President Aquino or have this belief that the pork barrel system is not intrinsically evil. This is the same group that tried to tie Makabayan to the PDAF scams of Napoles, in a transparent and opportunist effort to split the broad anti-pork alliances and coalitions. This is the same group that doing the heavy lifting for their friends and idols in Malacanang.

Through seemingly well-meaning but overtly malicious tweets and posts in social media, these characters were able to insinuate themselves into the internal and public discussions of the anti-pork alliances. While they are pro-pork, they meddle in the anti-pork alliances even to the extent of themselves arrogantly laying down the law, so to speak, on who should and should not be included or welcomed. Di sila kakampi, di sila kasali, pero nakikiaalam. Ang kapal, di ba?

Since the Napoles scam erupted, these same cast of characters have written furiously about the need for the pork barrel and valiantly shielding the President from any and all accountability or liability. During their free time, they go around town with their anti-Left, Red scare tactics . They know fully well the anti-Left biases of people and they hit on this to the hilt. For their efforts, they received encouragement, congratulations, link love and endorsement from Manolo Quezon, Abie Valte, Edwin Lacierda, Jim Paredes and other diehard supporters of President Aquino.

We could only guess the motivations of this group of netizens and bloggers, but they should not act as if they are above us or better than us or, worse, one with us. They are solidly, militantly, shamelessly in favor of the pork barrel system. They defend the President. They cannot be part of the anti-pork movement.
From Musician Bayang Barrios:
Personally, sasama ako para ipakita pa rin ang aking pagtotol sa pork barrel, na nais kong iparating sa Pangulong Aquino na di pa ako sumusuporta sa pagtawag na pababain siya sa pwesto, pero nais kong iparating sa kanya, na dapat wag na pagtakpan kung may nagkasala rin na kasamahan niya sa Liberal party na mga senador, congressmen, sana makulong ang mga nagkasala at maging transparent ang kanyang pamamalakad, at maging totoo siya sa sinabing ang taongbayan ang kanyang pagsisilbihan hindi mga kaibigan, kaanak o mga negosyante. Na sana ay makaharap din si Napoles sa Senado upang malaman ng taongbayan kung sino sino pa ang kasali dito sa scam na ito…Maraming tanong na kailangan sagutin… Sino sino pa nga ba ang mga nagkasala sa bayan? Bakit sa dinami daming nakakasuhan, si Erap lang yong nabilanggo? Sino ang may pakana ng giyera sa Zamboanga? Sa totoong yaman ng bansa natin, bakit ang dami daming naghihirap? Hay…Kung saan saan na naman napunta ang isip ko…. Basta sasama ako sa rally bukas…..

(Translation: Personally, I am still joining the rally to show my opposition to the pork barrel.  I also want to say that I am not supporting the call for President Aquino to step down, but I also want to say that they shouldn't cover up for those in the Liberal Party.  I hope all those who are guilty are put in jail.  I hope that Janet Napoles is brought before the senate so that the people will find out who else is part of the scam.  There are many questions that need to be answered, like who else broke the law? Why is it that with the large number of people charged, only Erap was put in jail? Who instigated the war in Zamboangga?)
From Renato Reyes:
The attacks on the Left in relation to anti-pork protests are clearly and primarily orchestrated by pro-Aquino diehards who would rather see the people DIVIDED rather than united in a common cause. These diehards and intrigeros only want to insulate Aquino from any liability in the whole pork scandal. We appreciate the efforts of our friends in the anti-pork movement who continue to strive for greater clarity and unity despite the desperate divisive acts of Malacanang psywar operators. We thank those who spoke out in defense of Bayan, not because they're leftists, but because they had the good sense to know that a broad unity is necessary to win this fight.
Then again, what basis has Mr. Reyes' or Mr. Cruz' for saying that last Friday's anti-pork rally was being hijacked by yellow propagandists?
 Check out Jim Paredes:
And the thing is, in the face of controversy over the illegal and unconstitutional Disbursement Acceleration Program or DAP which was released as an incentive or bribe for senator judges who voted to convict former Supreme Court Chief Justice Renato Corona, we have the likes of Paredes telling people NOT TO OUST AQUINO… Or worse…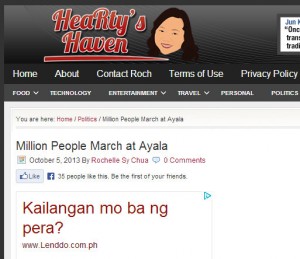 From Rochelle Sy Chua:
Honestly, I never thought that I could be emotional on stage.  Initially, I thought I would be boring and would be sweet while talking.  Apparently, my anger and my frustration with what's happening came out.
That said, I still believe that we are going to the right direction.  Our president, Benigno Aquino III, definitely is keeping his promise to fight corruption and to lead the way for "matuwid na daan."