Would you go to a protest rally because someone told you to do so or because you feel passionate enough about an issue that compels you to go? If your answer is the former, then you should just stay home because you will most likely end up complaining about how your efforts were useless if the rally doesn't result in something favorable to you. If your answer is the latter – that you want to go to protests rallies because you think that it is the right thing to do, then good for you. You are one of those rare people who can think independently and most likely have outstanding principles that you don't want compromised.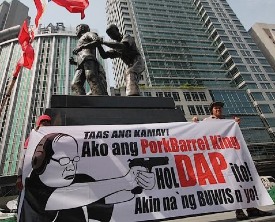 I find it strange how some people put down or ridicule the recently held rallies against the pork barrel scam and the newly discovered scam involving the Executive branch's use of the so-called "disbursement acceleration program" or DAP. The Filipino people have a right to express their anger especially since there are very serious crimes allegedly being committed by Philippine President Benigno Simeon Aquino III himself, his cabinet members and members of Congress regarding the misuse of public funds that should not be ignored. Now is not the time to be complacent about issues plaguing the nation. If you ask me, everyone should be up in arms demanding revelation of the truth about BS Aquino's act of systematic bribery of the members of Congress just to get what he wants.
Take the recently held "million people march" in Ayala Avenue for instance. There was no shortage of social media commentators who called it a "failure". Why they consider it a failure is beyond me. My best guess is that some people wanted to see instant results to occur overnight. It could be that some people's benchmark for a successful rally is still those two People Power revolutions in the last three decades that resulted in the ouster of two former Philippine Presidents.
Just to digress a bit, most people don't realize it yet but ironically, the ousting of former Presidents Ferdinand Marcos and Joseph Estrada were not really good for the Philippines. The participants managed to justify it but their removal was actually illegal. Worse, it gave Filipinos, particularly the country's lawmakers, license to justify making a mockery of the system and defying the rule of law. Like what I said before, the Filipino people got addicted to forcing out sitting Presidents because it was faster and easier instead of using the system and the rules to prosecute or impeach them and voting wisely in elections.
Of course compared to the process of impeachment, the people will get instant results by ousting someone by force and throwing the rulebook out of the window. But there are grave consequences when using shortcuts like defying the law as an option for getting something done. It doesn't teach people to be patient and to abide by the law.
Removing an elected leader in 1986 unconstitutionally the first time already set a dangerous precedent. It gave people an excuse or reason to justify doing it again and again. Marcos, Erap and next was the former Supreme Court Chief Justice Renato Corona. Corona may not have been ousted as a result of a street revolution. Nonetheless, the members of Congress who impeached him threw the rulebook out of the window when they railroaded his impeachment complaint and when the senators accepted bribe money in exchange for a "guilty" verdict. In short, Marcos, Erap and Corona's rights were equally violated.
Some people would say that the end justifies the means or that, "They were evil anyway so it's okay that they were ousted". However, even alleged criminals have a right to due process. In fact, the Cory Aquino constitution guarantees equal rights to every citizen as stated in Article III, Section 1,2,3, of the Bill of Rights:
Section 1. No person shall be deprived of life, liberty, or property without due process of law, nor shall any person be denied the equal protection of the laws.

Section 2. The right of the people to be secure in their persons, houses, papers, and effects against unreasonable searches and seizures of whatever nature and for any purpose shall be inviolable, and no search warrant or warrant of arrest shall issue except upon probable cause to be determined personally by the judge after examination under oath or affirmation of the complainant and the witnesses he may produce, and particularly describing the place to be searched and the persons or things to be seized.

Section 3. (1) The privacy of communication and correspondence shall be inviolable except upon lawful order of the court, or when public safety or order requires otherwise, as prescribed by law.

(2) Any evidence obtained in violation of this or the preceding section shall be 2inadmissible for any purpose in any proceeding.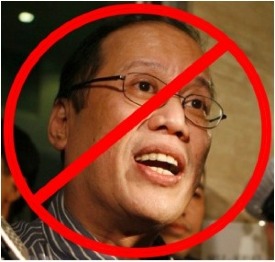 So, therefore, while it is perfectly fine to call for BS Aquino's resignation during rallies, it is wrong to force his removal from office without using the impeachment process. After all, he does have an option to quit a job he is not qualified to do but as dictated by law, the Filipino people cannot force him out without giving him due process. He may be fond of defying the law by using bribery and strong-arming Congress just to get rid of his political enemies but the Filipino people should show him that they would not stoop down to his level. The mockery of the country's institutions should stop with BS Aquino.
Despite the naysayers, I would not consider the recent rallies against the anomalies in BS Aquino's government a failure at all. The number of participants may not have reached the expected "million", but even if there is only one person who shows up to demonstrate his or her disgust towards the misuse of taxpayer's money, that is more than enough to prove that the propaganda employed by the current government doesn't fool everyone.
Numbers only matter to people who easily jump on the bandwagon anyway. A genuine environmentalist for example, who protests against the destruction of forests would not care if he were alone protesting in public. He would even chain himself to a tree for days or for however long it takes to get his message across a wider audience. In history, India's Mahatma Gandhi went on hunger strike on his own just to prove a point and eventually inspired millions to join in his advocacies. Real advocates are in it for the long haul too. They realize that things worth achieving takes time and that real change doesn't happen overnight. I should know this because back in 2010, there were only a handful of Filipinos who were critical of BS Aquino. Now there are countless more who are vocal about their disillusionment with his Daang Matuwid.
Perhaps the absence of the original players in the two People Power revolutions like Jim Paredes and Leah Navarro is a good thing because they tend to confuse the issues. They seem to be more loyal to BS Aquino than the country. They also come across as self-righteous when they discourage people from joining protest rallies by saying that those who protest against BS Aquino are siding with the senators who are implicated in the pork barrel scam. Their logic is obviously failing them due to their blind faith in someone who has betrayed the people's trust over and over. The protesters don't need them for sure. Their views have become archaic and out of touch with reality anyway.
Unfortunately, a lot of Filipinos still listen to people like Jim and Leah. It's probably because most of them are too star-struck by the their celebrity statuses. Or worse, people are still looking for a charismatic hero/leader who will tell them what to do. This is evident in the way some people keep saying, "if only there was a charismatic person who can lead the people during rallies". This just goes back to my original question: are people joining protest rallies because someone told them to do so or because they feel passionate enough about an issue that compels them to go? People shouldn't go or not go to rallies just because Jim and Leah say so. They should ignore celebrity endorsements at all cost.
Filipinos don't need to look for a hero in trying times because as Mariah Carey would say, "when you look inside you, you will finally see the truth, that the hero lies in you". So therefore, don't wait for someone to accompany you to a protest march; go on your own if you have to. And remember, Philippine public servants have thick skin and they are doing their best to distract the public from the real issues, which is the fact that BS Aquino and the members of Congress seem to be in cahoots in the misuse and abuse of the pork barrel and Presidential funds.
Folks, we are talking about standing up against public servants who act like members of the Mafia. Makakapal ang mukha nila. It's going to take more than one rally to make them shake in their boots. So therefore, be prepared to accept that protest rallies may be part of the Philippine landscape until these scumbags finally listen to the people and do something selfless and noble for a change.
[Photo of anti-pork rally courtesy GMA News Online.]
In life, things are not always what they seem.