Another year, another flood. How much more can Metro Manila take? Well, whether or not it can take any more, it's gonna get more. In the Philippines' grand old megalopolis, population is galloping at a rate faster than the city's ironic water supply can keep up with. Its rivers are all silted up and its surrounding mountain ranges denuded — which means it will get more and more storm water running through it while employing less and less capacity to drain it into the sea. Because more and more people are coming in from the hinterlands and putting their lives at risk setting up homesteads in flood plains and on the banks of rivers and esteros, more and more emergency services will be required to navigate less and less roads to get to them when disaster strikes.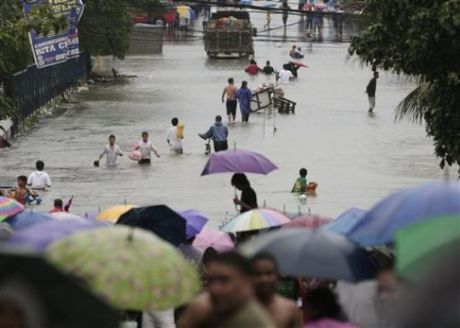 Whilst Ondoy in 2009 and Habagat 1.0 in 2012 were "wake up calls" to the already untenable environmental and social problem that is Metro Manila, most normal people would have regarded Habagat 2.0 2013 more like a kick in the ass. Trouble is, this is the Philippines — a society that defines "normalcy" in a way different to the rest of the world. Like every other problem in the Philippines that has long been allowed to fester (think of that other obvious problem begging obvious solutions: corruption bankrolled by pork barrel funds), Manila residents greeted the latest deluge with a shrug and a wow-we-are-a-resilient-people-so-let's-all-congratulate-ourselves-and-get-on-with-life-when-this-is-over sort of attitude. Perhaps it could be because "only" nine people died this time. Fair enough. If 700 dead people in 2009 failed to move Filiipinos then, hey, what's nine people among friends, right?
The only "shocking" news we get nowadays are how places that just a few years ago have never been touched by floodwaters — Magallanes Village and Sucat Road are the most familiar to me personally — are now making the news. The good news is Metro Manila has never been as united. The bad news is that it is united in wretchedness. Indeed, here we are again, waist-deep in a brew of muddy, sewage-laced, mountain water. The usual "heroes" swooped in again in their rubber dinghies, Land Rovers, and orange vests. And the usual kanya-kanya (disjointed) calls for donations to the "victims" are rippling across social media. So what else is new? I'll bet there will be more of those next year. And the year after next.
There is nothing sadder than something once regarded as special degenerating into a banality (think people power "revolutions").
We really shouldn't be too surprised that this is all happening. Metro Manila is as flooded by water as it is by humans. When you increase throughput without increasing channel capacity, you get latency. Just as Filipino commuters are bogged down in traffic on their roadways everyday, Manila's rain water is suffering from the same condition — heavy traffic along Manila's waterways. Just as Manila's roads have been clogged by street vendors and buses and jeepneys driven by idiotic drivers, rivers and canals crisscrossing the city are blocked by silt, garbage, and human refuse.
What can you do?
Nothing really. If you think about it, all this is of no consequence to Mother Nature. If the rivers aren't deep enough to handle volume during heavy rains, guess what: the water simply flows through wherever it can flow through. Unfortunately, in this case, people happen to be in the way. Tough luck.
[Photo courtesy SetteWriter.com.]
benign0 is the Webmaster of GetRealPhilippines.com.