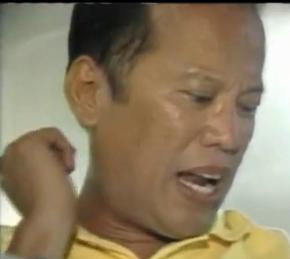 Sometimes, you'll see things on your timelines (FB and Twitter) that you don't expect to. Apparently, a few people think that it is a worthwhile exercise to compare former president Gloria Arroyo and current President Benigno Simeon Aquino III (BS Aquino), in terms of pork barrel and natural calamities faced. But then again, should we really be surprised? Both the issues with the pork barrel and how Filipino society copes with natural calamities have been persistent issues for years.
With regards to the pork barrel, comparisons between the two presidents started coming up especially after the latest Commission on Audit (COA) report was released. What critics of BS Aquino's government seem to have noticed is that the report covered only the period from 2007-2009, which coincide the last three years of Arroyo's term. "Why was the period from 2010-2013 not covered?", asks, for example, the Daily Tribune.
If you remember, though, one of the responses Aquino had, when outrage was first gaining momentum, to direct everyone's attention to the fertilizer scam that supposedly happened during Arroyo's time. However, he did not mention the P10 billion figure, instead he used the P90 million figure associated with a bogus deal of the Department of Agriculture (DA).
With such responses, one would get the impression that BS Aquino is trying to say that compared to Arroyo, he's not as bad and therefore there's nothing to worry about under him. However, doesn't that miss the point? A scam is a scam regardless of the amount, and that something still happened despite it already being well into BS Aquino's term tells us that either he hasn't been effective in controlling corruption, or that he's actually making it worse.
Now, speaking of the recent Habagat 2013, comparisons with Habagat 2012 and Ondoy in 2009 are inevitable. For data collection, for example, it would be appropriate to measure the amount of rainfall, which is what scientists did. To elaborate, Ondoy dumped 455 mm, Habagat 2012 472 mm, and Habagat 2013 600 mm, according to the report.
If you ask me, the only trend I can see is that it's getting worse; but we didn't really need to know the amount of rainfall dumped to conclude that. Although I haven't heard BS Aquino directly say that Ondoy is still worse because it happened during Arroyo's term, I wouldn't put it past him to actually come out with a statement something like that in the coming days.
Under pressure on two big issues, it makes you wonder: is the Aquino government looking for more straws to grasp at in order to divert attention from how it responds (or does not respond, as may be deemed appropriate)?
Ok, so Aquino would like to believe that he's still doing better than Arroyo. So What?
Ultimately, such comparisons between the Aquino and Arroyo administration are pointless. Why? Because the problems still persist, and the people still don't seem to care that they do.

BS Aquino had campaigned on the premise/promise that he was going to be everything that his predecessor was not. Yet at the start of his term he did not do the one obvious thing that would really differentiate him: abolish the pork barrel. Until now, he hasn't, after making that statement he added that disbursements would be suspended until a probe by the National Bureau of Investigation (NBI) is completed.
If he eventually does get to abolishing the pork barrel, then it will perhaps be one of the best things he'll ever do as President. Why relinquish control over the one thing that gives him control of both houses of Congress? Because it's the right thing to do, if, indeed, "kung walang corrupt, walang mahirap."
No matter how much BS Aquino would like us to believe he was justified in axing the Laguna Lake Rehabilitation Project because it was "tainted with corruption", it only served to further highlight how incompetent and narrow-minded he was. First off, it showed that: more than the merits of the project, that it was associated with Arroyo was the apparent prime consideration in canceling it, and thus depicted a vindictive and narrow-minded way of thinking. Second, by dismissing the project as one that would "just dump silt to be recovered to another portion of the lake", he showed an unwillingness to listen to advice from experts in a field wherein obviously he is not one.
The project above is just one casualty. There was another P1.9 billion in flood control projects also cancelled by BS Aquino, seemingly arbitrarily.
Mr. President, whatever flood control plans you have for the nation, they were needed yesterday.
The Filipino people, however, are not blameless either. They are, to a certain extent, responsible too for why things turned out the way they did. And the problems are getting worse. I'm not going to say "before they get better." Why? Because if Filipinos keep repeating their insanity over and over, it's definitely not going to get any better.
Whoever between Arroyo or Aquino did less damage, the significance of it all shrinks when put side by side with the gross negligence that the Filipinos have been practicing towards electing their leaders, keeping them accountable, taking care of their surroundings, and generally practicing discipline and restraint as a people.
With that in mind, should we expect to see the same scandals and catastrophes in the coming years, even beyond BS Aquino's term? What will it take to finally wake Filipinos up and realize that "we have a problem"?
А вы, друзья, как ни садитесь, все в музыканты не годитесь. – But you, my friends, however you sit, not all as musicians fit.