Since the release of Apple's first iPhone in 2007, touch screen phones have become increasingly popular with smartphone users. Many smartphone manufacturers—from Samsung to Nokia—were quick to copy the new touch screen technology and include it on their devices, but BlackBerry has traditionally remained loyal to physical keyboards. With the release of the Z10 earlier this year, BlackBerry has finally moved to a touch screen model, encouraging users to adapt the new technology for the first time.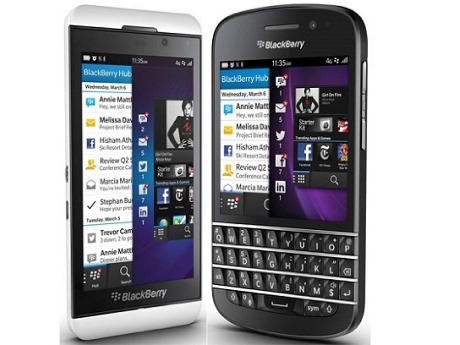 The move from Qwerty to touch screen on the BlackBerry Z10 is undoubtedly a response to complaints that BlackBerry lags far behind its competitors in terms of technology and innovation. Yet BlackBerry's full Qwerty keyboard has traditionally been adored by faithful BlackBerry users who claim that typing speed and accuracy is much better on a physical keyboard than a virtual one. The new Z10 attempts to offer a solution that will please both BlackBerry loyalists and BlackBerry critics: it features a new virtual keyboard that boasts better accuracy than any of its competition. CNET's review of the Z10 applauds BlackBerry for its new virtual keyboard, stating that "texting quality [on the Z10] is better than the GS3 or iPhone because of the predictive keyboard." Apple may have invented the touch screen phone, but BlackBerry just may have perfected it.
So how are BlackBerry users responding to the switch from Qwerty to touch screen? Recent stats from Q1 2013 suggest that BlackBerry is slowly regaining ground in the global smartphone market, with sales of BlackBerry phones in Canada, the UK, and the U.S. seeing jumps so far this year. The verdict? Getting accustomed to the Z10's virtual keyboard may not be such a hard change for BlackBerry users after all.
But that's not to say that BlackBerry has abandoned physical Qwerty keyboards altogether. The new Q10, the second of BlackBerry's phones to run on the new BB10 OS, features a full Qwerty keyboard, as does its mid-range successor, the Q5. Interestingly, the retail price of BlackBerry's new touch screen model is higher than both of its new Qwerty phones; while the BlackBerry Z10 price for 29,990 PHP, the Q10 retails for 24,990 PHP and the new Q5 for just 18,900 PHP.
That's quite a big price difference between the Z10 and the Q5, but smartphone users who want the latest technology—including BlackBerry's new virtual keyboard—will likely spend the extra cash without much thought. While there's little difference in terms of physical specs between the Z10 and the Q10, there's just no denying that the Z10 looks and feels more like the type of smartphone users are accustomed to in 2013, with its sleeker build, larger screen, and yes, even its virtual keyboard. All of these features will make the Z10 the undisputed go-to choice for modern BlackBerry users who not only want to use their phone for business and productivity purposes, but also for reading, gaming, and streaming video content.
Simply put, users pay more for touch screen phones because they've come to associate these models with having newer, more innovative technology than their Qwerty counterparts. While some Qwerty phones do come with excellent hardware and impressive features, there's no denying that touch screen phones dominate the global smartphone market—and will probably continue to do so in the foreseeable future.
My dream is to become a journalist working for one of the top news companies. I am a journalism student from Indonesia and planning to continue my study in London or New York (still deciding) perhaps next year. I enjoy reading so much and travelling especially to Palawan and definitely will go there again! I hope you enjoy reading the article!