While the public in Metro Manila are preoccupied with the controversy surrounding the pork barrel and the leaked sex tape of Parokya ni Edgar singer Chito Miranda, it seems that the Philippine central government based in Manila can only look on and react belatedly at five (5) recent bombing incidents that occurred in Mindanao.
An explosion which rocked the LimKetKai Rosario arcade in Cagayan de Oro city (CDO) was the first one last July 26. The initial death toll was 6, but is now reported at 8;
The second bombing happened in Cotabato City on August 5, and the death toll has also reached 8. Although reports have come out that a few suspects have been arrested, the police are currently not confirming this report yet;
The third and fourth incidents, reported to have occurred August 7, happened in Midsayap town in North Cotabato and Maguindanao province respectively. In the Maguindanao Province incident, a bomb supposedly exploded on a passing military convoy in Shariff Saydona Mustapha Maguindanao town around 9:30 am;
An improvised explosive device (IED) exploded on a bridge in Barangay Lintokan, Datu Piang, Maguindanao Province. Members of the Bangsamoro Islamic Freedom Fighters (BIFF) are suspected to be behind this particular plot;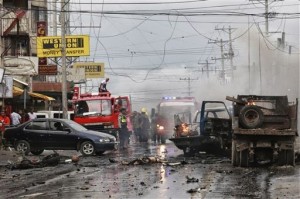 And what have been examples of statements so far coming out of our "honorable" government officials?
Mar Roxas – was reduced to stating the obvious, that the blasts in Cotabato and CDO were intended to kill many. And that President Benigno Simeon Aquino III (BS Aquino) is closely monitoring the CDO bombing probes.
No, Mar, the perpetrators just wanted to see how loud they could make the explosions, or could be they were practicing making cars blow up for a planned movie shoot there. As for BS Aquino being on top of the probes, what does that mean? Closely monitoring doesn't necessarily mean planning a swift resolution, does it, Mar?
BS Aquino – the bombings were meant to derail the peace agreement between the government and the Moro Islamic Liberation Front (MILF).
Right, it's all about BS Aquino and his conspiracy theories first and foremost, forget about assuaging the public's fears which should be the most important priority of his government. If it is indeed true that some groups are out to derail the peace process, well, your government should have thought of all of that before you focused on the MILF and ignored the other interest groups in Mindanao. Now, it seems your Nobel Peace Prize aspirations have gone up in smoke, why did certain parts of Mindanao have to also?
Juan Ponce Enrile – "The bombings may spill over to Metro Manila."
Aside from heightened security measures in malls (an obvious solution), what else is being done to improve intelligence gathering so that there's a bigger possibility we can stop these before they occur?
Cotabato city administrator Cynthia Guiani-Sayadi believed herself to be the target of the bombing on August 5 as a result of "their campaign against crime syndicates." However, Autonomous Region of Muslim Mindanao (ARMM) governor Mujiv Hataman downplayed the bombing in Cotabato City and said it would have been better if Guiani-Sayadi had not immediately claimed that she was the target of the attack.
Unless these politicians have any pertinent information they can share with regards to investigations, I'd say they're just grandstanding. That simple.
Poor Mindanao; the second largest island in the Philippines only seems to attract attention from the "honorable" folks at Manila whenever they want something from the region; or whenever something dire like natural calamities, or bombings, happens there. Other than that, the citizens in Mindanao are pretty much on their own. Bahala kayo sa buhay niyo, so to speak. Now, not only do Mindanaoans have to deal with rising prices of goods there and the problem with electricity, now they have to deal with threats to their security and wellbeing, seemingly on their own, again.
I like the following statement below by Danilo Suarez in his Manila Times column:
Although we cannot yet ascertain if the attacks were made by the same group, I believe I speak for the whole nation when I say that this administration should start to move with a sense of urgency. Let us not give our brothers and sisters in Mindanao another reason to think that the Philippines is comprised only of Imperial Manila. It is high time that we conclude that our security and intelligence bodies have failed us and that heads must roll immediately to prevent another disaster.
Sad to say, when it comes to Mindanao, "Imperial Manila" doesn't have the political will (a term being used often nowadays) to respond to their needs with a sense of urgency.
The term Philippine intelligence is an oxymoron. There is no intelligence involved in being reactive to events as they occur. There is a lot to be gained from being proactive and scouting out possible threats before they occur. However, the value of intelligence seems lost on the Filipino people because they collectively lack foresight.
Weren't intelligence funds for various agencies a sort of issue a few months back? I guess now is a better time than ever for the people to really ask where the money their government is entrusted with really goes, what with all the other controversies coming out.
[Photo courtesy: Sunstar]
А вы, друзья, как ни садитесь, все в музыканты не годитесь. – But you, my friends, however you sit, not all as musicians fit.