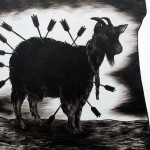 Janet Lim Napoles is not the only name that appears to be embroiled in the P10 Billion Pork Barrel Scam.  Along with her name are the names of slew of congressmen, senators, and other government officials who stand accused of lining their pockets with pork barrel funds — some of which appear in the blog Dulz Speaks which published a supposed anonymous account of the pork barrel scam.
It's funny that while Napoles is on the receiving end of a great amount of vilification, it doesn't seem that enough people are training their guns on the elected and appointed officials who actually control the release of the pork barrel funds.
Some blogs have been portraying Napoles as the "pork queen", but to me, she seems more like the scapegoat.  Because of the accusations hurled against her, it seems Napoles is being made responsible for all the thieving and stealing that's going on in government.  And while this is happening, the supposed the congressmen and senators (who made all the thieving and stealing possible in the first place) are escaping blame and punishment.
If it is true that Napoles wealth originated from skimming off a percentage from the pork barrel funds of legislators, it would also be true that corrupt legislators lined their pockets with the larger portion of the stolen pork barrel funds.  In that case, in my simple figuring of things, both the skimmer and the larger beneficiaries of the pork barrel scam as well as the government bureaucrats who released it should be punished together.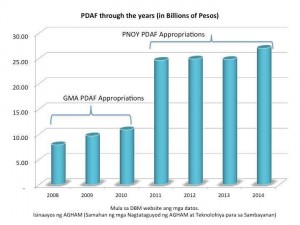 It occurs to me, at this point, that even if Napoles is driven out like a scapegoat, pork barrel corruption will still continue because it is entirely conceivable that corrupt legislators and various corrupt functionaries of government line agencies will find another person or create other organizations to continue their pork barrel corruption.
If the opportunity to steal from pork barrel funds is in direct proportional to its size, then the Aquino Administration's pork barrel allocation a whole lot more opportunities for corruption — even more than the previous administration.
In 2010, towards the end of the Arroyo Administration's term, pork barrel allocations hovered around P10 Billion.  In the 2014 budget, according to Agham (from whom the graph on the left supposedly comes from), the Aquino Administration's pork barrel fund allocation has swollen to THREE TIMES that of the 2010 pork barrel allocation!
In an interview with Winnie Monsod, COA Commissioner Heidi Mendoza reveals that pork barrel fund corruption continues under the Aquino Administration and the amount that has been STOLEN through pork barrel funds could ACTUALLY be THREE TIMES bigger than the P10 Billion that legislators stole allegedly with the help of Napoles.
Below are some excerpts which I have transcribed:
Winnie Monsod: Papaano nalusot sa inyo? (How did this pork barrel scam get passed COA?)

Heidi Mendoza: Since 2007, nag-isyu na po kami ng aming rules in terms of exacting accountability among non government organizations. Nilagay po namin dito ang controls na kung ano dapat ang hanapin ng implementing agencies. Ang nagiging problema po natin dito ay iyong implementation. (Since 2007, we issued rules in terms of exacting accountability from non-government organizations.  The problem occurs in its implementation.)

While it is very clear na kailangan may experience yung non-government organizations, mayroon silang financial statement na examined ng isang certified public accountant, at mayroon silang financial capacity, nakita po namin sa review na hindi po ito napapatupad ng implementing agencies. (While it is very clear that these NGOs should have experience, a financial statement examined by a certified public accountant, and proof of financial capacity, we have seen in our review that these requirements are not being fulfilled.)

Sa halip na in tranches ang releases at hintayin muna ang liquidation documents, nire-release ng buo ang pera kahit wala pong nasu-submit na liquidation documents. (Instead of releasing the funds in tranches and waiting for liquidation documents for the previous tranche released, the funds are released fully without waiting for liquidation documents.)

W: Bakit itong mga implementing agencies eh hindi sinusunod ang implementing rules and guidelines ng COA?

DODO MACASAET, CODE NGO: Kaming mga lehitimong NGO, nahihirapan kumuha ng pondo. Itong kasong ito (referring to the P10 Billion Pork Barrel scam) malinaw na mayroong pagko-kontsabahan. (We legitimate NGOs are having a hard time getting funds.  It's clear that there is collusion involved.)

W: Sino ang nangongontsaba? (Who are colluding to make this happen?)

DM: Ang lumalabas po sa report ay yung implementing agency, the legislator, and yung hindi legitimate na NGO. (What is shown in our report is that the implementing agency, the legislator, and illegitimate NGOs.)

W: Kung hindi sila legitimate, papaano nakaka-release ng funds sa kanila? Papaano sila nachoo-choose in the first place? Hindi ba dapat may bidding yan? (If these NGOs are not legitimate, how is it possible that they're able to get funds? Isn't there supposed to be a bidding process?)

HM: Meron pong hindi nagbi-bidding, mayroong nagbi-bidding pero bidding-biddingan lamang. Mayroon ditong nagtuturuan lang eh. Minsan sasabihin ng legislator na hindi ako ang nag-identify ng NGO na yan, it's the implementing agency. Pagtinanong mo ang implementing agency, ang sasabihin nito eh 'dumating yung NGO may dala-dalang sulat galing kay congressman'. Babalikan namin ang congressman, sasabihin naman "Fake ang signature ko dyan, ginamit ako ng non government organization." (There are cases where there is no bidding, there are cases where the bidding is rigged.  There is a fair amount of buck passing.  There are instances where the legislator denies he or she identified the NGO and he points to the implementing agency.  When we ask the implementing agency, they turn around and say that the NGO presented a letter from a congressman.  Then when we go back to the congressman, he says that his signature was forged.)

W: Sinasabi ng mga legislators na hindi sa kanila dumadaan ang funds, paano sila nakaka-kurakot? (Legislators say that the pork barrel funds do not pass through their offices, but how is it that they are able to plunder the funds?)

 HM: Mayroon kaming nakitang mga examples na iyong implementing agencies na may NGO na may relationship dun sa legislator. Pangalawa, magdududa po kayo, kung halimbawa, itong legislator na ito mag-identify ng NGO nya. Pero, iyong NGO naka-base sa Quezon City pero ang project ay nasa Lanao del sur. (We've seen examples where the implementing agency's NGO has a relationship with the legislator.  Second, there are instances where we've seen a legislator identifying an NGO based in Quezon City but the project to be implemented is in Lanao del sur.)

W: Sinong pinaka-malaking recipient of PDAF sa mga government agencies? (Aside from the hard projects which is the DPWH) (Which agencies or programs are the biggest recipients of PDAF?)

HM: Base po dun sa audit namin, malalaki po ang releases sa Zrec, sa Nabcor, and this time, lumilipat naman po sa DENR Philforest.  (Based on our audit, largest releases were to ZREC, NABCOR, and this time around, DENR Philforest.)

W: Sa tingin niyo, gaano kalaking porsyento ng PDAF ay nawawala sa irregularities? (In your view, how large of a percentage of the PDAF is lost due to irregularities?)

 HM: Because of lack of documentation, hindi namin kaagad ma-conclude na may nangyari na kalokohan sa pondo. (Because of lack of documentation, we cannot immediately conclude that irregularities happened with the funds.)

W: Ay kung tatlong taon na eh walang liquidation, sasabihin na walang irregularity?! (Three years pass without the liquidation documents for the funds being submitted, and you're saying that there are no irregularities?)

HM: Iyong nga ho eh…. Kung sasabihin na sa loob ng dalawang taon hindi pa nakakapag-submit ng liquidation documents, dito po namin masasabi na posibleng walang nangyari at posibleng napunta sa ibang proyekto.  (That's the thing… If in two years a liquidation report is not submitted, it is possible that nothing happened to the project and it's possible that the money went to another project.)

W: Itong scam na supposedly by the Napoles group is only the soft part, papaano nangyari na P10 Billion ang nakuha? (The scam supposedly done by the Napoles group is only the soft part, how did the manage to get P10 Billion?)

HM: Una, dun sa sinasabi namin na hindi na-implement iyong rules and even the specific provisions of the memorandum of agreement. Ito iyong sinasabi naming sa soft, yung mga training for example may pinapakita sa report namin na may ghost training. For example, may nag-training daw ng farmers pero pag tinignan namin ang listahan, mukhang isa lang ang pumirma ng mga pangalan. (First, the rules weren't implemented and even the specific provisions of the memorandum of agreement.  This is what we are saying about the soft projects, in our report it is shown that ghost training projects happened.  For example, there was supposed to be a farming training but when we looked at the list, it seems that only one person signed for all the names.)

W: Eh paano kung lumabas ang report niyo, it's bigger than P10 Billion pala? (What if your report shows that the scam is bigger than P10 Billion?)

HM: It's bigger than P10 Billion.

 W: Twice more? Three times more?

HM: Mga three times more. (Around three times more.)