Something has been bothering me these past few days. Something smelled quite fishy, but I couldn't quite put a bead on it. The words to describe it had been escaping me.
Then it just hit me: Filipinos stink. In more ways than one.
They showed this more than ever just recently, if you saw how the Filipino fans reacted when the Gilas Pilipinas team lost to the Iranian national team in the FIBA Asia championships last Sunday. That #Puso vs #Putok thing trend that spread like wildfire? Well, Filipinos used it to describe the Gilas team and the Iranians, respectively.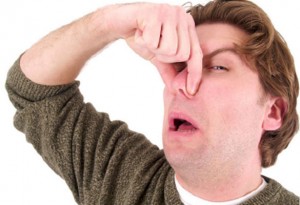 Let's explain the terms a little bit. Puso means heart, and it was the tag the fans used for the "heart of a champion" and "fighting spirit" terms to cheer for the Gilas team. Putok, on the other hand, is a slang term for body odor here in the Philippines. I'll give you one good guess as to whom they were referring to. I don't even know where Filipinos came up with that connection; perhaps they used the stereotype (that Filipinos have) of Indian and Middle Eastern people having offensive odors (according to the "well-refined" Filipino nose, at least). And how convenient is it that there is a slang term for body odor that starts with the letter P.
You've got to admit, Filipinos can be witty, if they want to be.
That's not the worst of it though. Put things together, and you come up with the underlying snide remark that Filipinos ultimately wanted to make, and did: that ultimately no matter how much "heart" the Gilas team had, they were no match for the "body odor" of their opponent. Their opponent was too overpowering.
Underneath all that "heart" of the fans is an utter lack of brains and good manners.
Congratulations, Gilas fans: you just set a new low with that #Puso versus #Putok statement, which combined arrogant, dramatic, flippant, moronic, pikon, racist, whiny, and vulgar all in one.
Akala ng mga Pinoy kung sino sila. Ambaho na nga ng bansa nila, ambabaho pa ng ugali nila.
Loose translation: Who do the Filipinos think they are; not only does their country stink, but their manners, too.
Yup, a group of people that stink goes hand in hand with a country that stinks. People like Claire Danes, Adam Carolla, Nicole Lynn, and Jimmy Sieczka have learned only too well the truth about Filipinos. Especially when you call out to them just how offensive they and their odors get and insult their precious, but utterly fragile, Pinoy pride.
Filipinos play up the ethnic stereotype that Indians and Middle Easterners physically stink. As I mentioned above, this is the most likely basis for labeling the Iranian basketball players as #Putok.
Let us ask a few questions, however:
Between the Filipino fans and the Iranians, whose stink was more readily evident?, and;
Between physical stink and stinky manners, which one is more easily remedied?
You can take the Filipino out of the barok, but can you take the barok out of the Filipino? If that recent show of Filipino pride was any indication, it will be a cold day in hell before that happens.
Simply put, until they learn to control themselves, Filipinos are doomed to suffer the stink of being Filipino as a result of their actions.
А вы, друзья, как ни садитесь, все в музыканты не годитесь. – But you, my friends, however you sit, not all as musicians fit.