Just after Iran's team prevailed over Gilas, Filipinos started coming out with hate comments. They posted these hate comments even on Iranian players' pages. Even during the game, some used the hashtags #Puso and #Putok to describe the Filipino and Iranian teams. It is very racist. There were even people who called Iranians "terrorists" and even said Iranians were cheating.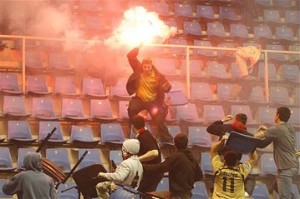 An example is below: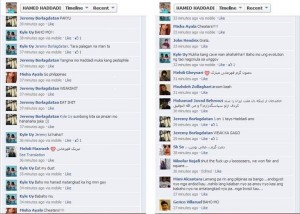 And more:
There's even a guy who claims to be American, but it's likely a fake account for trolling:

I don't know if this is just the result of allowing stupid kids to use a computer with Internet access, but they sure are making fools of themselves.
This is the main reason Gogs, FallenAngel and I came out with criticisms of the Gilas fandom. The way these fans behave is pulling down the country. Like with Manny Pacquiao, it's not the sportsman himself who is the problem, the fans are. Until today, Filipinos cannot help but take snipes at people of other countries, try to bully them online and claim they are the best. But that only serves to create the impression that Filipinos are bad-habited, arrogant and pikon.
This might be why Filipinos may be "oppressed" in other countries. Could it be because Filipinos are the ones starting aggressive behavior? Then people in those other countries may be justified in censuring or criticizing Filipinos. Add the above example to this list of misbehavior of some Filipinos abroad from my earlier article:
Pinoys love to imagine that they are "oppressed" people in the world. But when they do things like post pictures of themselves wearing their employer's clothes without permission (the maid in Singapore), slap a helpless Alzheimer's patient (Jonathan Aquino case), steal from a US children's cancer fund (Rene Ballenas pleaded guilty to larceny), make a loan in the U.S. then run home to avoid paying it, murder a famous fashion designer (Andrew Cunanan killing Gianni Versace), complain about someone else's name (the Filipino complaining about someone being named Kiki in Australia) or be on the defensive after the botched Manila Hostage Crisis, you know they are far from "oppressed" or "deserving pride."
If this is the way Filipinos manifest "Pinoy Pride," then their Pinoy Pride is crap.
The way some Filipinos handle their sports fandom is full of immature behavior. Very unsportmanslike. This is why people from other countries criticize us. Perhaps, because of how Filipinos behave first, those critics deserve to take their snipes.
I was however glad to see some Filipinos with the right idea: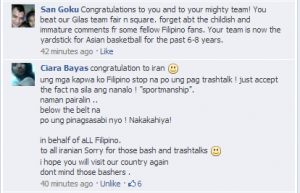 There were many of these on the Iranian player's page. Thank you for doing this.
This why is GRP can only focus on the "negatives." Because that is what the Filipinos themselves are showing. If we stop sniping at the negatives, there will be nothing positive to gain in the end.
Again, as Adam Carolla advised us, we should get our crap together.
I believe, as my cohorts here do, that what Filipinos embrace as their culture is what actually pulls the country down. And those who seem to be anti-dictators, who may also believe themselves to be "heroes," are the real dictators.