So, the Philippines' State of the Nation Address by our beloved President is just around the corner, aye? How come I have no knowledge about this sought-after event?! I'm so gonna sue the compliant National TV! And to think I'm just too busy, maybe I can consider my ignorance as a joke, too.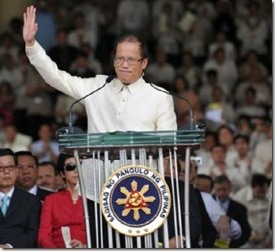 In any case, the country's SONA is actually a national report specifically designed to inform the country of the activities the President had undergone in order to enrich the quality of life in the country he serves. Simply put, it's just a narrative report of his accomplishments and a presentation of his future plans to enhance the economic state of the Philippines. The reporting is good, as it is a form of transparency on the part of the government, as well as an informative story for the citizens of the state to be notified of progresses that they can't see.
Why, we are in the Philippines. Where SONA sounds synonymous to campaigning, papogi schemes and a heck lot of TV coverage that deems fitting to a society where television acts as marijuana to the economically-deprived citizens of Pinas. It's undeniably a famous Filipino vice that they keep on shoving down their throats.  But how can I blame them? Flips are so lazy in searching for other alternative sources of information. Oh, did I mention the word LAZY?
Truthfully, there were instances when our teachers before required us to watch the SONA because "may quiz tayo bukas patungkol sa SONA ni Pangulong XXXXX". That was one of the most frustrating requirement they ever handed down to us. Jot down those notes of improvement in our country, their future projects and all. But to my unlikely method of thinking, I saw other else.
The unnecessary drama, overrated commentaries and the freakin' big deal of TV networks in the importance of covering such event. Every year, I really get mad because they will sacrifice the airing of some of my afternoon Animé sessions before those crappy dramas wreaked my TV watching career. I keep on asking myself "Bakit nila tinatanggal yong airing ng Bleach, Naruto at One Piece para lang panoorin ko ang ayaw kong panoorin sa oras na ito"? From there, my fancy in watching TV diminished. Not that I'm blaming the afternoon dramas, but I had enough BS of those.
Same goes with SONAs. Every year, they report about pagbabago, pag-unlad ng bansa and pagbaba ng insidente ng korapsyon. Every year they don't fail with smiling, clapping, lying and more clapping inside the building called House of Representatives. And you should forgive me if ever I intentionally typed the venue wrong.  Seriously, I am busy in real life that I don't even have the time remembering where is the true venue of the event.
But that's just me and my fluctuating memory.
Through the years of consistent bullshit speeches, I had finally concluded that watching SONA is a BIG WASTE OF TIME. It's like listening to a Justin Bieber song over and over again, but at the very least listening to Bieber's songs is better than watching a delusional president tell lies. So instead of watching the same bullshit, here I present you several ways to wisely spend your time on the day of SONA.
1. It's a good time to read some books. Pick up a novel, textbook or a comic book to read in that afternoon. You'll learn more about what you had read than what you watched in TV. Or on a better way, study by going over your notes. As an ordinary student would say: Malay mo, may quiz. Or on a severe form, Prelims na 'tol.
2. Meditate. Reflect about things that made a significant impact into your life, whether good or bad. Having a sound mind will actually make you more prepared for things that might come in the future.  See, just imagining about a zombie apocalypse – and what you should do in case – is more enjoyable, I guarantee.
3.  Have a quick stroll in a nearby park or mall. Aside from the benefit of burning your calories, you might as well see some friends or acquaintances that you haven't saw for a long time. Say "hi" to people, too. Make some new park friends if you want, and bring your pets outside. Be a goddamned decent human being just for 2 hours, or until the sickening SONA media coverage is over within the day. Remember that the nostalgia lasts for 1-2 days, though. Enjoy whatever refreshments you bought in the mall.
4.  Play the sports you want to play. Call your playmates for a quick match of Basketball, Volleyball or Badminton. Have a betting mechanism. Whoever loses will treat refreshments to the winner. Enjoy whatever sport you are playing because it establishes camaraderie that TV cannot simply inculcate to you. You will also burn some stored fats, too. Just saying.
5. Or if you are not the type of person that can't handle strenuous play, play computer or console games instead. Again, invite a friend to be your opponent. Whether be it League of Legends (oh, add me on LoL. The name's tigailog), Grand Chase, DoTA, Tekken 6 or a simple Air Hockey match in an arcade, you'll surely enjoy having a human life outside the airwaves of lies and propaganda.
6. Try drawing stuffs. And I mean, ANYTHING UNDER THE SUN. Draw the minions of Despicable Me 2, a portrait of a person, Gundam Wing, or the sunset at the Manila Bay (sans the floating debris at the shore though). Inspire yourself to be more than yourself in the way of the paintbrush. Remember that each stroke of the brush or pencil evokes your current state of mind. Be as calm as possible when you draw, though.
7. Speaking of Despicable Me 2, why not go to the movie theater and watch, well, movies! The roster of the films today are interesting. Just don't make any spoilers about the movie Pacific Rim okay? Let me watch it first. If ever you can't afford a movie ticket, or you don't have the time to watch in a movie theater, go to a nearby sidewalk vendor and ask a copy of pirated CD of your favorite movies or TV series. And watch it at the comfort of your home. Make the timing perfect by firing your DVD players at exactly the same time when the retarded president makes its appearance at Batasang Pambansa.
8. Hone your talents in playing a musical instrument. Instead of watching TV, why not do an acoustic cover of your favorite mainstream song. Play a few notes from the song you are dying to study. Or if you are a newbie like me, ask help from someone who can play a guitar. Or a flute. Or a harp. Or a pair of Maracas. Indulge yourself to the sounds of music straight from the instruments. And please, restrain yourself from blaming your teacher if you don't get the hang of playing the instrument of your choice. Strive hard to be a pro, not a retard.
9. If there is something I haven't mentioned here that you would want to do, just do it. I mean really, you should do it. Whether you want to practice the art of sarcasm, go bungee jumping, or hoping that a lightning will strike a retarded president, do it. The country that you are living in is a free country after all. Just don't tamper their Communist beliefs and intentions though. It's just a secret between you and me, okay? Communism-driven citizens are at large. They want everything to be free but they don't want to sacrifice in order for that need to be free. Then formulate  an equation basing from the logic you are devising now. Communism = idiocy? No, try again.
Lastly, as a parting gift to all of you, here's a pic that will surely make yourself doubt about the current state of the Philippines (as being always stated by the schizophrenic visionaries of PNoy)
Now if you'll excuse me, I'll be reading my notes now. Better to load my brain about relevant information than worrying myself about this useless event if this SONA will go well. Prelims na, 'tol.
(Photo courtesy of PixelOffensive)
Overzealous fan of Pokemon games. Currently on the hunt on whoever ended my killing streak in League of Legends, and those individuals who haven't done anything helpful in this pathetic country.