The year 2013 was the year where disasters and scandals decided to, well, troll the country. The damages went almost irreversible, and forever changed the lives of many. But even though that the past year was unpleasant to the optimistic Pinoys, here I am sitting on a chair marveling at the wonders of life. But enough of the jokes and kidding. Sure enough, 2013 was full of misfortunes. But it was never devoid of some minuscule details of amusement to which I am currently enjoying right now. I might as well carry those bits of joy this new year.
Okay, okay. Maybe you're thinking "Why the heck are you enjoying humor while the country is suffering?" to which I would reply something like this: "Humorous moments can be found in unexpected chances." And it came true. There were some moments of hilarious clarity in which I don't have the intention of letting it go. At the very least, it was so darn funny on my part. I dunno with the rest of the populace, though.
But I'll make this short. Throughout the deaths, destruction and shame, there were words that still managed to make us smile. I'm not talking about inspirational quotes or jokes. There were really those that achieved a state of "high" that made the most, uhh, awkward statements of the past year. Here are some of them.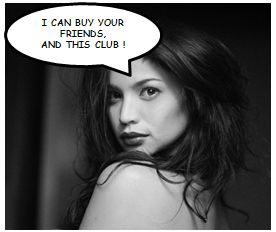 1. I can buy you, your friends and this club! This only shows that anyone under the influence of alcohol, whether be an ordinary tambay or Anne Curtis, unleashes their Unconscious state and may become an utter barbarian, socialite, a European royalty, or devolve from a showbiz personality into a fallible human being capable of saying things that shouldn't be said in front of so many people. Cmon, JLC. She was a little tipsy before. You should had tried bashing a San Miguel Beer bottle in the table for added extra action and drunk ambiance inside the club. That way, Anne Curtis can really have the balls to pay for that bottle you broke.
2. I invoke my right against self-incrimination. The very overrated statement that was used from the time of that Valium-addicted individual to the reigning Pork Barrel Queen. A technique used when you have the intention of becoming an instant amnesiac idiot in Senate hearings, or if you are found speechless in the middle of a graded recitation at school. Well, it must really comes handy in graded recitations. I'm so gonna do it in one of my classes. Or if you want to be more conventional and a bit frank, try this:
3. Hindi ko po alam. Now you've become the instant amnesiac idiot you are actually trying to portray. Best used especially when your intonation rises in the middle of the sentence until the word po. Try it, it is very insulting. And it will result to me bashing that damned San Miguel Beer bottle into your stupid mouth. And someone in your defense will come to me and declare:
4. Nagsisinungaling po siya. The sentence that will make the finishing touches in your verbal crossfire inside the Senate. And after that, there's the question again. Repeat number 3. Then number 4. Then the question again. Repeat number 3. Then number 4. After which Miriam Defensor-Santiago will snap her anger-o-meter into smithereens because she can't milk the expected information to be divulged. Yeah, that's the perk of being that instant amnesiac idiot.
5. It would be boring if there are no problems. So very well explained by the guy who apparently gets sick because of being workaholic. With what? Trying to find out if there are really problems with the country? So he doesn't get bored because there are problems, right? Did he realize that he IS the part of Da Pinas' problems? Meh.
6. I assure you, we will restore the power lines of Leyte before Christmas. A very classic example of a traditional personality that promises truth in a place full of lies. Or a traditional politician, if I make it more specific. Sadly, the author of this quote is no politician, but someone working in the Energy Department that guarantees something that is so unfathomable to accomplish to the ningas cogon attitude of Pinoys. Now, did he said that he will resign? Bakit di pa yun umaalis ng Energy Department porke pinipigilan ng presidente niya? So, promises are made to be broken talaga?
7. We should be very careful because you are a Romualdez and he is an Aquino. Another prime example of political arrogance that shouldn't be used in times of disaster. Or else, it will result to IQ disaster – or lack of it – and you'll realize in the end "In-edit lang ang videong yan!" 3 words for you, mister DILG secretary sir. Engot na nagmamagaling.
8. Don't you know me? What?..Who are you talking to me anyway?..Ah really? Why is it that I can't see you, then? Asan ho kayo? Ang dilim kasi, sobrang dark. Paki-explain, labyu.
Overzealous fan of Pokemon games. Currently on the hunt on whoever ended my killing streak in League of Legends, and those individuals who haven't done anything helpful in this pathetic country.