If you think my article criticizing Pinoy Pride is demeaning, try the idea of someone saying, in effect, the OFW is evil just by being one.
A blogger recently gave his view on the OFW issue. In a Facebook group, he commented that OFWs are "good for nothing." He insists that OFWs should be condemned for just leaving their children in the Philippines and leaving to work abroad. He further holds that OFWs are driven by greed in their search for for better salaries abroad, even if the OFW does it in order to support a family. And a funny accompanying opinion is that the parent does not need to have a lot of money or even money at all, he just needs to be physically present with their children – even if he is bringing nothing to feed the child, so it seems. It seems mere presence can feed the stomach, according to this opinion, if I undertand it correctly.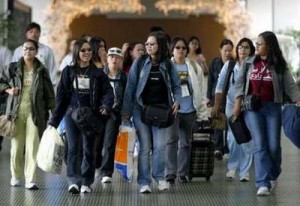 The guy also claims to have been struck after saying to an OFW's face that he is "evil" or a "sack of $#!*" for just being an OFW. So he provokes an OFW, gets struck, strikes back, then says the other guy is evil? If that's not called bullying, I don't know what is.
That seems enough to conclude that his ideas are unsound.
Anyway, can we say OFWism is the OFWs' faults themselves entirely? I wouldn't say that since, since, according to an article at GMA Network, the government can be credited for encouraging OFWism with certain programs for everseas workers during the Marcos Era. Succeeding administrations failed to address the conditions and problems of our country that lead to OFWism and thus OFWs leave the country in droves.
How can you blame it on the OFW themselves when the job market in the country is in a poor state?
While Filipinos and OFWs in general have some things to work on, these faults do not necessarily make them evil or worth condemning. They are people often left with little choice. Some people say that OFWs should just go home and try to find jobs here, no matter how hard it is, or how little they get. But compelling them to stay home and make do with salaries that are not enough is wrong.
Perhaps one should think of the family situation. A parent is obliged to provide for their children's physical needs. That's why they need the higher salaries they find abroad. Perhaps the guy wants parents to pick bananas or coconuts from the field and use that as baby food, instead of healthier modern infant foods. Health is at risk with that kind of setup, and modern food is needed.
Also: just not being there in person, but still sending money for needs, is still abandonment?
I think some people have skewed, one-sided views and thus they develop opinions that actually demean people. Sometimes questionable people do have questionable beliefs. Perhaps such people do start with good intentions, but their views tend to be skewed when they depend only on their own ideas (you know the saying about good intentions). They should stop believing too much in their own views (taking themselves too seriously) and stop spewing opinions that only demean and needlessly provoke other people.
I ado agree that OFWism is a problem and I do support solutions for bringing back OFWs and having them stay home permanently. But one must understand OFWism, while a problem in itself, is also the symptom of even bigger underlying problems. Saying the OFW is greedy or evil is bigotry and prejudice. It reflects a stubborn "I'm right, you're wrong" arrogance with very little real understanding of others' problems.
I believe, as my cohorts here do, that what Filipinos embrace as their culture is what actually pulls the country down. And those who seem to be anti-dictators, who may also believe themselves to be "heroes," are the real dictators.