Mosquitoes
In a recent article of his, Manila Times columnist Rigoberto Tiglao revisited the term "Mosquito Press", apparently first coined during the last years of the Marcos rule as president. Any paper that wasn't aligned with the current regime at that time was considered "merely irritating like mosquitoes", so to speak.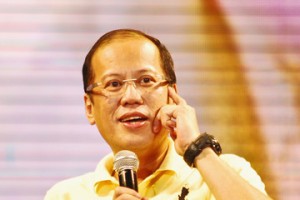 Now times have changed. Or have they? It is easy to come to the conclusion that the Filipinos have merely traded one form of dictator for another one. Although mainstream media is unabashedly supporting Benigno Simeon (BS) Aquino's government, there exist several different outfits that do not. BS Aquino hasn't been heard to use the exact words "mosquito press" yet, however; he would rather call those outfits who are critical of him and his government part of his many kabuwisitans (pet peeves).
You've got the Manila Times, Daily Tribune, and the Manila Standard as the most prominent among these buwisit publications. Self-plug as this may be, Get Real Philippines was also mentioned by Tiglao as among those "at the vanguard." And we've got not only the contributors, but the readers and those who leave comments to thank as well, for making sure that GRP continues to deliver groundbreaking insight into the Filipino psyche, culture, and da Pinoy condition.
Normally, we consider mosquitoes as pests. We do everything we can to make sure we don't get bitten, but a mosquito press is different; getting bitten by them will actually be good for you. Why? Because even by just reading some of the output of this alternative voice to mainstream media, you acknowledge that you don't necessarily believe everything the government wants you to hear. Filipinos should really learn to question and/or verify everything their government says.
The last thing any government needs is an electorate that has learned to consider other points of view aside from their official one. Their point of view is merely one side of any issue; because governments are preoccupied with looking good and appearing to be every bit of Mr. Clean to their electorate, they are wont to hide any shade of wrongdoing away from an unsuspecting public.
As the electorate, we put these people in to help us improve our lot, and it is our job to make sure that they keep doing theirs. Governments are answerable to the people, not the other way around.
Unfortunately, unplugging from government propaganda and mainstream media is not as easy as it sounds. Mass media is what it is because it is what the average Juan likes to hear; anything to keep him in his happy and contented stupor. In order that the citizens question their government as little as possible, it is more useful for them to turn the citizenry into:
Zombies
I think there's been enough portrayal of zombies in fiction that everyone at least has a working knowledge of what a zombie is. Zombies are basically re-animated corpses. They're brainless, there are too many of them, and they usually walk around without purpose other than to either look for brains to eat, or to infect others to become like them. If you've seen the movie that recently came out, World War Z, it is but one portrayal among many.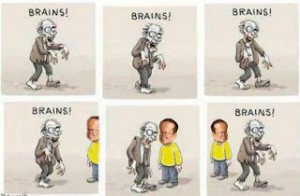 The zombie infestation/apocalypse genre was one I never really got into; just a personal preference, really. But whenever I take a look at Philippine society, frankly the fiction just seems tame in comparison.
Every politician in the Philippines has his/her own horde of zombie followers because he/she:
1) Has genuinely helped his/her constituents
2) Has a lot of charisma, or cash, or both; or
3) Has successfully demolished any opposition in his/her neck of the woods.
At this point you may be thinking that the zombies in Philippine society are composed entirely of those still fanatically loyal to BS Aquino and his family despite his many gaffes, bungled projects, and overall incompetence as a president. The truth is, they're just one subsection of the living dead here in the Philippines. They are the most prominent though, owing especially to BS Aquino being the current president of the Philippines. And they're not just any ordinary zombies, either; they are afflicted with a condition critics like to call:
Yellow Fever
Well, it's not exactly the viral disease similar to dengue, but it is nevertheless an affliction that should be a cause for concern.
Ever since 1986, with ABS-CBN and the Philippine Daily Inquirer (PDI) leading the forefront, the Filipinos have been subjected to a perpetual cycle of propaganda. They keep inculcating into the populace that Cory Aquino and her family are the ones who restored democracy in the Philippines. The Filipinos owe them a great debt of gratitude (utang na loob) for saving us from the "evil dictator". The Aquinos have stayed in politics for a long, long time, and they have yet to let go of their precious land Hacienda Luisita, which has been nothing but a great source of grief for many landowners since the 1950's.
Come 2010, another Aquino took the stage on the heels of mother dear's death. BS Aquino ascended to the presidency primarily due to the sympathy vote, and because he and his propaganda machine had been able to convince an electorate "fed up" with Gloria Arroyo to vote for him. In short, he was but popular, but not necessarily fit for the job.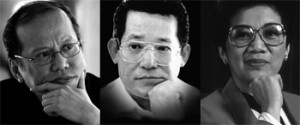 [Photo courtesy: Bulatlat.com]
The Yellow Media played a big part into turning Mrs. Arroyo into one of the most hated politicians until today.
Slowly but surely, the mosquito press is proving to be an effective countermeasure to that yellow fever. The citizens behind such outfits provide the alternative voice to those displeased with the current occupant of the highest position in the land. They are there to call him out on his general incompetence and his lack of follow-through on his campaign "promises". They are there to see beyond the spin that his propaganda machine has been turning out endlessly.
The mosquito press is doing its part in convincing the people that not everything is rosy with BS Aquino and his administration. Eventually, the people will realize, through exposes, that he is not the saint he makes himself to be, and sooner or later they are going to see the side of him that the administration has been desperately trying to hide, but to no avail, the:
Despicable Him
Gru of the Despicable Me series was a villain you would eventually root for. BS Aquino is not. Underneath all that scary villain exterior that Gru showed, he was actually a good guy who could take care of kids and save the world from other menacing super-villains. BS Aquino tries to keep up a veneer of sainthood and cleanliness but his actions in favoring his KKK and his double standards of justice prove otherwise.
No, the analogy between Gru and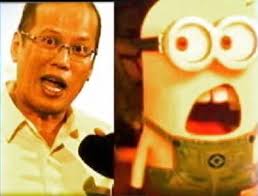 BS Aquino doesn't really go deep, so there's no point in trying to shoot down the comparisons I just made. One thing that stands out in both of them, is that they should just drop the pretense in what they're doing; Gru was essentially a good guy who just likes doing nefarious stuff. BS Aquino painted himself as the savior of the Filipino people from a supposedly corrupt Arroyo, but from another angle he's just like the oligarchs and traditional politicians he claimed to be different from.
Let's not forget, they both have an army of minions to do their every bidding. Gru's minions are cute. BS Aquino's minions? Tempting as it may be to punch them in the face when they get irrational, we should really be injecting them with an antidote to their "yellowness."
In the end, of course, it's going to take more than a few "good" mosquito bites to truly counteract the current zombie follower state of the Filipino people. They've been used to expecting their politicians and mainstream media to do all the thinking for them that they find it hard to do so themselves.
Those who go against the grain of mainstream media face fly swatters and mosquito repellants all the time. Eventually, the mosquito press's presence will get bigger. There's no way to go for it but there, given that the administration takes little effort to bungle up. And sooner or later, the current administration is going to have an epidemic on their hands that no amount of brainwashing or propaganda can contain.
А вы, друзья, как ни садитесь, все в музыканты не годитесь. – But you, my friends, however you sit, not all as musicians fit.