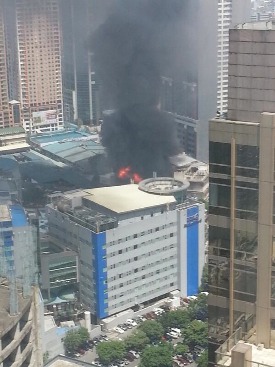 Just when you think squatters and the waste they dump in Manila's storm drains have already been discussed to death enough, suddenly another risk posed to health and safety by the proliferation of "informal settlers" all over the Philippines' premier metropolis has emerged: fire.
This was highlighted in a huge blaze that erupted next to the Makati Medical Center in Makati City which attracted a General Alarm, reportedly "the highest fire alarm system and requires that all firetrucks from the National Capital Region respond to the blaze."
At least 300 families, mostly illegal settlers, residing in the affected area will however be temporarily transferred either under the Skyway or in a vacant lot across Makati Medical Center, said [Makati Mayor Junjun] Binay.

Meanwhile, a fire whose alarm has been raised to Task Force Alpha, also hit Bagtikan Street in Makati, injuring two. The victims were brought to St. Claire Medical Center in Makati and Ospital ng Makati.

Binay said the illegal settlers are set to be transferred even before the fire incident, noting of President Benigno "Noynoy" Aquino's existing program to clear the waterways. Binay added the compound razed by the fire should remain open as it is part of Napocor's line. The Makati government will give each homeowner initial money and the long-term housing plan will be carried out by the National Housing Authority.

"Hindi maaalis ang speculation na kaya nasunog ay dahil gusto sila paalisin. But we're open to investigation," Binay said.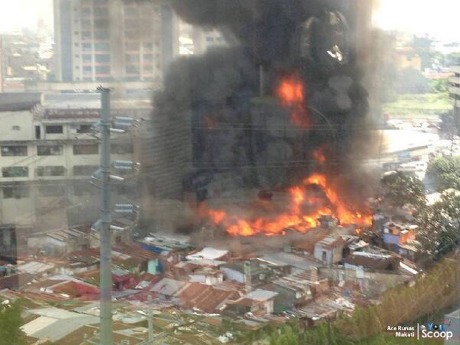 Many people have long speculated that many of the occasional fires that raze Manila's vast squatter shantytowns were deliberately lit to fast track relocation of their illegal residents. This is not a farfetched scenario considering the country's recently-enacted squatter protection laws that make eviction of these "informal settlers" a hopelessly convoluted and often messy undertaking.
This also comes at a time when big property developers are in the midst of a building frenzy, erecting monstrous retail complexes and casinos all over the city, often on land once reserved for public parks and without considering the impact on the city's already horrendous traffic situation.
Inquirer.net columnist in Neal Cruz in a recent article laments the wanton destruction of the few remaining parks in Metro Manila which he collectively describes as "the lungs of the city" that "absorb the pollution of the thousands of vehicles and produce oxygen that living things need."
Instead of stealing these lungs, why don't they start with the squatter colonies on the other side of Quezon Avenue? But City Hall and land developers are afraid of squatters, so they would rather grab open spaces like the parks, the golf course, and the Seedling Bank.
Considering this solution sounds so obvious, it is hardly surprising that it is not the preferred solution of the country's powers that be.
[Photo credits: @myroyalhonee and @YouScoop.]
benign0 is the Webmaster of GetRealPhilippines.com.