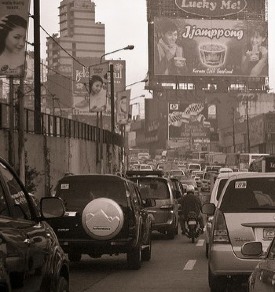 It wouldn't take a rocket scientist to predict the response the Metro Manila Development Authority (MMDA) will get if it extends the proposed expansion of the 'number coding scheme' to the city's privately-operated public utility vehicles (PUVs). Under Metro Manila's current Unified Vehicular Volume Reduction Program (UVVRP), vehicles ending in any one of two license plate number endings assigned to each day of the work week are banned from the road.
Under the present UVVRP, vehicles with license plates ending in 1 and 2 are barred from using EDSA and other major metro roads every Monday from 7 a.m. to 10 a.m. and from 3 p.m. to 7 p.m. Vehicles with license plates ending in 2 and 3 are barred from EDSA and other major streets every Tuesday; 4 and 5 (Wednesday); 6 and 7 (Thursday); 8 and 9 (Friday). The UVVRP is not implemented on weekends and during public holidays.

Under the present UVVRP, a "window" period is allowed from 10 a.m. to 3 p.m. except in Makati City where the scheme is effective for the entire day. Other cities such as Marikina and Taguig, do not implement the UVVRP.
The expansion of the scheme now being proposed by the MMDA involves assigning four number endings per day…
Under the modified UVVRP, vehicles with license plates ending in 1,2,3 and 4 would be banned from using EDSA the whole day on Mondays; 5,6,7,8 (Tuesday); 9,0,1,2 (Wednesday); 3,4,5,6 (Thursday) and 7,8,9,0 (Friday).
As for the applicability of the new scheme to the metropolis's unruly public utility buses and jeepneys, "[MMDA Chairman Francis] Tolentino said that it would be up to the MMC to decide whether public utility vehicles (PUVs) such as buses and jeepneys that also use EDSA, would be covered by the modified UVVRP."
But just like Metro Manila's millions of squatters, public utility vehicle operators and drivers are special to the country's politicians. Many of the operators of bus and jeepney fleets are patronage entrepreneurs, many of them relatives of local and national officials and, still others, members of the military and police force. It is therefore very unlikely that the proposal to include them in the new scheme will fly and, as usual, it will be private motorists who will be penalised by the new ordinance.
It is also widely-recognised that a key contributor to the infernal congestion in Metro Manila's roads is caused not by volume alone but by a fragmented and, as such, sub-optimal traffic management system and the appalling me-first attitude prevalent among Filipino motorists this system breeds. This is particularly pronounced in drivers of public utility vehicles, who are incentivised through a perversely entrepreneurial frame rather than on a public service one.
In fact, a popular urban legend in the Philippines is that Filipino bus drivers have standing orders, in the event of an accident involving a pedestrian, to make sure the victim is dead — usually by putting their vehicles in reverse after an accident to run over the victim one more time for good measure. That way, the cost of compensation involves a one-time funeral expense rather than a lifetime of support for a surviving victim. Perhaps that is why so many crashes involving buses are so violent. Killing is part of the job description.
The commission-based "boundary" system upon which PUVs ply their trade is but one component of a systemic problem that festered as the lack of a coherent broad-based mass transit plan for Philippine cities endured following the destruction in World War II of the system built by the United States colonial government. Instead of a state-run system or one highly-regulated privately-run operation, the challenge of public transportation was tackled with the small-mindedness that has come to characterise the Filipino Way of doing things — using the now familiar stop-gap tingi measures consistent with the Philippines' heritage of smallness.
You wonder then why the obvious solution — cracking down on the barbaric driving styles of bus and jeepney drivers — is considered to be a no-go-zone when it comes to developing "solutions" to Manila's hellish traffic. Indeed, it seems Quezon City Mayor Herbert Bautista failed to see the irony in his words when he "told reporters that he is not in favor of including PUVs under the modified UVVRP as it would be a burden on the commuting public." You'd expect that sort of drivel of course from a politician desperate for votes from a constituency whose minds are infected by a squatter mentality.
The fact of the matter is, Metro Manila's PUVs operating under the current pwede-na-yan system have done colossal damage to the Pearl of the Orient over the last sixty years since the United States granted the Philippines its independence in 1946. Yet here we are, mulling over "solutions" to the capital city's traffic mess that, yet again, ignore the big ugly elephant in the room.
[Photo of buses clogging EDSA courtesy Boylit De Guzman.]
benign0 is the Webmaster of GetRealPhilippines.com.