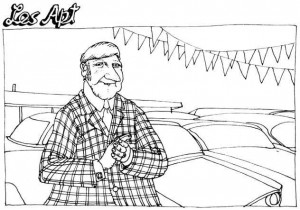 It's no accident that two of the three primary propaganda instruments of the Aquino Administration (ABS-CBN and The Philippine Star) have played up the headline "Perceptions of Corruption Decrease" in the past few days. The by-now familiar pattern of distraction-as-damage-control follows allegations of yet another scandal within the Administration, this time striking particularly close to La Casa Noynoy's inner sanctum with the charge of being (or at least attempting to be) a cheap little hustler being leveled against his own sister, Maria Elena "Ballsy" Aquino-Cruz.
While reliable information is emerging that indicates Ballsy did not, in fact, attempt to extort millions of dollars from the Czech light rail company Inekon, the anxiety of the Palace to want to divert everyone's attention from the issue before the general public becomes aware of what really happened or worse yet, begins to discuss Ballsy and Eldon Cruz's widely-known reputation for being the choke point through which most job-seekers in Kuya Noynoy's administration must pass is understandable. But the thoroughly pathetic canard they have instructed their media minions to float this time is, at best, a sign that they're running out of ideas, and insults the intelligence of classes not even the most cynical of us could have imagined they'd ever reach.
Headlines such as "4 of 10 Pinoys see decrease in corruption", or "PH corruption decreased 'a little' in last 2 years" are so patently misleading that it seems hardly worth the effort to explain why, but maybe that's exactly what the Palace propaganda meisters are counting on – if it's too stupid to challenge, it becomes the truth by default. The survey these claims are based on is the Global Corruption Barometer survey conducted by Transparency International; about 1,000 Filipinos were surveyed for this year's edition. Respondents were asked to rate corruption on a five-point scale: Whether it had decreased a lot, decreased a little, remained about the same, increased a little, or increased a lot over the past two years. The actual results of the survey, which unlike TI's better-known Corruption Perceptions Index does not rank countries, were: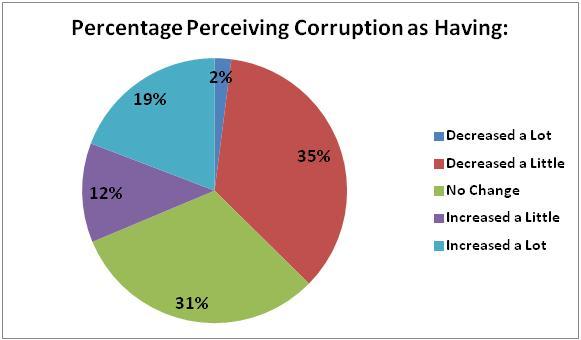 Technically, almost four in ten Pinoys surveyed felt that corruption had decreased to some degree in the past two years, so the Yellow Press wasn't necessarily lying. But they weren't necessarily being honest, either – four out of ten is a minority no matter how fast you try to spin it, and leaves the undeniable conclusion that SIX out of ten either felt corruption is about the same as it has been, or has gotten worse.
Implying that a negative result is actually a positive: Strike One.
Of course, the spin doctors could always defend themselves by pointing out the results of the survey are thoroughly unreliable, a dubious move to be sure, but one that would actually be ironically honest. Transparency International, though they undoubtedly have good intentions, are a complete train wreck when it comes to producing results that would meet even the most lenient academic standards. An immediate reaction of some people who shared the links to the news stories earlier today was that a survey sample of 1,000 people could hardly be statistically representative of the entire population. Actually, it is, and is even a larger sample than is actually needed. To maintain a 95% confidence level and 5% margin of error for a population of 50 million (roughly the number of voters the country supposedly has), a statistically-valid sample would only be about 385 people.
The problem is, Transparency International is applying a phenomenological methodology to a subjective question. "Corruption", in the absence of a specific definition being provided to the respondents, means different things to different people; some may only consider "taking bribes" or "embezzlement" to be corruption, while others might extend the definition (as I think it ought to be, for what it's worth) to include nepotism and other forms of patronage, abuse of power, information manipulation, and waste and other forms of performance inefficiency.
Presenting the results of a methodologically-invalid study as conclusive indicators: Strike Two.
One thing the propaganda machine in this country has never learned is when to quit. Not content with disseminating what would have been a hilarious attempt at Aquino-boosting if it weren't so offensive, ABS-CBN decided to go ahead and have its turd gold-plated by tapping the expert opinion of a certain Vince Lazatin. If I was not a regular and widely-read columnist at a major metropolitan daily newspaper and therefore a professional, I would be tempted to refer to Mr. Lazatin henceforth with a moniker that makes some reference to the President's lower GI tract, because it's quite obvious where the man's head is at when he makes statements like, "In the 3 years of the Aquino administration, no major scandal in terms of corruption has really broken out in his official family," and "The two big stories in the last 2 years have been the removal of Chief Justice Corona of the Supreme Court and the removal of Mercy Gutierrez at the Ombudsman. I think these were two of the largest obstacles to fighting corruption in the country." Lazatin, by the way, is the executive director of the Transparency and Accountability Network, a coalition of supposed government watchdogs that, coincidentally, lists poll manufacturer Social Weather Station among its members.
Getting a Yellow Cult member to repeat Administration quick-text and offering it as an underlying cause of results, developed through completely uncredible methods, which have been speciously presented as an achievement: Strikes Three through Twelve.
After three years of intense practice, one would think the Aquino Machine would have gotten at least a little better at this, but no. At every turn, even in what once seemed to be an area in which it had some potential – opinion manipulation – the only thing the Administration has shown any improvement in is its own ability to fail in the most ridiculous and embarrassing way possible.
I write a column for The Manila Times on Tuesdays, Thursdays, and Saturdays. Most of the energy sector and the heads of several government agencies probably wish I didn't.