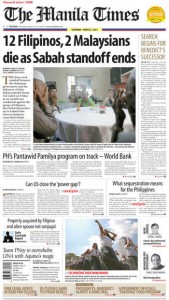 At the very end of 2012, the US media and public was gripped with near-panic over what was then called the "fiscal cliff," a combination of tax increases and a programmed series of government spending cuts that was to automatically take effect on January 1 of this year. Just as the deadline passed, the US Congress managed to postpone the cuts for two months, but has been unable to use the extra time productively to agree on a new budget plan to avoid painful, drastic measures. And so the budget cuts, now known as "sequestration," have begun to be implemented across every department and agency of the Federal government.
…Outside the US, however, the prevailing opinion seems to be that sequestration is "an American problem," and that because the spending reductions are spread out over a period of time, the effects will not be strongly felt. In a statement to reporters this past Tuesday, Bangko Sentral ng Pilipinas (BSP) Governor Amando Tetangco, Jr. was dismissive of the impacts of sequestration, saying that adverse effects on the Philippines' export position and healthy stock market would be limited. While that is probably an accurate assessment as far as those economic indicators are concerned, there are a number of more direct implications for the Philippines that, had he been aware of them, might have encouraged Governor Tetangco to revise his point of view.
Read the rest of the article here.
I write a column for The Manila Times on Tuesdays, Thursdays, and Saturdays. Most of the energy sector and the heads of several government agencies probably wish I didn't.