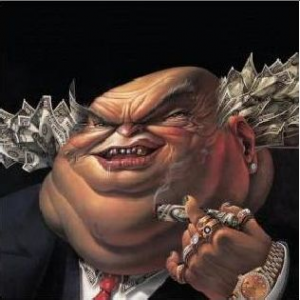 The truth is: SM Baguio is just a scapegoat of Pseudo Environmentalists, because they're politicians who can't go against the REAL CAUSES of ENVIRONMENTAL DEGRADATION in Benguet and Baguio City: MINING CORPORATIONS who advertise in newspapers and give PR money to columnists, VEGETABLE FARMERS who fund political campaigns, and informal settlers who vote for them.
In my widely read post, "The Rise of Syndicated Environmentalist Causes", I noted that Project Save 182 mover Karlo Altomonte's Open Spaces was holding a Valentine's Day performance at Camp John Hay — an organization which Dr. Michael Bengwayan accused of killing trees a few years ago. I also pointed out that Former John Hay Management Corp. (JHMC) Operations Group Manager Frank Daytec is the brother of Lawyer Cheryl Daytec Yangot" another prime mover of Save 182. Daytec-Yangot is the wife of Acting Baguio Vice Mayor/Councilor Leandro Yangot, a JHMC board member and mother of Councilor Karrmin Yangot.
The mention of how all these movers are somewhat connected to Camp John Hay and Baguio City Politics is somewhat indicative of why the group seems to be targeting one business in particular rather than going after the larger cause of environmental degradation in Benguet — poorly regulated agriculture that displaced hundreds of hectares of pine tree forests.
Politicians like Daytec and Yangot can't afford to go head to head against farmers, some of whom may actually be political campaign financiers.
Another group of people that Daytecs and Yangots can't afford to get angry are the residents and "informal settlers" of Baguio City itself. I pointed out in one of my first posts in Pinoy Buzz on the Save 182 Movement way back in April 2012 that the unplanned conversion of surrounding forests into residential areas was the bigger reason for all the environmental ills experienced in Baguio City:
From the top of the steps leading to the Baguio Cathedral, one could see thousands of pine trees surrounding the city and that was what really justified the city's other moniker which is "the City of Pines".

Perhaps the value of the pines that are inside the city itself is perhaps more ornamental or aesthetic than ecologically functional. It filled up the open spaces which were in the design made by Daniel Burnham for the city and somewhat made the city feel more like a part of its surrounding wooded areas.

Now, over the decades, the wooded areas surrounding Baguio City gave way to the sprawl of houses and buildings. This happened in such an unplanned way that it destroyed the vistas that once made Baguio City really remarkable.
Recently, I found a Baguio Resident's publicly posted pictures on Facebook of the hill of houses surrounding Baguio and it underscores my point that it is not really SM that is killing Baguio City — IT IS THE RESIDENTS THEMSELVES.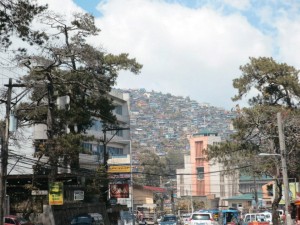 As a preface to JB Baylon's album, he wrote:
The city of Baguio began as a mining town…and in the days of my youth was a great place to head to when summer came…cool breeze, the scent of pine, a perfect getaway.

Today it is dying. And mining is not the culprit…unplanned urban expansion is. When Baguio's hills are deforested to give way to houses, houses that are wantonly built, allegedly by informal settlers who someone get permits from – or are tolerated by – the authorities – then I fear we have not only an environmental or ecological disaster but also a natural calamity-induced disaster-in-the-making!

It might be best to ask geologists, but it seems to me that Baguio's hills are not solid as rock but more like clay soil in nature…so I have been asking myself through the years as I notice how the hillsides get slowly covered by houses: will the hillsides hold?
Okay, girls and boys, can you say Cherry Hills landslide? What has Acting Vice Mayor/Slash Councilor Yangot done to ensure these houses will not slide off the hills?