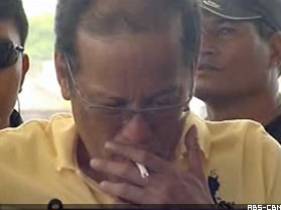 If you do a quick search on the internet, or ask on the street about common causes of death in Filipino society, you are most likely to hear things like smoking, heart disease, violence-related deaths, obesity, road traffic accidents, and so on and so forth. Recent events in Sabah with the men from the sultanate of Sulu, however, have brought to the forefront that there is another cause of death in Filipino society. This one is not really discussed commonly, or in good company but it nevertheless persists and cannot be ignored.
It's called Noynoy's incompetence.
Let's do the obvious numbers:
8 hostages dead in the mishandled Mendoza hostage incident in 2010.
At least 1,500 dead in the mismanaged response to typhoon Sendong last December 2011
At least 1000 confirmed deaths in another mismanaged calamity response, this time with Typhoon Pablo last December 2012.
Two years and counting that the Aquino administration has failed to curb human rights abuses. Statistics vary, but the newspaper Sunstar is quoted on November 29, 2012, that 114 is the number of extrajudicial killings that have taken place ever since BS Aquino became president.
And now, at least 12 dead in the clashes that occurred between Malaysian forces and the forces of the Sultanate of Sulu. The number is only going to go up from here.
Let us also remember that as a congressman in 2004, BS Aquino simply dismissed as illegal the strike at Hacienda Luisita that later resulted in at least 7 dead and hundreds injured. 8 years and counting later, the case has not been resolved, nor do I think there is any plan to.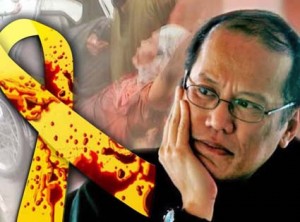 [Photo courtesy: Macky Ramirez]
BS Aquino's incompetence, however, does not limit itself to being a cause of death for people.
He forced General Bangit to resign as Armed Forces of the Philippines (AFP) Chief of staff just for being an appointee of his predecessor, Gloria Arroyo, and thus killed any chance of affording the AFP any shred of dignity and respect, despite the job that Bangit did to keep them apolitical during the last May 2010 elections.
BS Aquino's incompetence also is the cause of death of the idea of three (3) co-equal branches of government. BS Aquino is no statesman; his lack of charisma, lack of any political track record, and lack of political savvy do not allow him to deal with others who do not agree with him or whom he does not have an undue advantage over. His alleged herding of 188 congressmen into signing the impeachment complaint against former Supreme Court Chief Justice Renato Corona and his use of the pork barrel as a political tool to get what he wants ensures that Congress, and most likely the Senate, are subordinate to him.
What about the Supreme Court? After the impeachment, Maria Lourdes Sereno was sworn in as Chief Justice. As she is one of the dissenting opinions in the previous ruling on Hacienda Luisita, before Corona's trial ended, she may most likely reverse it to make it "more favorable" to the Cojuangco clan. Whoopee.
With the Freedom of Information (FOI) bill languishing in Congress, BS Aquino has effectively killed any semblance of government being more transparent about its wheelings and dealings. Never mind that this was a priority of his while he was still campaigning as president back then.
Maybe at this point, the groups against the Reproductive Health Law (RA 10368) would like to jump on the bandwagon, as they have termed BS Aquino's support for it the promotion of a "culture of death". While I personally don't agree with that pronouncement, it is my personal take that what his support for the RH Law has killed is any ethic of self-responsibility that people should be having for their own families. "Go ahead and do it 'till you keel over; the state will support you!"
Last but not the least on this non-exhaustive list, BS Aquino's incompetence in handling the Sabah incident has killed any idea that he is for unity among the Filipinos. Whether he has realized it or not, more and more people have grown dissatisfied with him due to his handling of this incident alone. In BS Aquino's mind the Filipino people that exist are only those who support him and those who sing praises to him. His critics, people whom he doesn't like, and people who have found themselves on the opposite side of any stance he takes, don't exist. He keeps reducing complex situations into a "we-versus-they" setup, and he continuously picks fights where there should not be any, or where there aren't any.
But maybe, just maybe, he's uniting the people of the Philippines in ascertaining him as the root cause of most of their problems. Not that it's right all of the time. What his critics are hoping that BS Aquino will "kill" next is the illusion being served up to his Noytards that he was the right man for the job.
Defenders of BS Aquino will be quick to the draw that we are nitpicking and arbitrarily assigning the blame to their idol, when other people are also to blame. Arroyo is supposedly to blame for the Mendoza hostage incident and even this Sabah incident. The citizens in CDO and Compostela Valley are supposedly to blame for their own misfortunes. Anybody who is an ally of Arroyo's is supposedly to blame for his/her fate.
Here's one simple reply to all that:
Is Noynoy Aquino the President of the Philippines or not?
If he is, then he should have been prepared to take ALL responsibility for any mistake of his government. The buck stops with me – unfortunately this is one of the statements you will never hear from BS Aquino's mouth. No ethic of accountability and self-responsibility, BS Aquino not only represents the Pinoys to a tee, he is THE quintessential Pinoy.
Too bad BS Aquino does not know the meaning of command responsibility. The weakness of his character will not permit him to practice it:
On the basis of the text of Protocol I the ICRC Commentary identified three conditions for command responsibility:

(i) the person to be held responsible must be the superior of the person or persons committing the breach of the convention;
(ii) the superior must have known or had information which should have enabled him to conclude that a breach was being committed or was going to be committed; and
(iii) the superior did not take all feasible measures within his powers to prevent the breach.
Source: Link
Too bad incompetence itself is not an impeachable crime. But maybe, just maybe, BS Aquino's recent bungling of what started out as a manageable situation could kill that, too.
А вы, друзья, как ни садитесь, все в музыканты не годитесь. – But you, my friends, however you sit, not all as musicians fit.