The Malaysian government — and not the government of Philippine President Benigno Simeon 'BS' Aquino III — is clearly on top of the Sabah crisis. After sending fighter jets to bomb positions in Sabah supposedly occupied by followers of the Sultanate of Sulu in what it considers to be a "police operation" yesterday, it has managed to twist the arm of Philippine foreign secretary Albert del Rosario into towing the Malaysian line in regarding the armed group as "terrorists". The fate of the group was reportedly sealed following del Rosario's meeting with Malaysian Foreign Affairs Minister Anifah Aman…
"Malaysia considers this group as terrorists following their atrocities and brutalities committed in the killing of Malaysia's security personnel, two in Lahad Datu and six in Semporna, Sabah," Anifah said.

"Secretary Rosario agreed that this group should be labelled as terrorists," Anifah added.

He said Malaysia wanted to know what specific criminal charges that the "terrorists" will face in the Philippines.

Malaysia's Attorney General also wants to study the charges to be filed in Manila against the supporters of Sulu Sultan Jamalul Kiram III.
Apparently, on top of all that, the Malaysian government will also be supervising the promised filing of criminal cases against Kiram and his followers.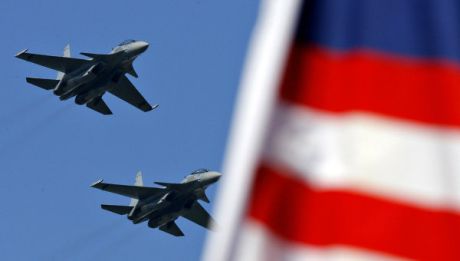 [Photo courtesy The Power.]
SUPPORT INDEPENDENT SOCIAL COMMENTARY!
Subscribe to our Substack community GRP Insider to receive by email our in-depth free weekly newsletter. Opt into a paid subscription and you'll get premium insider briefs and insights from us daily.
Subscribe to our Substack newsletter, GRP Insider!
Learn more
It has become quite clear what the real priorities of the Philippine government under the Second Aquino Administration really are:
(1) Campaigning for the Liberal Party ticket for the upcoming May elections to complete the Aquino-Cojuangco clan's control of all branches of the government to ensure the security of Uncle Peping's family jewels;
(2) Appeasing Kuala Lumpur, to ensure the completion of its pet project of selling Manila out to the (formerly) separatist Moro Islamic Liberation Front (MILF); and (a distant last),
(3) Understanding Mindanao and addressing its key fundamental problems.
The Philippine government should on the onset of the crisis have at least sent a military mission or emissary to the intruders' camp in Sabah to appraise their situation and establish a robust communication line with Manila. Had this small measure been established, the Philippines would have represented itself in Kuala Lumpur framed by a strong context relevant to its citizens in Mindanao. Indeed, Neil Cruz in an Inquirer.net article relays the hard questions many Filipinos are now asking: "What kind of government do we have that threatens its own citizens with lawsuits for asserting their right to their properties?" Furthermore…
President Aquino made a mistake in telling the sultan's followers to "surrender and go home." He used a wrong word. "Surrender" is a bad word to Muslims, especially to our Moros. I don't think there is even an equivalent word in the Muslim vocabulary. Muslims would rather die than surrender.
It rings ominous: Muslims don't surrender.
How all this is changing the way Filipino Muslims are regarding Manila is becoming a no-brainer. Given their long history of animosity towards anyone or any entity governing from Imperial Manila, it is very likely that any lines drawn between "groups" such as the MILF, the MNLF, and the Sulu Sultanate will soon be superseded by their more deeply-ingrained solidarity as a people with an identity that long pre-dates the relatively recent colonial notion of "the Philippines" (or, for that matter, "Malaysia").
Perhaps, the writing is already on the wall. Habib Hashim Mudjahab, chairman of the MNLF Islamic Council Committee reported yesterday that "thousands" of fighters have started making their way from the Philippines to Sabah to join Filipino forces there…
"The naval blockade is of no use" he said, referring to a naval blockade by the Philippine navy and coast guard to ensure armed sympathisers do not join cross over to Sabah.

"President (Benigno) Aquino kept issuing statements favouring the Malaysians, which made our people agitated. The President must realise that it is about pride and honor, and our people are ready to sacrifice," Mudjahab said.
Not surprising considering there are unconfirmed statistics floating around that Sabah is 70% populated by ethnic Tausugs who were (and perhaps remain) the feared warrior society that secured the once vast realm of the Sultanate of Sulu. The issue is therefore deep and complex. As former Senator Rene Saguisag points out, the issue should not be handled by "amateurs"…
This matter is not for amateurs or dilettantes. The well-meaning four-week amateurs who explain what they may not understand (or may not have a thorough understanding of) must be reinforced. We need to involve Fidel V. Ramos, Manang Letty Ramos-Shahani et al. Uncle Jovy Salonga is too sick.
Speaking of whom, Salonga who was part of Vice President Emmanuel Pelaez's team dispatched to London in 1963 to negotiatr the Sabah brilliantly articulated the clear historical reference that frames the Philippines' still-standing position on the matter…
Thousands of years ago, what is now known as the Philippines and what is known today as Borneo used to constitute a single historical, cultural, economic unit. Authoritative Western scientists have traced the land bridges that connected these two places. The inhabitants of the Philippines and Borneo come from the same racial stock, they have the same color, they have or used to have similar customs and traditions. Borneo is only 18 miles away from us today.

North Borneo, formerly known as Sabah, was originally ruled by the sultan of Brunei. In 1704, in gratitude for help extended to him by the sultan of Sulu in suppressing a revolt, the sultan of Brunei ceded North Borneo to the Sulu sultan.

Here, our claim really begins. Over the years, the various European countries, including Britain, Spain and the Netherlands, acknowledged the sultan of Sulu as the sovereign ruler of North Borneo. They entered into various treaty arrangements with him.
Perhaps the one lesson President BS Aquino III can learn from this "debacle" is how leaders respond to incursions into one's territory, whether "legal" or not. If perhaps a Chinese warlord decided to sail to the Spratly Islands and do a Kiram, what would Manila do? Hint: Kuala Lumpur, is now Manila's aspirational role model.
The plot thickens.
We as ordinary citizens far from the action in the south can only sit back in a Starbucks armchair along with the rest of the chattering classes who now consider the lip service they pay to "supporting" Kiram's armed struggle the latest fashion statement, and simply find comfort in that deeply-ingrained wisdom imparted to us by the ABS-CBN "family"…
Abangan ang susunod na kabanata…
benign0 is the Webmaster of GetRealPhilippines.com.