Last week, the Philippine Daily Inquirer reported that a restaurant at the historic tourist city of Houhai in Beijing put up a sign which says: "This shop does not receive The Japanese, The Philippines, The Vietnamese and dog."
This is palpably racism in its worst kind and discrimination of the lowest order! SHAME!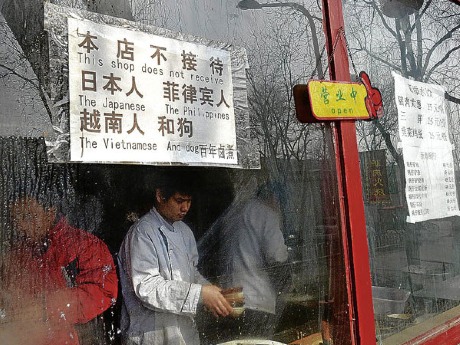 SUPPORT INDEPENDENT SOCIAL COMMENTARY!
Subscribe to our Substack community GRP Insider to receive by email our in-depth free weekly newsletter. Opt into a paid subscription and you'll get premium insider briefs and insights from us daily.
Subscribe to our Substack newsletter, GRP Insider!
Learn more
I concur with the statement of condemnation issued by Professor Walden Bello that "the blatant display of racism shown by a Beijing restaurant which posted a sign prohibiting Filipinos, Japanese, Vietnamese and dogs from entering their premises" clearly exemplify China's disregard to the basic sense of decency and humanity.
Bello added that:
Obviously, this act is in the context of the current territorial disputes between the Philippines, Japan, and Vietnam on the one hand and China on the other. It is deeply saddening that this kind of discriminatory and racist practice still exists in this day and age…
That this bully is capable of carrying-out this outrageous act is beyond comprehension.
I also agree with Vietnam's state-run Tuoi Tre newspaper which ran a story saying the sign had "ignited online fury". Indeed, they are correct in their claim that many Vietnamese feel this is another example of Chinese "extreme nationalism that deserves to be condemned".
"It's not patriotism, it's stupid extremism," Sy Van wrote in Vietnamese in a comment under the story, published on the paper's website.
I join the Vietnamese, the Japanese and all people of the world who are against all forms of racism, bigotry and discrimination in condemning to the strongest possible degree these latest antics of the bloody bastard Chinese bullies, especially that idiotic bigot restaurant owner!
Just to register their stupid and flimsy point; they are not ashamed to stoop to this uncivilized and utterly barbaric level.
If the Chinese authorities has nothing to do with this ridiculous act, then the right thing to do for the government is to order that bigot and stupid restaurant owner to tear down his discriminatory and racist signage.
The whole world knows that China is "currently in border disputes with Japan, Vietnam, and the Philippines."
The international community had heavily criticized China for practicing "gunboat diplomacy" for aggressively asserting its claims on islands and waters even without effective control of them, base on their preposterous and laughable assertion that they owned those islands and waters by virtue of the fact that the name of the sea wherein those territories are located is name after their country.
That would be the height of absurdity and the glorification of stupidity!
Recently, "the Philippine government has pushed for a legal and peaceful process for deciding the dispute by submitting it to the processes of an international arbitral tribunal in accordance with international law".
The case is already before the international court, hence it is but proper for this bully to observe this convention and cease from its insidious and persistent provocative remarks!
I am writing this line, not as enemy of the Chinese people, but an ardent critic of the Chinese government, especially their warmonger military.
I certainly believe that the majority of the Chinese people do not agree with that idiotic restaurant owner and even to the way their government handles the whole issue of the dispute with regard to the South China Sea; the great problem of humanity as of the moment is: political leaders of China and their military hawks and bullies.
The whole world and the rest of the international community must come together as one to tell China in its collective and firm voice that: it cannot do everything that it please.
We must all act now to contain this bully, before it is too late!
The writer has a Master's degree in Philosophy, a law degree and a degree in AB Political Science. He was previously teaching Philosophy, Ethics and Anthropology at an institution of higher education in the Nilai University College at Nilai, Negeri Sembilan, Malaysia. He is currently a lecturer at the College of Arts, Department of Philosophy at the Polytechnic University of the Philippines.
As of the moment, he is preparing to publish his first book entitled "Dissidente". It is a collection of his articles, commentaries and op-ed published by various newspapers in Southeast Asia.