In a news conference this morning Inspector-General of Police Tan Sri Ismail Omar reported a successful execution of "Ops Sulu" which involved an "all-out" offensive to flush out members of a group of armed Filipinos claiming to be members of the Royal Army of the Sultanate of Sulu…
Earlier today, a Bernama reporter staying in Felda Sahabat 16, about 20km from Kampung Tanduo, heard several explosions which rocked the village.

Several fighter aircraft and helicopters were seen flying low over the area and the public was ordered to keep away from the area of operation, [Inspector-General of Police Tan Sri Ismail Omar] reported.

Ismail said the security forces had deployed commandos, soldiers and General Operations Force policemen to undertake a mopping-up exercise and search several houses in the area.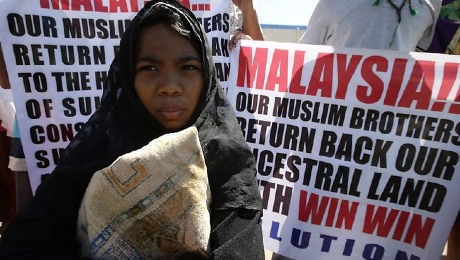 [Photo courtesy News.com.au.]
A later report stated that "fighter jets dropped at least 10 bombs" within a 20-kilometre radius encompassing the Sabah villages of Kampung Tanduo, Tanjung Labian and Kampung Tanjung Batu. The escalation of military activities there puts at risk Malaysia's and its partners' investments in fossil fuel extraction and refining industries there and could put off any future investments in the region. Reuters reports "Oil majors such as ConocoPhillips and Shell have poured in billions of dollars to develop oil and gas fields in Sabah. Chinese companies have been investing in hydro-power and coal mining." Furthermore…
Three Malaysian palm oil refineries with a combined capacity of 1.8 million tonnes were running at reduced capacity and are preparing to halt operations if the violence drags on, refinery officials with direct knowledge of the matter told Reuters.

The refineries are owned by Singapore's Wilmar International and Malaysia's KL Kepong and Kwantas Corp. Sabah is Malaysia's top oil palm growing region, accounting for a quarter of national production.

Much of the palm oil from Sabah is shipped to China — the world's second largest consumer of edible oils.
Media outlets all over the world are virtually unanimous in being critical of the way Philippine President Benigno Simeon "BS" Aquino III has handled the crisis. A TIME Magazine article reports…
The President's uncompromising stance may have far-reaching consequences. Mohagher Iqbal, chief negotiator of the Moro Islamic Liberation Front (MILF), which signed a peace deal with Manila in October after four decades of armed struggle, has already admitted that their own peace talks have been affected. The Philippine media has also been critical of Aquino's stance. "President Aquino and his officials were throwing to the Malaysian wolves Filipino Muslims digging in what they claimed was their legitimate homeland in Sabah," says Rigoberto Tiglao in the Manila Times. "With that the president has driven the last nail on the coffin of the Philippine claim to Sabah," read an editorial on Monday in the Philippine Daily Inquirer. "What he didn't say to the sultan's men was: If you get slaughtered by the Malaysians, that's your fault. Condolences."
The Malaysian government for its part insists that the assault was a police operation and not one under military command. "We are harnessing technical aspects of the military but the operations remain under the police," Sabah Police Commissioner Datuk Hamza Taib reportedly said. Malaysia's use of fighter planes in the assault, however, has brought to question the nature of what is now seen to be excessive force for what is considered to be a "police operation". This is after the Philippine government had dispatched Foreign Affairs Secretary Albert F. del Rosario to Kuala Lumpur to appeal for the exercise of "maximum tolerance" in the handling of the crisis on the ground. Unfortunately del Rosario reportedly was "unable to persuade Malaysian Foreign Affairs Minister Dato Sri' Anifah Aman and Defense Minister Dato Seri Ahmad Zamid Hamidi for a peaceful resolution on the Sabah situation."
Meanwhile, in what is looking like a backpedalling on its initial position of keeping the issue of the Philippines' long-standing claim of sovereignty over Sabah "dormant" presumably to appease the Malaysian government which itself is playing a key role in the brokering a peace deal between Manila and the separatist Moro Islamic Liberation Front (MILF), Malacañang has now announced it will be reopening its study of the possibility of progressing the Philippines' bid to annex the Malaysian state….
The Philippines is considering taking its claim to Sabah to the International Court of Justice, Edwin Lacierda, a spokesman for Mr Aquino, told ABS-CBN News in a television interview on Monday.

"We are seriously studying the claim of the Kirams to Sabah," Mr Lacierda said. The territorial claim is enshrined in the 1987 constitution and "it's still there", he said.
According presidential spokesman Ricky Carandang "We've done everything we could to prevent this, but in the end Kiram's people chose this path." Perhaps. But in this instance it seems more a case of everything within the scope of what little there is left to do.
benign0 is the Webmaster of GetRealPhilippines.com.